BARTLETT BULLETIN

Make-A-Wish OC & IE Partner with JWA

This week, Make-A-Wish® Orange County and the Inland Empire and John Wayne Airport kick-off Trips That Transform, a monthlong celebration of the travel wishes granted to children battling critical illnesses and the donors that make them possible.
With 75 percent of wishes requiring air travel, Make-A-Wish needs more than 40 million airline miles annually to fulfill travel wishes for children and their families living in Orange, Riverside and San Bernardino counties.
Now more than ever, local wish kids with critical illnesses are depending on the ongoing generosity of individual and corporate donors who contribute their unused airline miles, expiring travel points and dollars.
To support granting more wishes in the local community, John Wayne Airport will promote the Trips That Transform campaign to its guests throughout the month of August with visual displays throughout the Terminal encouraging travelers to donate airline miles.
Once donated to Make-A-Wish, airline miles and points never expire, and each goes on to help wish kids and their families take flight to destinations around the world. Travelers can donate airline miles and points here.
For more information and to learn more about how a wish come true can transform the lives of everyone involved, click here.

$10 Million for Children's Mental Health Services


South County Multimodal Transportation Study

In addition to serving you on the Orange County Board of Supervisors, I'm also honored to serve you on the Orange County Transportation Authority (OCTA) Board of Directors.
As such, I'm pleased to report the South Orange County Multimodal Transportation Study looks at a range of transportation needs and solutions over the next 25 years, including improvements to streets, bus and other transit options, highways and bikeways.
Since the study's launch in 2020, OCTA has remained engaged with the public, key stakeholders and partner agencies to develop long-term strategies for continuing to improve transportation for South Orange County. Potential solutions that are being analyzed include:
Improvements to streets, including traffic signal synchronization and upgraded technologies to accommodate for connected and autonomous vehicles
Improving bottlenecks on I-5
Offering additional high-frequency transit options
Continuing to fund programs for cities and communities to operate shuttle services
Enhancing bicycle and pedestrian infrastructure
OCTA will continue working with stakeholders and partner agencies over the next few months to develop a locally preferred strategy. The study is scheduled to be completed in August. For more information, click here.

Groundbreaking for SR-55 Improvement Project

This week, I was pleased to participate in the groundbreaking ceremony for the SR-55 Improvement Project.
Led by OCTA in partnership with Caltrans, the Project will help improve travel in central Orange County along one of the most heavily congested freeways in Southern California by adding one regular lane and one carpool lane in each direction of SR-55 between I-5 near Santa Ana/Tustin and I-405 near Irvine/Costa Mesa. For more information, click here.

Antonio Parkway Road Grinding and Resurfacing


Fun & Affordable Family Getaways on Metrolink

Between the high cost of gas and inflation, some families are foregoing their summer vacation. But why stay home when world-class destinations are an affordable train ride away?
A Metrolink train trip can put your vacation back on track; and right now, there's a chance to win four round-trip tickets and a $100 gift card. Enter for a chance to win here!
On weekends, a family of four with two kids 17 and under can travel all day Saturday or Sunday for only $20. And the travel itself is part of the fun! Metrolink train cars are cool, safe and comfortable for a relaxing journey with no traffic and time to focus on family.
Metrolink fans give these destinations two thumbs up for families:
San Juan Capistrano - Within an easy walk from the station, there's a lovely area called the Los Rios District, the oldest neighborhood in California. Walk the shady lane and visit one-of-a-kind restaurants and shops, and a petting zoo. Also in town is the famous Mission, featuring many programs for kids.
San Clemente - Some of California's best stretches of wide sandy beaches are within steps of the Metrolink station. Bring your boards and bikes. it's easy on the train! The train stops at the beach and restaurants are nearby.
Los Angeles - The City of Angels is packed with fun places to visits like Chinatown, historic Olvera Street, museums and amazing restaurants.
Buena Park - Summer isn't complete without a visit to Knotts Berry Farm and its very cool roller coasters. For jousting and knights in armor, check out Medieval Times.
Check out other family-friendly ideas here. For inspiration about places to go and great deals at restaurants and more, stop by the Metrolink Daycations website.
On weekends, adults ride throughout the Metrolink system for only $10 Saturday or Sunday and kids 17 and under ride free. On any one weekday, the adult fare for unlimited rides throughout the Metrolink system is only $15. Check out 42 trip ideas from 14 stations and enter to win today.

Connect to Fun with Car-Free, Carefree Shuttles

With help from OCTA, Orange County cities in the 5th District are offering summer shuttle services. Many began Memorial Day weekend. Funded in part by OC Go, the shuttles cost little or nothing to ride and provide convenient car-free service to popular destinations including festivals, the beach and shopping. OC Go, also known as Measure M, is the county's half-cent sales tax for transportation improvements.
Many summer shuttles connect to one another, as well as to OC Bus and Metrolink stops, making it easier to travel to popular destinations without a car. Shuttle services allow residents to avoid driving and parking hassles while enjoying what Orange County has to offer. And with the high cost of gas, low-cost transportation options should be more welcome than ever. All the shuttles are free on weekends.
Check out these fun, convenient summer fun travel options in the 5th District!
Shuttles are operated by local jurisdictions. OCTA continues to work closely with cities in monitoring ridership and evaluating costs. For more information, click here.

Join Camp Do Good: Give Blood - August 29


OC Summit on Antisemitism and Hate - Aug. 30


Emerald Fire Caused by Power Lines


Sign Up for Alert OC Today!

AlertOC is a County System managed by the Orange County Sheriff's Department capable of notifying thousands of subscribers by phone, email, text message during an emergency incident.
Each AlertOC account can have multiple addresses registered to it, so you can be notified of potential disasters impacting your home, work, child's school, or other important locations.
Notifications via AlertOC are sent based on the subscriber's address and proximity to an emergency or disaster. If you did not receive any notifications or would like to check or update your contact information, visit AlertOC.com or click on the image below.

Laguna Niguel Hit-and-Run Suspect Arrested


HCA: Ocean Recreational Water Update


OC Microbusiness Grant Awards Re-Launch


5th DISTRICT SPOTLIGHT

Don Hansen Plaza Dedication Ceremony

This week, I was honored to participate in the dedication ceremony for Hansen Plaza, named in tribute to my dear friend, the late Don Hansen, the original tenant of Dana Point Harbor and founder of Dana Wharf Sportfishing and Whale Watching. The solemn event included the unveiling of a plaque featuring his image.
Don loved the ocean and was dedicated to the conversation of marine life. His understanding and appreciation of the ocean introduced thousands of visitors and locals to fishing and whale watching in Southern California. His legacy will live on through memories made while aboard Dana Wharf vessels.
In addition, Don was the founder of the annual Dana Point Festival of Whales, the longest running such festival in the world, which also assisted in Dana Point being named the Dolphin and Whale Watching Capitol of the World. Don will forever be remembered by his family, friends, and the community he so loved, and Hansen Plaza is a most fitting tribute to his memory. For more information, please visit the Dana Point Times.

New Marina Construction in Dana Point Harbor

I was also pleased to attend another event in Dana Point Harbor this week, which signaled the long-awaited start of construction on the new marina. The marina's state-of-the-art dock system will address ADA accessibility as well as public access and is intended to meet the needs of boaters for generations to come.

MEDEA Grand Opening Event in Corona del Mar

This week, I attended a special grand opening event for Medea in Corona del Mar, featuring special guest celebrity and Los Angeles Lakers legend, Shaquille O'Neal. Medea is to be commended for providing governments, businesses, and organizations with excellent products to efficiently and effectively serve consumers' evolving needs. Please join me in welcoming Medea to Orange County!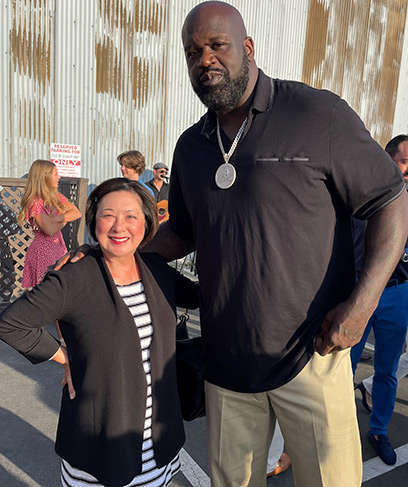 City of Hope: Lennar Foundation Cancer Center

Last week, my office was pleased to present a proclamation in honor of the ribbon cutting ceremony for the spectacular new City of Hope Orange County Lennar Foundation Cancer Center in Irvine. The proclamation was presented to Annette Walker, President, City of Hope Orange County.
City of Hope, one of the largest cancer research and treatment organizations in the United States, is opening its visionary comprehensive cancer center in Orange County, creating a national model for delivering breakthrough research and pioneering treatments, ushering in a new era of hope for people with cancer.
City of Hope is fulfilling a 2018 promise to invest more than $1 Billion to develop and support a comprehensive cancer campus of the future in Orange County that will change the way cancer care is delivered, as City of Hope Orange County Lennar Foundation Cancer Center will be seamlessly connected to OC's only specialty cancer hospital exclusively focused on treating and curing cancer, opening in 2025.
In opening the Lennar Foundation Cancer Center, City of Hope brings its renowned care and research to Orange County's 3.2 million people, as patients will receive fully integrated, multidisciplinary cancer care, from prevention to survivorship, all in one convenient location.
The Lennar Foundation Cancer Center will serve as a powerhouse of the nation's most acclaimed physicians and scientists with expertise in lung, breast, gastrointestinal, gynecological, genitourinary, blood cancers and more lead next-level cancer treatment and research, featuring the most sophisticated technology.
The City of Hope Orange County Cancer Care Network currently includes four regional sites – two in Newport Beach, one in Huntington Beach and one in Irvine – as the Lennar Foundation Cancer Center, regional sites and planned hospital will create OC's largest network dedicated solely to cancer treatment and cures.
Please join me in welcoming City of Hope Orange County Lennar Foundation Cancer Center! To view the Program Booklet provided at the event, click here or on the image below.

COUNTY OF ORANGE COVID-19 UPDATE


COVID-19 Orange County Case Counts by Cities

The OC Health Care Agency continues to release daily COVID-19 case counts in Orange County. As of today, HCA is reporting 643,585 positive cumulative cases and 7,235 deaths to date, as well as 271 currently hospitalized with 33 in ICU.
PLEASE BE ADVISED: HCA has transitioned to publicly reporting COVID-19 data to two days a week following the change in reporting by CDPH. Specifically data on COVID-19 cases, hospitalizations, ICU numbers and bed availability, and deaths will be reported on our dashboards Tuesdays and Fridays. Other data (e.g. testing positivity, variants, vaccinations) will continue to be updated on a weekly basis.

COVID-19 Messages from OC Health Care Agency


Preparing for COVID-19 Vax for Young Children


HCA: Why Is It so Important to Get Vaccinated?

Dr. Regina Chinsio-Kwong, County Health Officer at the OC Health Care Agency (HCA), has a video message to help explain why it's important to get vaccinated. To view the video, click here or on the image below.
For informational town hall events and more educational videos related to COVID-19 vaccination, visit the OC COVID-19 homepage.

HCA Update on Boosters and Additional Doses

The CDC has updated its guidance on COVID-19 booster shots and additional doses for people who are moderately to severely immunocompromised, including recommendations for people who received the Johnson & Johnson (Janssen) vaccine, as well as updated time intervals between doses.
The OC Health Care Agency (HCA) has an infographic to help you understand all of the information about boosters and additional doses. Click here or on the image below to download the information.

CRITTER CHRONICLES

OC Animal Care is NOW OPEN for Appointments!


Aliso Viejo: Furry Friends Pet Fair - August 6


The Importance of Licensing your Pet


Lost and Found Community Pet Information


Let's Paws: Coyote Awareness


OUT & ABOUT SAFELY IN THE FIFTH DISTRICT

Ladera Ranch: Concerts in the Park - Aug. 5

Bring a blanket and lawn chairs, pick up dinner and treats from local restaurants, and enjoy an evening of music in the park this summer in Ladera Ranch. See below for a list of upcoming concerts and more information:

Laguna Niguel: Summer Concerts - August 5


Festival of Butterflies is Tomorrow! - Sat., Aug. 6


Laguna Hills Chamber Car Show - Sunday, Aug. 7


Dana Point: FREE Concerts in the Park - 8/7


Laguna Beach: Music in the Park - August 7

Music in the Park is a free public concert series held Sunday evenings through August 21 at Bluebird Park in Laguna Beach. Concerts start at 5:00 p.m. See a list of upcoming concerts below. For more information, click here.
Performers:
8/7 - ABBA LA
8/14 - Los Pinguos (Argentinian Latin)
8/21 - LA Sound Machine (Gloria Estefan)

Ladera Ranch Farmers Market is Every Sunday!


Aliso Viejo: Summer Movies in the Park - 8/12

Aliso Viejo Community Association (AVCA) is again hosting their Summer Movie Nights at Grand Park/Town Center Amphitheater! Movies begin at sundown. Pre-Movie activities begin at 6:00 PM. See below for upcoming movies, dates and more information:

OC Parks Sunset Cinema Series - August 12


Also Viejo: Summer Concerts in the Park - 8/14

Aliso Viejo Community Association (AVCA) is again hosting their Summer Concert Series a at Grand Park/Town Center Amphitheater in Aliso Viejo! Concerts are from 5:30 PM to 7:30 PM. See below for upcoming concerts, dates, and more information:

San Clemente Fiesta Music Festival - August 14


San Juan Capistrano: Summer Nites - August 17


OC Parks Summer Concert Series - August 18


Newport Beach: Summer Concerts - August 21

The City of Newport Beach presents its annual Summer Concerts Series on the Green, featuring an array of performers for your entertainment. Unless otherwise noted, all concerts are held on the Newport Beach Civic Center Green (100 Civic Center Drive, Newport Beach). Admission and parking are free, on a first come, first served basis. See the list below for upcoming concerts. For more information, click here.
August 21 - Young Guns (Country Cover Band)
September 18 - Britain's Finest (Beatles Tribute)
October 2 - Stone Soul (At Marina Park)

Dana Point: Classic Car Show - August 28


Taste of Laguna Food & Music Festival - 10/13


FOOD RESOURCES IN THE FIFTH DISTRICT


NEWSLETTER ARCHIVES

Check Out The Fifth District Dispatch Archives!

For those of you who may have missed any of my previous Fifth District Dispatch newsletters, featuring up-to-date COVID-19 facts and other information pertinent to South County, click here.
Thank you so much for your outstanding and continuing efforts to slow the spread of COVID-19 in Orange County, as we're all in this together!
For questions or comments regarding my E-Newsletter, please contact my office staff at (714) 834-3550 or email my Community Relations Advisor, Sergio Prince, at Sergio.Prince@ocgov.com .