March 27, 2015
Volume 1

Issue 1

Board of Supervisors

Welcome

Welcome to Supervisor Andrew Do's First District Updates, my newsletter for our district in Orange County.

Below are a few highlights of recent events in the First District, including a list of upcoming community events that I think you'll enjoy.

Thank you for reading this issue.

Sincerely,
Andrew Do
Supervisor, First District
Orange County Board of Supervisors

News and Updates

Supervisor Andrew Do's Swearing-In

On February 3rd, 2015 on the steps of the Old Orange County Courthouse, Andrew Do was sworn in as Supervisor of the First District.

Lunar New Year

February 19th, 2015 marked the beginning of the Lunar New Year, the Year of the Goat. Supervisor Do joined in the celebration this past Saturday, February 21st at the Tet Parade in Westminster and Festival in Garden Grove.

The parade began at 8:30 a.m., and Supervisor Do walked the parade to greet attendees and hand out li xi, the Vietnamese red envelope which symbolizes good luck, to children. Afterward, he stopped by the Garden Grove Tet Festival for the ribbon cutting ceremony. After the opening ceremony, Supervisor Do presented a Certificate of Recognition to the organizers of the Tet Festival.

If you missed it, check out some of the photos below!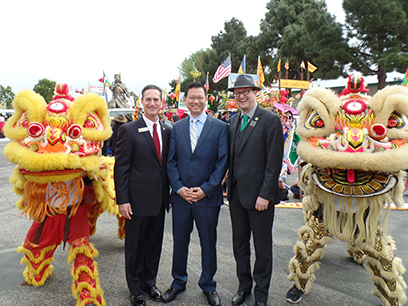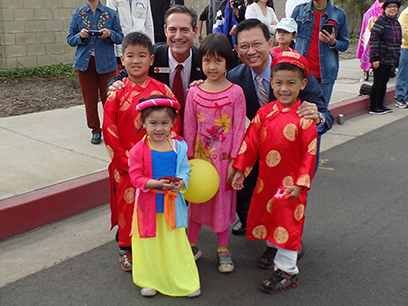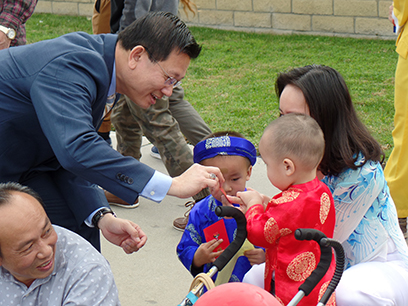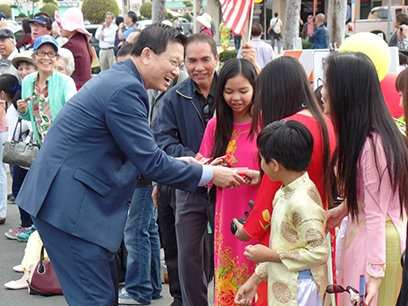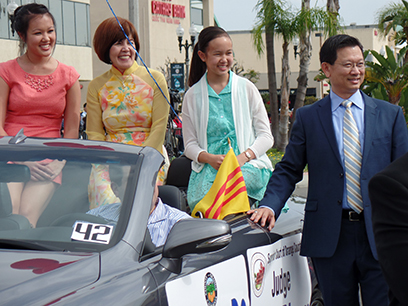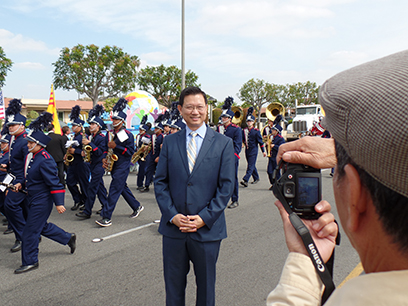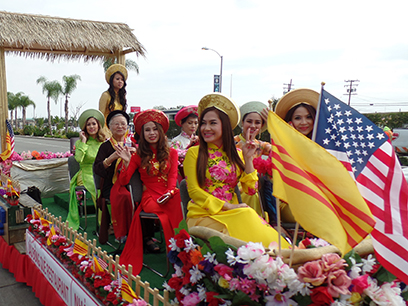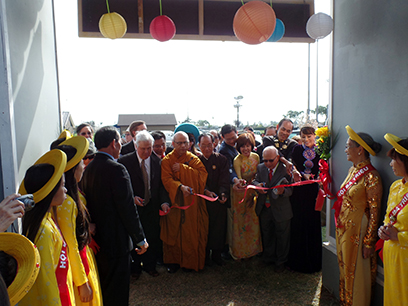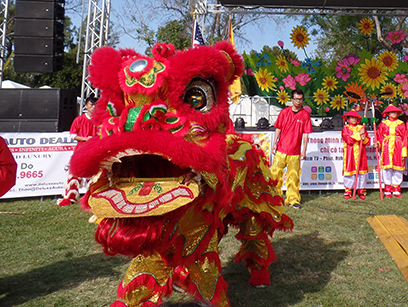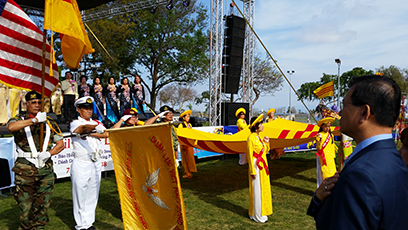 Supervisor Do Appointed to CalOptima's Board

At their regular meeting on Tuesday, March 24, 2015, the Board of Supervisors unanimously appointed Supervisor Andrew Do to CalOptima's Board of Directors. Supervisor Do represents the First District, where more than 40% of its population are beneficiaries of CalOptima's healthcare programs.

Fishing Derby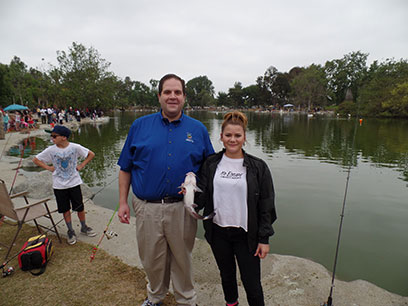 The Annual Kids' Fishing Derby took place this past Saturday on March 31st at the North Lake of Mile Square Regional Park in Fountain Valley. OC Parks hosted the event with the California Department of Fish and Game and United Anglers of Southern California.

Open to children 15 years old and under, the Fishing Derby stocked the lake with trout and catfish for the attendees. Children were divided into different age groups for the derby and winners were awarded prizes. The event included fishing clinics and provided a free barbecue lunch for the families in attendance.

Supervisor Andrew Do's Chief of Staff, Brian Probolsky, attended the event to count down the official start of the derby. Probolsky is pictured here with the first fish caught, which was no more than twenty seconds after the start of the derby.

West Garden Grove Library Renamed

On March 24, 2015, the City of Garden Grove renamed the Garden Grove West Library as the "Garden Grove Tibor Rubin Library" to honor and recognize Tibor Rubin, who received the Congressional Medal of Honor for his time and service during the Korean War from 1950 to 1953. Mr. Rubin, now 85, served as a soldier for the U.S. Infantry and was captured by the Chinese. During his 30 months as a prisoner of war, Mr. Rubin risked his own life to save the lives of at least 40 of his fellow prisoners.

Mr. Rubin is seen (top) with Supervisor Andrew Do's Deputy Chief of Staff, Nick Lecong, and (bottom) at the renaming ceremony in front of the library.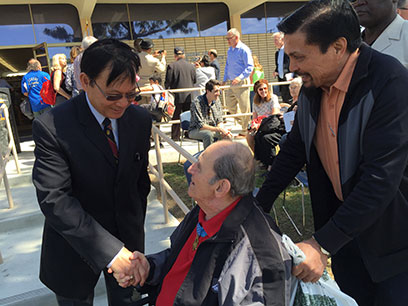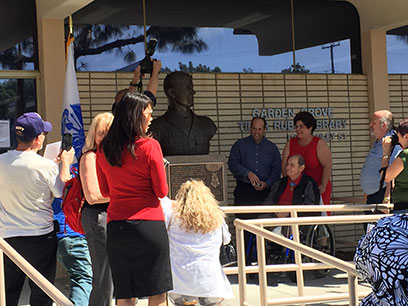 KinderCaminata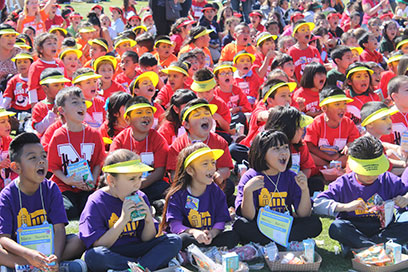 The Santa Ana College hosted its 21st Annual KinderCaminata on March 6th. The event "is a labor of love with the young children's futures in mind," said Santa Ana College President Erlinda J. Martinez, Ed.D.

The Santa Ana Police Department, American Red Cross, California Highway Patrol and other organizations had interactive booths which taught over 1,000 kindergarten students about money management, careers, and personal growth.

"Opportunities like this inspire the leaders of tomorrow to work hard and stay educated," said Supervisor Andrew Do.

Upcoming Events

City of Westminster: 2015 Spring Festival
The Community Services and Recreation Department of the City of Westminster is hosting their 2015 Spring Festival on Saturday March 28, 2015 from 9 a.m. till 3 p.m. at the Westminster Civic Center. The event is free for all to attend.

Kiwanis Club of Westminster will provide a pancake breakfast. The event will also feature workshops hosted by the Westminster Home Depot, entertainment, children's activities, and a visit from the Eater Bunny!

For more information please call the Community Services and Recreation Department at (714) 895-2860 or visit their website at Westminster-CA.gov

Kids Fun Zone: Craft Event
On Saturday march 28th, Kids Fun Zone will host its monthly free craft event from 12 p.m. till 3 p.m. The events are held on the last Saturday of each month. Kids Zone membership is free and includes free craft activities, a birthday gift, VIP family events, and exclusive store discounts. This month, the event will be held at Bristol Warner Village (2311 South Bristol St.), and kids will also have the opportunity to win some cool prizes! For more information, please visit BristolWarnerMarketplace.com or BristolWarnerVilliage.com or call (818) 710-6100.

Local Harvest Farmers' Market
Every Sunday, from 9 a.m. to 2 p.m., the Local Harvest Certified Farmers' Market is held on Historic Main Street in the City of Garden Grove (between Acacia Parkway and Garden Grove Blvd.). Enjoy certified, California-grown fruits and vegetables as well as a variety of gourmet and specialty foods. Local vendors features arts, crafts, jewelry, and more! Performances from local musicians provide great entertainment while you spend your Sunday with family and friends. For more information, visit LocalHarvestFarmersMarkets.com.

Bowers Museum: Japanese Cherry Blossom Festival
On Sunday, April 6, 2014, from 10 a.m. until 4 p.m., the Bowers Museum will hosts its monthly TARGET Free First Sunday. This month's event will be the Japanese Cherry Blossom Family Festival, sponsored by the Nicholas Endowment. The Festival will be located on the Margaret and Cleo Key Courtyard. The event will feature cultural performances, face painting, and bonsai displays. For the event's full itinerary and more details, please visit http://www.bowers.org/index.php/programs/target-free-first-sundays/event/1227-target-free-first-sunday-japanese-cherry-blossom-family-festival


DISTRICT

STAFF
Brian Probolsky
Chief of Staff

Nick Lecong
Deputy Chief of Staff

Diane Nguyen
Senior Policy Advisor

Arturo Garcia
Policy Advisor

Kyle Swarts
Policy Advisor

Evan Emrich
Policy Advisor

Keith Tapscott
Policy Advisor

Joyce Rivero
Executive Secretary



Stay Updated!