April 10, 2015
Volume 1

Issue 2

Board of Supervisors

Welcome

Welcome to Supervisor Andrew Do's First District Updates, my newsletter for our district in Orange County.

Below are a few highlights of recent events in the First District, including a list of upcoming community events that I think you'll enjoy.

Thank you for reading this issue.

Sincerely,
Andrew Do
Supervisor, First District
Orange County Board of Supervisors

News and Updates

Santa Ana Chamber of Commerce: First Government Affairs Breakfast

The Santa Ana Chamber of Commerce held its First Government Affairs Breakfast on March 27th to work with government institutions and its members to better our community.

Addressing over 40 business leaders and representatives from different organizations, Supervisor Andrew Do spoke about Santa Ana's potential for future growth and opportunities within the city. Citing projects, such as the Santa Ana-Garden Grove street car, the 4th Street Market and improving the business environment Supervisor Do believes that this is only the beginning of bigger plans for the City. Supervisor Do mentioned during the meeting, "I look forward to working with the Santa Ana City Council and other members of the community to improve Santa Ana, not just for the First District, but for all of Orange County to enjoy and be proud of."

Supervisor Andrew Do Runs 5k for Homeless Children

On Saturday, March 28, 2015, Supervisor Andrew Do participated in the Run for Homeless Children event.

The event began at 7:30 a.m. in Mile Square Regional Park, where over 1,000 participants attended to walk and run the 5k in support of the Thomas House Family Shelter.

Since 1986, the Thomas House Family Shelter has been serving homeless families with children by providing them with child services, food, and shelter as part of a program to help them get back on their feet. On average, they provide services to over 135 families each year, with approximately 95% of these residents graduating from their program!

At the event, Supervisor Andrew Do presented a Certificate of Recognition to Cyndee Albertson, the Executive Director of Thomas House Family Shelter, who accepted it on behalf of the organization. The certificate recognizes the Thomas House Family Shelter for their Annual Run for Homeless Children, as well as their contributions to the community and to those in need.

A variety of companies also supported the event with donations and booths providing information, resources, and free food for event participants.

For more information about the Run for Homeless Children, or other services that Thomas House offers, please Contact Cyndee Albertson of the Thomas House Family Shelter in Garden Grove at (714) 554-0357.

Garden Grove Chapman Library Re-opens after 6-Month Renovation

On Monday March 30, 2015, the Garden Grove Chapman Library re-opened to the public after a 6-month renovation.

The library, originally built in 1964 at 9182 Chapman Avenue, recently received a number of much needed upgrades, including new electrical wiring throughout the facility, new carpeting and paint, new furniture, and new public computers for both children and adults.

Kyle Swartz, representative for Orange County Supervisor Andrew Do's office, was in attendance for the Grand Re-opening, as were Garden Grove City Councilman Kris Beard, Orange County Librarian Helen Fried, Garden Grove City Manager Allan Roeder, and representatives from "Friends of the Library."

Though unable to attend, Supervisor Do stated, "The Orange County public library system is a tremendous asset to Orange County residents" and, "It is important that our libraries be available for local students, so that they have a safe environment to pursue their research and studies after school hours."

The library hosts approximately 300-400 community members per day. In addition to the other renovations, the library also built new ADA compliant restrooms and walkways at the facility to ensure that all members of the surrounding community will be able to enjoy equal access to the library branch. There are future plans to integrate patio reading areas into the Chapman library, so that visitors may read outdoors as well!

FaCT (Families and Children Together) Celebrates 20th Anniversary

On Tuesday, March 31st, Families and Children Together (FaCT) celebrated their 20th Anniversary.

FaCT is an organization that provides support and services to children and families through community-based collaborative operating family resource centers. These centers are supported by FaCT through program development and administration, funding, and training.

A luncheon at the Delhi Center in Santa Ana celebrated and recognized FaCT for their anniversary and many accomplishments. At the luncheon, a representative from Supervisor Andrew Do's office presented a proclamation signed by all five of the Orange County Board of Supervisors to recognize the work and service FaCT has done over the past 20 years.

Supervisor Do Attends First CalOptima Meeting as a Board Member

On April 2nd, Supervisor Andrew Do attended his first CalOptima meeting as one of its board members.

Significantly discussed at the board meeting was the transition of the OneCare program members to OneCare Connect, a new program designed to provide integrated, coordinated health services for its members.

Although many attendees voiced their concerns about the possible loss of services to children who suffer from autism spectrum disorders, the board assured that they will work with the program's providers, as well as the state, to address these concerns.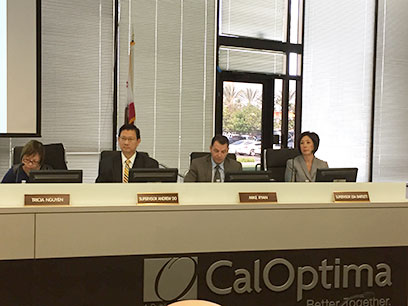 3rd Annual Eco Challenge Poster Contest

Step Up To Bat For Our Planet!

Enter the County of Orange poster contest for the chance to be an Honorary Bat Kid at an Angels baseball game this year.

Create a poster that clearly demonstrates how you personally 'Take the Eco Challenge'. Show examples of projects or activities that you have developed or engaged in that promote recycling, reusing, or reducing. These programs could be in your school, home or community, but the poster needs to focus on your personal plan of action.

Bring or mail your entry to Discovery Cube or OC Waste & Recycling Headquarters by June 30, 2015, and one lucky winner from each of Orange County's Supervisorial Districts will be awarded the status of Honorary Bat Kid during an Angels home game in 2015.

The contest is open to children between the ages of 8 and 14. For more details, please visit http://oclandfills.com/recycling/eco_challenge/batkid.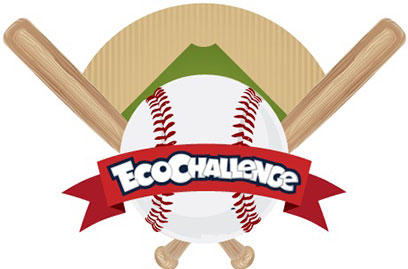 Upcoming Events

Local Harvest Farmers' Market

Every Sunday, from 9 a.m. to 2 p.m., the Local Harvest Certified Famers' Market is held on Historic Main Street in the City of Garden Grove (between Acacia Parkway and Garden Grove Blvd.). Enjoy certified, California-grown fruits and vegetables as well as a variety of gourmet and specialty foods. Local vendors feature arts, crafts, jewelry, and more! Performances from local musicians provide great entertainment while you spend your Sunday with family and friends. For more information, visit http://www.LocalHarvestFarmersMarkets.com

Volunteer at the Santa Ana Public Library

Volunteer at the Santa Ana Public Library and be a tutor, mentor, or intern working on various projects, special events, and programs.

Orientations are held on the first and third Friday of each month at 4 p.m. till 5 p.m. in the basement of the central library, located at 26 Civic Center Plaza, Santa Ana. The next volunteer orientation is on Friday, April 17th.

For more information, please call 714-647-6913 or visit http://santa-ana.org/library/support/volunteers.asp.

Santa Ana Zoo: Free Entry Days for Santa Ana Residents

On the third Sunday of each month, the Santa Ana Zoo offers free entry for Santa Ana residents.

The next Resident Free Day will be Sunday, April 19th from 10 a.m. to 4 p.m. Proof of residency (e.g., driver's license, utility bill, etc.) will be required upon arrival. Not valid for school or business addresses.

For more information, please visit the Santa Ana Zoo website at http://www.santaanazoo.org.

Bowers Museum: Free Entry Days for Santa Ana Residents

Courtesy of the Lockhart Family and a generous donation in the memory of Dorothy Goerl, the Bowers Museum is pleased to offer free admission to Santa Ana residents, with proof of residency (e.g., driver's license, utility bill, etc.), on the first Sunday and third Tuesday of every month.

The next day for free admission will be Tuesday, April 21st, from 10 a.m. to 4 p.m.

For more information, please contact (714) 567.3600 or visit the Bowers Museum website at http://www.bowers.org/.

Keep America Beautiful

The Keep America Beautiful Program will take place the month of April. Westminster residents, businesses and schools are invited to improve the looks, vitality and economic integrity of their community by beautifying their surroundings in ways that make a huge difference. The annual "Adopt a Park" program offers an opportunity for citizens, youth organizations, churches and service clubs to adopt a park of their choice and give a sprucing up on Saturday, April 25, 2015.

For more information, please stop by the City of Westminster's Community Services & Recreation Department at 8200 Westminster Blvd., call them at (714) 895-2860, or email them at csronline@westminster-ca.gov.



DISTRICT

STAFF
Brian Probolsky
Chief of Staff

Nick Lecong
Deputy Chief of Staff

Diane Nguyen
Senior Policy Advisor

Arturo Garcia
Policy Advisor

Kyle Swarts
Policy Advisor

Evan Emrich
Policy Advisor

Keith Tapscott
Policy Advisor

Joyce Rivero
Executive Secretary



Stay Updated!