Board of Supervisors

Welcome

Welcome to Supervisor Andrew Do's First District Updates, my newsletter for our district in Orange County.

Below are a few highlights of recent events in the First District, including a list of upcoming community events that I think you'll enjoy.

Thank you for reading this issue.

Sincerely,
Andrew Do
Supervisor, First District
Orange County Board of Supervisors

News and Updates

Supervisor Do attends "El Día del Niño" event

KidWorks, an organization that assists at-risk children, hosted its annual "El Día del Niño" event on April 11th at Myrtle Park in Santa Ana.

Many countries observe "El Día del Niño," a holiday recognizing children and paying homage to their importance in society. In celebration of this holiday, Supervisor Do and his office offered prizes as well as information on child services and resources the County offers.

On Saturday, April 25th, another similar celebration will take place, hosted by the Santa Ana Public Library Youth Services. The 7th Annual Book Day, or Día de Los Niños, will take place at the Santa Ana Main Public Library from 10:30 a.m. to 3 p.m. There will be free books, entertainment, a book sale, and a resource fair. Supervisor Do and his office will be present to give out more prizes, so come join us for the fun!

For more information, please contact the Santa Ana Public Library at (714) 647-5258.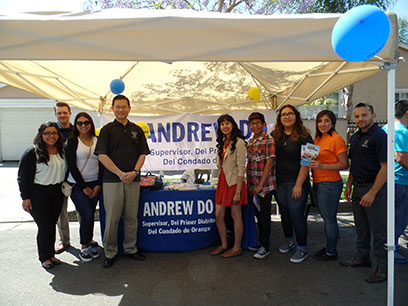 Supervisor Do with volunteers from Hispanic 100.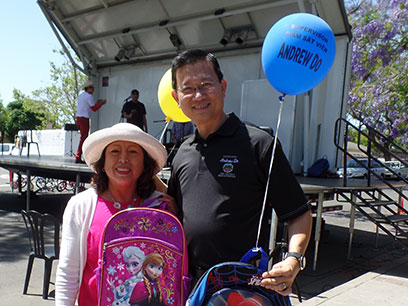 Supervisor Do and Adela Montanez, Community Advocate Coordinator of Latino Health Access, pose for a phtoo with some of the prizes given out to children that day.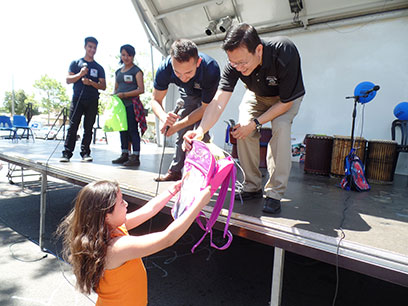 Supervisor Do handing out balloons, backpacks, and other prizes at the event.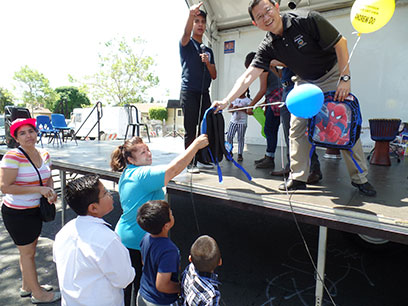 Supervisor Do recognizes SAUSD's Parents of the Year

On April 21st, the Santa Ana Unified School District (SAUSD) held its Parent of the Year event at Segerstrom High School to recognize the volunteer work and dedication of parents to their children's education. Supervisor Do met many of the 56 parents honored with the Parent of the Year award, as well as principals of SAUSD high schools and members of the SAUSD administration.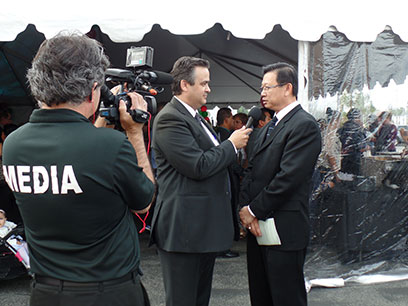 Supervisor Do and the SAUSD Media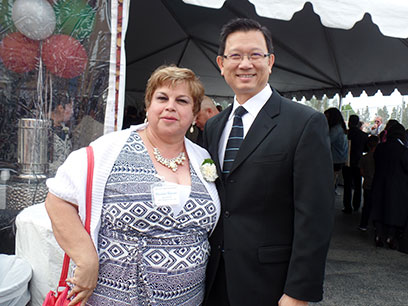 Supervisor Do with Manuela Herrada, PTSA President & Parent of the Year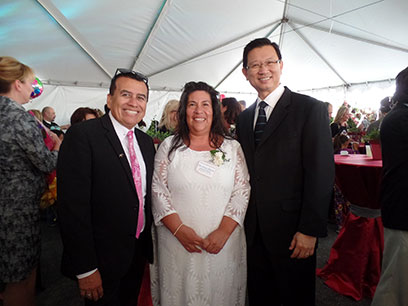 Supervisor Do with Pio Pico Elementary Principal & Lorin Griset Academy Parent of the Year, Guadalupe Celedón

Supervisor Do wants to focus on the importance of education in our community

Supervisor Andrew Do met with Gloria Romero, Chairwoman of the Senate Education Committee, to speak about the importance of education in our community.

"Education is the foundation for tomorrow's leaders," said Supervisor Do after the meeting. "It is what allows people to move pave their own way and achieve their goals. As a community, we should ensure that education is accessible for our children."

Free Tune-ups at OCTA's Bicycle Safety Course

Free bike tune-ups at the bicycle safety course will be held at the Orange County Transportation Authority (OCTA) headquarters on April 24th and April 25th for those who register for the course.

Cycling Savvy is the mandatory course required for those who want to become certified cycling instructors by the League of American Bicyclists. It is also a course open for enrollment to anyone who wants to become a safer and more confident bicyclist. The course is broken down into three workshops which teaches the laws and techniques of traffic cycling, including the safest places and ways to ride.

Additionally, OCTA will host its Bike Festival in Huntington Beach on April 26th and its Explore Jeffrey Open Space Trail event on May 30th, both of which will include free bicycle tune-ups as well.

For further information or any questions, please contact Ellen Burton, Executive Director, External Affairs of OCTA at (714) 560-5923 or eburton@octa.net.

3rd Annual Eco Challenge Poster Contest

Step Up To Bat For Our Planet!

Enter the County of Orange poster contest for the chance to be an Honorary Bat Kid at an Angels baseball game this year.

Create a poster that clearly demonstrates how you personally 'Take the Eco Challenge'. Show examples of projects or activities that you have developed or engaged in that promote recycling, reusing, or reducing. These programs could be in your school, home or community, but the poster needs to focus on your personal plan of action.

Bring or mail your entry to Discovery Cube or OC Waste & Recycling Headquarters by June 30, 2015, and one lucky winner from each of Orange County's Supervisorial Districts will be awarded the status of Honorary Bat Kid during an Angels home game in 2015.

The contest is open to children between the ages of 8 and 14. For more details, please visit http://oclandfills.com/recycling/eco_challenge/batkid.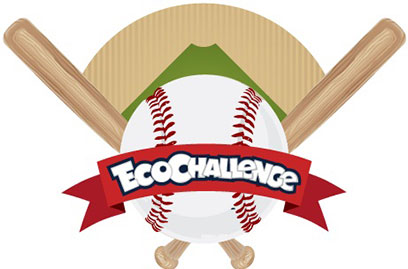 Upcoming Events

Keep America Beautiful

The Keep America Beautiful Program will take place the month of April. Westminster residents, businesses and schools are invited to improve the looks, vitality and economic integrity of their community by beautifying their surroundings in ways that make a huge difference. The annual "Adopt a Park" program offers an opportunity for citizens, youth organizations, churches and service clubs to adopt a park of their choice and give a sprucing up on Saturday, April 25, 2015.

For more information, please stop by the City of Westminster's Community Services & Recreation Department at 8200 Westminster Blvd., call them at (714) 895-2860, or email them at csronline@westminster-ca.gov.

Local Harvest Farmers' Market

Every Sunday, from 9 a.m. to 2 p.m., the Local Harvest Certified Famers' Market is held on Historic Main Street in the City of Garden Grove (between Acacia Parkway and Garden Grove Blvd.). Enjoy certified, California-grown fruits and vegetables as well as a variety of gourmet and specialty foods. Local vendors feature arts, crafts, jewelry, and more! Performances from local musicians provide great entertainment while you spend your Sunday with family and friends. For more information, visit http://www.LocalHarvestFarmersMarkets.com

Volunteer at the Santa Ana Public Library

Volunteer at the Santa Ana Public Library and be a tutor, mentor, or intern working on various projects, special events, and programs.

Orientations are held on the first and third Friday of each month at 4 p.m. till 5 p.m. in the basement of the central library, located at 26 Civic Center Plaza, Santa Ana. The next volunteer orientation is on Friday, May 1st.

For more information, please call 714-647-6913 or visit http://santa-ana.org/library/support/volunteers.asp.

Santa Ana Zoo: Free Entry Days for Santa Ana Residents

On the third Sunday of each month, the Santa Ana Zoo offers free entry for Santa Ana residents.

The next Resident Free Day will be Sunday, May 17th from 10 a.m. to 4 p.m. Proof of residency (e.g., driver's license, utility bill, etc.) will be required upon arrival. Not valid for school or business addresses.

For more information, please visit the Santa Ana Zoo website at http://www.santaanazoo.org.

Bowers Museum: Free Entry Days for Santa Ana Residents

Courtesy of the Lockhart Family and a generous donation in the memory of Dorothy Goerl, the Bowers Museum is pleased to offer free admission to Santa Ana residents, with proof of residency (e.g., driver's license, utility bill, etc.), on the first Sunday and third Tuesday of every month.

The next day for free admission will be Sunday, May 3rd, from 10 a.m. to 4 p.m.

For more information, please contact (714) 567.3600 or visit the Bowers Museum website at http://www.bowers.org/.

Santa Ana Artist Village Art Walk

The Downtown Santa Ana Art Walk is held every first Saturday of the Month in the Artists Village. The event starts at 7 p.m. and is free for all to attend and enjoy the atmosphere. With arts, crafts, and live entertainment, there is always something new to see. So come and introduce yourself to a local artist, invite your friends, and grab a bite to eat.

The Downtown Inc. also encourages artists of all mediums to participate in this event.

The next Downtown Santa Ana Art Walk will be held on Saturday, May 2nd.

For more information, please visit http://www.downtown-santaana.com or contact (714) 547-6100 ext. 205.