May 29, 2015
Volume 1

Issue 4

A Message from Supervisor Andrew Do


This past weekend, we celebrated Memorial Day. We honored those who sacrificed their lives in the name of freedom. We had parades. We attended ceremonies. We placed flags on the graves of the fallen.

Yet, all of those actions seem hollow and inadequate, when compared to the gift we've received from generation after generation of American soldiers.

A century and a half ago, Abraham Lincoln struggled to consecrate the hallowed ground at Gettysburg. "But, in a larger sense, we can not dedicate -- we can not consecrate -- we can not hallow -- this ground," the Great Emancipator said as he guided our nation through the Civil War. "The brave men, living and dead, who struggled here, have consecrated it, far above our poor power to add or detract."

Words, too, failed Ronald Reagan in the 20th Century. "I have no illusions," Reagan said in a Memorial Day speech, "about what little I can add now to the silent testimony of those who gave their lives willingly for their country."

If the Great Emancipator and Great Communicator were rendered speechless by the gravity of this somber occasion, then how can we, mere mortals by comparison, be expected to remember this day? Maybe that's why we distract ourselves with super sales, car races and backyard barbecues. It's easier to occupy our minds with trivial things than contemplate the gravity of the statement: America is an ideal worth dying for.

But, even that statement isn't complete. For the annals of American history are filled with occasions when American soldiers have been laid to rest in far away lands, fighting for the freedoms of others. Forty-four hundred Allied troops landed at Normandy, never to return home. More than 58,000 U.S. troops died in Vietnam and bequeathed to me the endless opportunity that comes with American citizenship.

And the American soldier's sacrifices for you and me are ongoing and never-ending. Only one week ago, a 24-year old Navy sailor supporting Operation Inherent Resolve, the operation to eliminate the ISIL terrorist group, died in the United Arab Emirates.

Which brings us right back to the question: how can we honor these men and women? The truth is there isn't an appropriate measure of respect. But, Justice Oliver Wendell Holmes might have given us the best direction.

"Our dead brothers still live for us, and bid us think of life, not death," Justice Holmes said, in what's considered one of the greatest Memorial Day speeches. "As I listen, the great chorus of life and joy begins again, and amid the awful orchestra of seen and unseen powers and destinies of good and evil our trumpets sound once more a note of daring, hope, and will."

To the daring men and women who we remember on this Memorial Day, we sound trumpets with our simple words, "Thank you."

Sincerely,
Andrew Do
Supervisor, First District
Orange County Board of Supervisors

News and Updates

Thousands honor returning veterans at 57th Annual Strawberry Festival Parade

More than 10,000 spectators lined Euclid Street this past Saturday morning to honor our returning veterans at the 57th Annual Strawberry Festival Parade in Garden Grove.

The parade focused on the 25 participating Veterans of the Armed Forces. Marine Corps Sergeant Major Chuong Nguyen, a resident of Westminster and also a combat veteran of Iraq and Afghanistan, recently returned from deployment Friday, just in time for a memorable welcome home by the community.

Community leaders, such as the members of the Garden Grove City Council, joined the local veterans in the parade, which featured the sounds of the Rancho Alamitos High School Marching Band. Four-year-old Ethan Shepherd, crowned Tiny Tots King, rode in the festival parade float alongside five-year-old Aditi Bhattachara who was crowned Tiny Tots Queen. Celebrities such as television's Sally Kellerman, Miss Garden Grove Shannon Galipault, and Miss Outstanding Teen Josie Pearce were also present at this year's parade.

Orange County First District Supervisor, Andrew Do, rode down the parade's route, smiling and waving to the impressive number of spectators who attended this year's parade despite an overcast sky. Supervisor Do was accompanied by Cheri Pham, his wife who serves as an Orange County Superior Court Judge, and their two daughters.

"It's an honor to be a part of the parade," said Supervisor Andrew Do. "I have been coming to this festival for years, and once again, the outstanding leaders, staff, and community volunteers of the Garden Grove Strawberry Festival have organized one of the country's best festivals."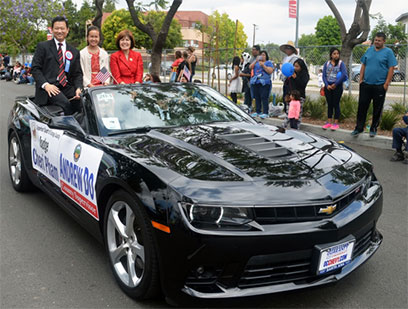 Supervisor Andrew Do accompanied by Cheri Pham, his wife who serves as an Orange County Superior Court Judge, and their two daughters
Since 1958 the Garden Grove Strawberry Festival has organized a delicious festival to help raise money for local charities, civic organizations, and student scholarships. Funding from the 2015 festival will go towards the Garden Grove Boys and Girls Club and the new children's section at the Orange County Central Library.

For more information about the Strawberry Festival, please contact Judy Cooper with the Garden Grove Strawberry Festival Association at (949) 644-8889.

Santa Ana Unified School District recognizes Top 100 Scholars

The Santa Ana Unified School District honored its Top 100 Scholars at an awards event held at Guaranty Chevrolet earlier this month. Parents, teachers and school administrators joined the Segerstrom High School Chamber Singers in celebrating the students, who topped a competitive field of more than 3,300 high school seniors.

"Our entire county is proud of your achievements," said Orange County Supervisor Andrew Do, who presented the students with Certificates of Recognition from the County of Orange. "I'm proud of Orange County's outstanding teachers, administrators and support staff that helped keep these students on track for success."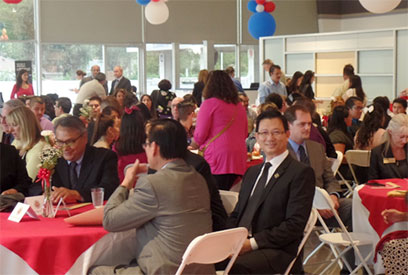 All of the top scholars are planning to attend college in the fall, with many headed to big-name schools, including Harvard University. Students were selected based on their weighted Academic Grade Point Average from freshman to senior year. Ties were broken by total credits earned, followed by the number of Advanced Placement (AP) credits earned.

The ceremony included performances by Segerstrom High School Jazz Band and the national anthem by 12th grade Chamber singer, Alejandra Morales.

A complete list of the Top 100 Scholars is available here.

Redevelopment revival threatens land-grab abuses


When the U.S. Supreme Court upheld a city's condemnation of seven homes in order to hand the properties to a private developer, the public demanded new laws to blunt the effects of that 2005 ruling, Kelo v. New London. Orange County voters responded in 2006 with Measure A, which banned the use of government's power of eminent domain for transferring properties between private parties.

Assembly Bill 2, by Salinas Democrat Luis Alejo, would bring back redevelopment in disadvantaged communities without any protection against Kelo-style abuses of property rights. The bill, which passed the Assembly this month, would allow local governments to create "community revitalization authorities" with the same legal powers as their redevelopment predecessors. In the name of infrastructure, affordable housing and economic revitalization, these new entities will have the power to issue bonds, hand out sweetheart loans and use eminent domain to seize private property.

The California Alliance to Protect Private Property Rights warns that AB2 brings back "the unchecked power of eminent domain." If AB2 becomes law, local governments will once again have a method for seizing a family-owned restaurant or place of worship. Property also can be taken in order to give the coveted real estate to a big developer.

It's also frustrating to see proponents of AB2 pitch their bill as a way to help disadvantaged communities. Struggling communities benefit when capital remains with the small-business owners who live and work in the community. How does a disadvantaged community build wealth when title to a property – the most valuable asset of a business – is shipped out of town?

On principle, it's wrong to use eminent domain to take property from one person to give it to another – no matter how great the potential economic benefits. In practice, grand promises of economic growth through redevelopment rarely materialize.

That's certainly proven true in the city of New London, Conn., which produced the Kelo case. The private developer went bust after the 2008 financial crisis. The pharmaceutical giant Pfizer left town the following year, taking thousands of jobs with it. Instead of a financial windfall, the city spent millions of dollars to develop a property that sits vacant.

Those homes were seized for nothing.

This is an abridged version of the article; the full text is available here.

Come join us for the unveiling of the Ronald Reagan Statue at Mile Square Park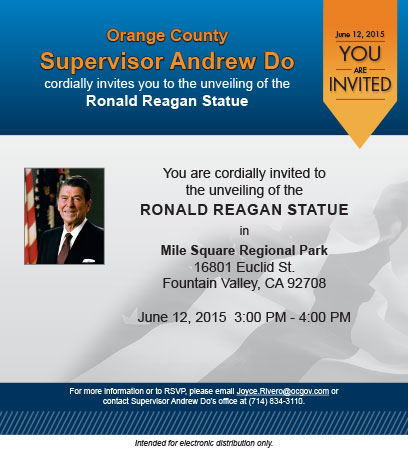 Click on the image above to view a PDF version.



DISTRICT

STAFF
Brian Probolsky
Chief of Staff

Nick Lecong
Deputy Chief of Staff

Arturo Garcia
Policy Advisor

Kyle Swarts
Policy Advisor

Evan Emrich
Policy Advisor

Keith Tapscott
Policy Advisor

Joyce Rivero
Executive Secretary

Lexie Nguyen
Executive Aide



Stay Updated!