June 12, 2015
Volume 1

Issue 5

Board of Supervisors

Welcome

Welcome to Supervisor Andrew Do's First District Updates, my newsletter for our district in Orange County. Below are a few highlights of recent events in the First District, including some upcoming community events that I think you'll enjoy.

Thank you for reading this issue.

Sincerely,
Andrew Do
Supervisor, First District
Orange County Board of Supervisors

News and Updates

Supervisor Andrew Do Honors Reagan's Legacy with Statue in Mile Square Park

Supervisor Andrew Do unveiled a new statue of President Ronald Reagan in Mile Square Park on Friday afternoon.

With his vision of "peace through strength," Ronald Reagan stimulated economic growth with low taxes and reduced regulations, while dedicating substantial government resources to a strong military and national defense. On foreign affairs, Reagan directly challenged the Soviet Union to end totalitarianism.

The statue intends to honor Reagan's achievements, adding to his legacy.

Hundreds of Orange County residents turned out to pay tribute to the 40th President, including Orange County Supervisor Michelle Steel, Sheriff Sandra Hutchens, Fountain Valley Councilman Michael Vo, Westminster Councilman Tyler Diep, Orange Councilman Fred Whitaker, former Congressman Chris Cox, and the Most Venerable Thich Chon Thanh.

"We're all here today to honor Reagan's achievements, to collectively build Ronald Reagan's legacy," said Supervisor Do. "President Reagan returned America to a period of economic prosperity and ended the Cold War."

The statue, which was funded with private donations, commemorates Reagan's unique connection to Mile Square Park, where he kicked off his presidential campaign. Former Congressman Chris Cox, who served as Senior Associate Counsel to the President during Ronald Reagan's second term, gave the keynote speech at the event.

Special thanks to HoangSa TruongSa Foundation, the Most Venerable Thich Chon Thanh, and Supervisor Do's Deputy Chief of Staff Nick Lecong for their help and leadership in the statue installation. Design, construction and printing were provided by Avatar Green, Dong and Associates, 5 Star Digital Design & Printing, and Phil Greer, Esq.

In case you missed it, check out some of the photos below!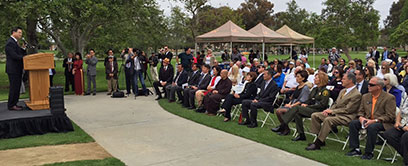 Supervisor Do gives his remarks at the unveiling ceremony of President Ronald Reagan Statute at Mile Square Park.



From left to right: former-Congressman Chris Cox, Fountain Valley Councilman Michael Vo with his wife, OC Treasurer-Tax Collector Shari Freidenrich, OC Clerk-Recorder Hugh Nguyen, Assembly Member Young Kim, Second District Supervisor Michelle Steel, OC Sheriff-Coroner Sandra Hutchens, Most Venerable Thich Chon Thanh, Assembly Member Matthew Harper, First District Supervisor Andrew Do, OCGOP Chair Fred Whitaker

The Southern California Association of Governments needs your voice!

The Southern California Association of Governments (SCAG) will be hosting a series of open houses throughout the six-county region from May 26 – June 29, 2015. The public is invited to attend an open house in their community to provide feedback on important issues in the region. Such issues include transportation, housing, air quality, the environment, public health, poverty, and more. Your input will help SCAG develop guiding policies to be included in the draft of the 2016-2040 Regional Transportation Plan/Sustainable Communities Strategy (2016 RTP/SCS), which is scheduled for release in October.

The 2016 RTP/SCS is a long-range visioning plan for Southern California that balances future mobility and housing needs with economic, environmental and public health goals. Developed by the Southern California Association of Governments, the 2016 RTP/SCS embodies a collective vision for the region's future and is developed with input from local governments, County Transportation Commissions, tribal governments, non-profit organizations, businesses and local stakeholders within the counties of Imperial, Los Angeles, Orange, Riverside, San Bernardino and Ventura.

Watch the following short video for an explanation of the 2016-2040 Regional Transportation Plan/Sustainable Communities Strategy.

Click here to view the 2016 RTP/SCS video.

For upcoming open houses and to RSVP, please refer to the calendar items below. For more information, please visit SCAG's 2016 RTP/SCS website.


Click on the image above to view the entire PDF document.

OC Budget Update: What do you think about next year's budget?

On Tuesday June 9, 2015, the Orange County Board of Supervisors conducted hearings on the County's proposed $6.2 billion budget. The budget was initially passed in a 4-1 vote, with Supervisor Andrew Do dissenting. The initial budget proposal included significant cuts to public safety funds, which are likely to be restored when the final budget is presented to the Board of Supervisors on June 23.

The nine-hour budget hearing covered topics ranging from health care to infrastructure projects. What do you think? Supervisor Do values your input on the County's budget. Watch or read about the budget hearings and email your comments to Andrew.Do@ocgov.com.

Join Supervisor Andrew Do for the Midway City Community Clean-Up!

On Saturday, June 20th, Supervisor Andrew Do will be co-hosting the Midway Community Clean-Up, Join Supervisor Andrew Do on Saturday, June 20 for the Midway Community Clean-Up!

The event, which is co-sponsored by the OC Public Works, OC Waste & Recycling, Midway City Sanitary District, and Rainbow Environmental Services, will take place on 14900 Park Lane, Midway City, from 8 a.m. until 11:30 a.m.

Attendees can learn more about ways to recycle, reduce and reuse products as well as drop off e-waste at the Midway City Community Center.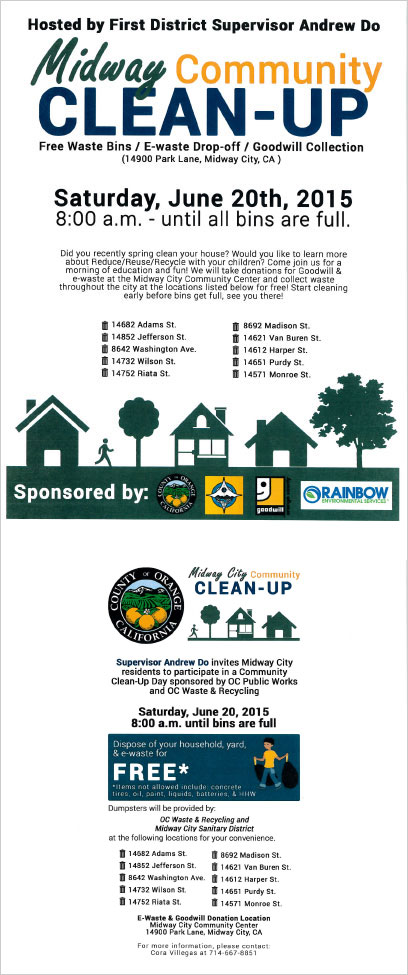 Click on the image above to view the entire PDF document.

OC Supervisor Andrew Do calls on Medi-Cal to halt clawback of millions of dollars from CalOptima doctors

Years after the bills have been paid, the state's public health insurance program has begun to demand repayment of millions of dollars from doctors who provide health care to low-income families, children, seniors and persons with disabilities in Orange County.

Orange County Supervisor Andrew Do, a member of the CalOptima board of directors, is calling for an end to this clawback by the state's fee-for-service Medi-Cal program, arguing that the process is unfair and could result in more doctors leaving CalOptima, Orange County's low-income health insurance program.

"Medi-Cal made the mistake, yet it's shifted the costs to doctors and patients," said Supervisor Do, who discovered the problem after receiving complaints from Orange County ophthalmologists. "It's wrong for Medi-Cal to unilaterally withhold payments on new claims as it tries to clear up old billing disputes."

Between July 26, 2011 and May 21, 2013, claims for services provided to dual-eligible patients – those enrolled in both Medi-Cal and Medicare – sent by Medicare to the state fee-for-service Medi-Cal program were erroneously paid by the state's fiscal intermediary, Xerox, rather than rejected. Such rejections would have triggered doctors to bill Orange County's own public health insurance program.

Now, Medi-Cal is recouping the improper payments from current billing claims submitted by doctors and issuing demand letters for amounts that range in the tens of thousands of dollars if the recoupment is not occurring quickly enough. In some cases, Medi-Cal appears to be charging interest on the money owed.

Adding to the confusion and frustration: uncertainty over whether the doctors can legally go back to claim the mis-processed payments from CalOptima due to the significant passage of time.

"This was clearly and admittedly a mistake made by Medi-Cal, yet it is placing these providers in a position to possibly suffer financial hardship," said Dr. Craig H. Kliger, executive vice president of the California Academy of Eye Physicians and Surgeons. "That is exactly the wrong message for the State to be sending to providers who are willing serve this vulnerable population."

At Thursday's CalOptima Board of Directors meeting on June 4th, Supervisor Do called on CalOptima staff to investigate the issue and identify how CalOptima can assist doctors in resolving the billing dispute.

Until affected health care agencies have a full understanding of the problem, he's calling for Medi-Cal to:

Immediately halt the clawback of funds;
Continue to pay doctors for undisputed claims; and
Work with doctors to reach a fair compromise on the billing dispute.
An estimated 1.1 million low-income seniors and people with disabilities receive health care services through both the Medicare and Medi-Cal, according to the state Department of Health Care Services. It's unclear whether other counties throughout the state are also affected by the problem.

OC Supervisor Andrew Do stands up for human rights in Vietnam

Freedom, democracy, and human rights have been long-standing issues in Vietnam. Vietnam and its government continue to oppress journalists, dissidents, and other human rights advocates despite the Trans-Pacific Partnership Agreement.

Most recently, a blogger by the name of Ta Phong Tan was imprisoned for criticizing the Vietnamese government for its human rights violation. In protest, she has fasted for more than 25 days. Without a release any time soon, Ms. Tan puts her life at risk for her cause. Supervisor Andrew Do believes that this demonstrates the intolerance and political suppression occurring in Vietnam, and in his letter to President Obama, calls for state action in the release of Ms. Tan.

"The incarceration of Ms. Ta Phong Tan is a prime example of the political oppression that the Vietnamese People must continue to live under," wrote Supervisor Andrew Do in his letter. "Her death will be on our conscience if we do nothing to support the noble cause she stands for."

Read Supervisor Do's full letter to President Obama below.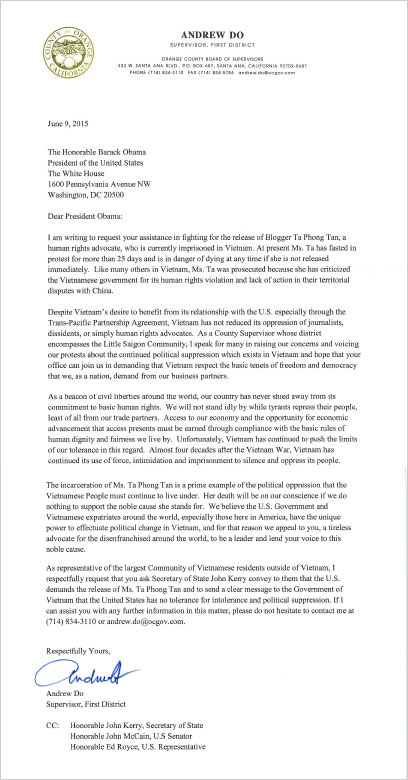 Click on the image above to view the entire PDF document.



DISTRICT

STAFF
Brian Probolsky
Chief of Staff

Nick Lecong
Deputy Chief of Staff

Arturo Garcia
Policy Advisor

Kyle Swarts
Policy Advisor

Evan Emrich
Policy Advisor

Keith Tapscott
Policy Advisor

Joyce Rivero
Executive Secretary


Lexie Nguyen
Executive Aide



Stay Updated!