Board of Supervisors

Welcome to Supervisor Andrew Do's First District Updates, my newsletter for our district in Orange County. Below are a few highlights of recent events in the First District, including some upcoming community events that I think you'll enjoy.

I hope you all have a wonderful 4th of July. As we enjoy barbecues and fireworks with our loved ones, I hope that you get the chance not only to appreciate the freedom we have here in America, but also to remember those who have fought for it. With that, I hope you keep in mind all those who do not have the opportunity to share in the freedoms we have, and that we continue to seek freedom for all, not just here in our nation, but for all of mankind.

And as always, thank you for reading this issue.

Sincerely,
Andrew Do
Supervisor, First District
Orange County Board of Supervisors

News and Updates

Orange County's budget finalized

On Tuesday, June 23, 2015, the Orange County Board of Supervisors finalized the County's $5.8 billion budget for Fiscal Year 2015-16. The budget was passed with a 5-0 vote.

The budget included funding for a number of infrastructure projects throughout the county, funds for law enforcement personnel, investments into advancing IT systems, as well as continued funding for healthcare-related items.

Supervisor Andrew Do offers a hand at Midway City Community Clean-Up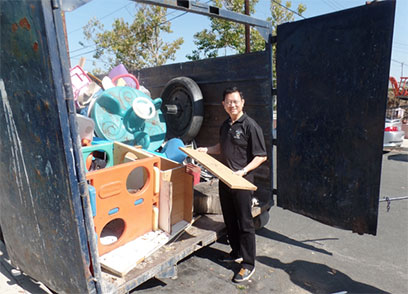 Midway City residents cleaned-up their community at the annual Midway City Community Clean-up event held on Saturday, June 23rd, hosted by First District Supervisor Andrew Do.

OC Public Works Neighborhood Preservation organized the event in collaboration with OC Waste & Recycling. Working together with the Midway City Sanitation District, Rainbow Environmental Services and Goodwill of Orange County, the County of Orange provided a full-service neighborhood clean-up to encourage residents to clean-up their neighborhood, while also eliminating the costly clean-up of illegal dumping and reducing code enforcement citations.

The Clean-Up event attracted residents from the entire neighborhood, with 12 waste bins located at strategic locations throughout the area and educational booths at the Midway City Community Center. Most bins were full within the first two hours of the clean-up and any electronic-waste was donated to Goodwill of Orange County at the community center. Members of the community also had the opportunity to meet County staff and learn more about the various programs available to County unincorporated residents.

One of the event's highlights was the presentation of a permanent eco-friendly recycling bin for use by Abrazar at the Midway City Community Center. Abrazar CEO, Gloria Reyes, was on hand to receive the bin from OC Waste & Recycling. The new bin will encourage positive recycling behaviors at the center.

Residents disposed of 100,000 pounds of waste and brought nearly 4,000 pounds of E-Waste for reuse. Supervisor Andrew Do and the First District office is proud to support the Midway City residents with this popular community-focused event.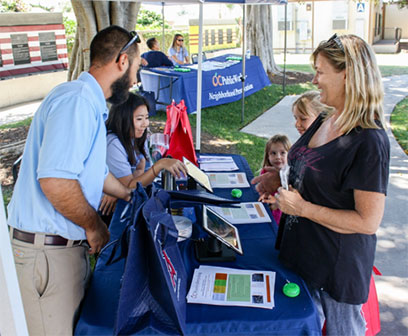 Midway City residents stop by OC Waste & Recycling's booth to learn more about Reduce/Reuse/Recycle.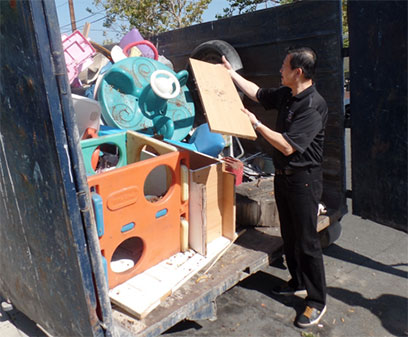 Supervisor Andrew Do helps residents dispose of waste in Midway City.

See 4th of July fireworks in the First District

Westminster
5 p.m.-9:30 p.m. Enjoy food from local vendors and live bands prior to the fireworks show. Westminster High School, 14325 Goldenwest St., Westminster. Contact 714-895-2860 or visit www.ci.westminster.ca.us for more info.

Santa Ana
The City of Santa Ana will celebrate Independence Day with fireworks at 9 p.m., live music, a kids' zone play area, food, and a History Walk at Centennial Park (3000 W. Edinger Ave., Santa Ana)

OC Animal Care would like to remind you about pet safety this holiday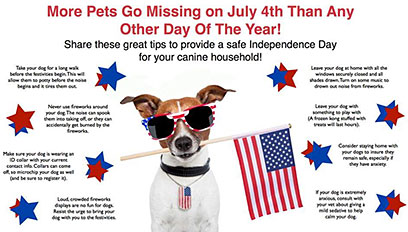 Orange County homeowners will have more time to appeal property tax bills

Orange County homeowners now have more time to appeal their property tax bills, under a plan approved last month by the Orange County Board of Supervisors. Beginning July 2, all Orange County property owners will have 152 days to dispute their property tax bills.

"Under the old rules, some taxpayers were notified of their right to appeal after the deadline had passed," explained Orange County Supervisor Andrew Do, who joined a unanimous board in extending the deadline for filing a property tax appeal. "Orange County needs to guarantee that our property tax bills are determined in the spirit of Proposition 13. That means giving every taxpayer ample time to dispute their bill."

Orange County Assessor Claude Parrish brought the property tax extension issue to the board after hearing complaints from taxpayers about the short window of time for disputing their property tax bills. Some taxpayers complained that, by the time they noticed the bill, the deadline for filing an appeal had passed.

Under the new rules, taxpayers will have the right to appeal their assessed values from July 2 to November 30. The change gives taxpayers an extra 76 days to review their tax information and dispute the assessed value for their property.

Supervisor Andrew Do says that, with the extra seven weeks, more Orange County taxpayers will have time to review their rights, learn about the tax appeals process and make an educated decision whether to appeal. "Orange County is committed to protecting taxpayers in the tax assessment and appeals process," Supervisor Andrew Do said. "That means ample time for every taxpayer to exercise all of their rights."

Santa Ana: State of the City Address

On Wednesday, June 10th, the State of the City Address was given by Mayor Miguel A. Pulido at the Bower's Museum in Santa Ana. Mayor Pulido believes that Downtown 4th Street in Santa Ana gives evidence to the thriving economy of local businesses.

Downtown Santa Ana has recently seen the establishments of 4th Street Market and many other local, trendy restaurants in recent years. While the population has generally avoided the downtown Santa Ana area in the past, with more things to do and places to eat, downtown Santa Ana has become a place to be for locals and visitors alike.

The upcoming Santa Ana Streetcar project will not only improve transportation, but also in effect help local businesses to succeed.

"My district office is in downtown Santa Ana," said Supervisor Andrew Do, who supports and believes in the importance of local businesses. "I have seen for myself its growth and development and cannot wait to see what's in store for the City of Santa Ana."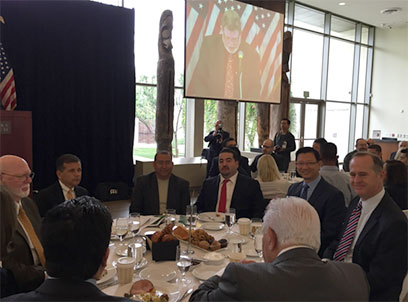 Supervisor Do sits with Mayor Pulido and Mayor Tait at the Santa Ana State of the City Address.

OC Public Libraries presents… Read to the Rhythm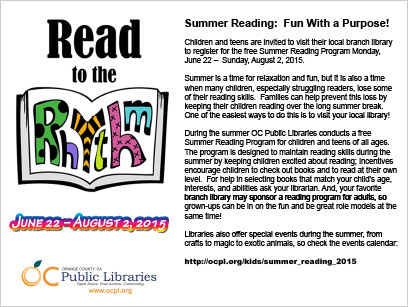 Click on the image above to view the entire PDF document.

Pet Tag Awareness Month

OC Animal Care gave out more than 160 free pet tags during the month of June, Pet Tag Awareness Month.

Pet tags are an important tool to ensure that lost pets find their way back to their owners. OC Animal Care checks each stray animal that is brought into the shelter for a tag or microchip and contacts the owner each day to attempt to return their pet. Less than 6% of pets are brought into the shelter each year with some form of identification. Pets with identification are 59% more likely to be returned to their owners.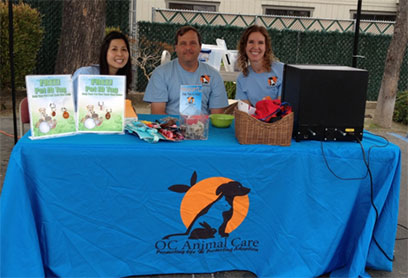 More news from OC Animal Care

On June 23rd, OC Animal Care finished installation on a project to reduce stress and provide additional space to cats at the shelter. The project involved designing, constructing and installing more than 90 cat portals into the existing cat kennels at the shelter. To celebrate the installation, OC Animal Care held a "Crazy about Cats" adoption event, where 125 cats found new homes!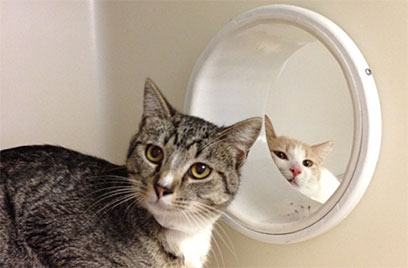 If you missed the event, be sure to contact OC Animal Care to find out about Catopia, scheduled for July 25th.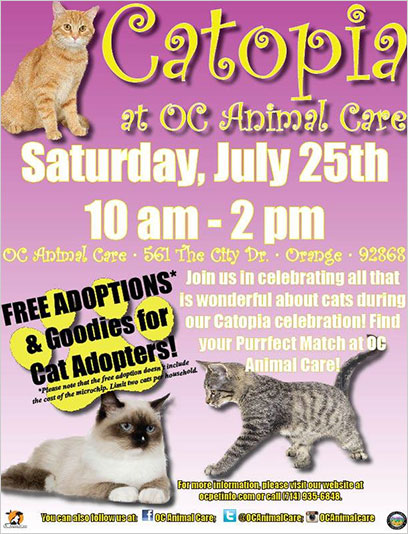 Click on the image above to view the entire PDF document.
Additionally, OC Animal Care has completed repairs to more than 31dog kennels to ensure that they are ready to use during the busy summer months. Kennel repairs have included installing new hinges and replacing broken and rotted back wooden doors. In addition, a welder was hired to replace broken lock, repair rested panels and replace bars on the doors. Not only do these repairs ensure that the shelter had additional kennel space available, they also enhance the appearance of the shelter for visitors and ensure safety for the shelter pets.

Meet our Pet of the Week: Stormy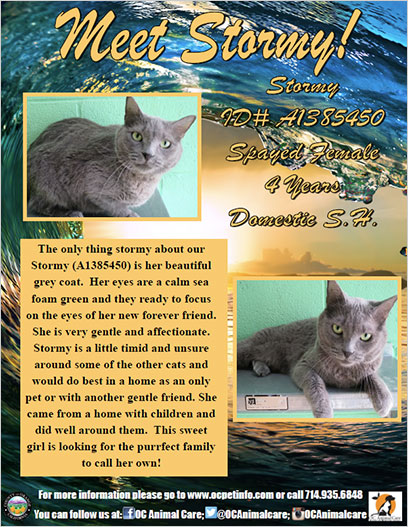 Click on the image above to view the entire PDF document.