News and Updates

COUNTY IMPLEMENTS "NO WRONG DOOR" POLICY WITH COMMUNITY SERVICE CENTER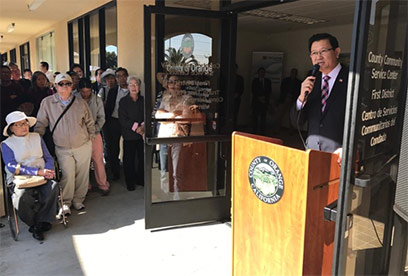 Over 250 residents attended the County Community Service Center (CCSC) Open House in Westminster to get help with County services.

The CCSC on average helps over 350 people each week by connecting them to a variety of services including healthcare, affordable housing, and senior services.

This is part of Supervisor Do's "no wrong door" policy, for those in need to be able to go to a one-stop shop for their County needs.

Supervisor Do is implementing a similar one-stop shop model with the new Civic Center Master Plan. The lobby of the new building will have a representative from each County agency so that a resident can get all their questions answered at one location.

TZU CHI HEALTH FAIR IN SANTA ANA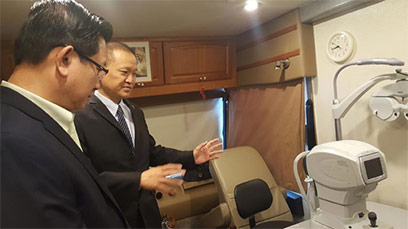 Supervisor Andrew Do joined in the Orange County Community Health Fair sponsored by the Tzu Chi Foundation at the Boys and Girls Club of Santa Ana.

Over 200 volunteers including dentists, optometrists, doctors and nurses were available to treat and screen for various medical problems. On site were dental and vision vans that provided services like making eyeglasses on-the-spot.

Local residents were lined up since 4 a.m. to take part in the health fair. All families that attended were sent home with a 20 lb. bag of fruits, vegetables and grains.

Tzu Chi hosts health fairs three times a year; this is their 10th health fair in Santa Ana. Supervisor Do recognized the Tzu Chi Foundation for their dedication to providing free medical treatment to those in need.

CENTRAL ORANGE COUNTY JOB FAIR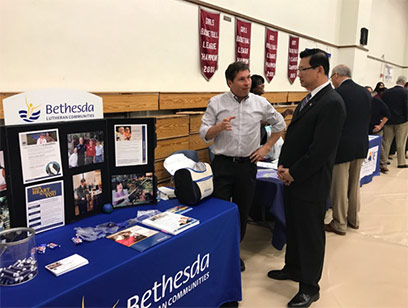 Our 5th Annual Central Orange County Job Fair was a success with approximately 500 job seekers, over 50 companies participating and over 875 jobs available.

Supervisor Do partnered with the Orange County Development Board, America's Job Center of California and the City of Fountain Valley to host this free event.

Hosting job fairs such as this one facilitate conversations between employers and qualified members of the public. Increased economic development benefits not only the individuals who gain employment and their employers, but the community as a whole.

OCTA NOW ACCEPTING APPLICATIONS FOR COMMITTEES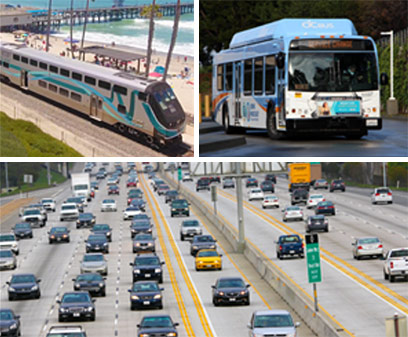 Do you want to make a meaningful impact on transportation related issues in your community and across Orange County?

If so, the Orange County Transportation Authority (OCTA) needs your help.

Three OCTA committees – the Citizens Advisory Committee (CAC), the Special Needs Advisory Committee (SNAC), and the Measure M Taxpayer Oversight Committee (TOC) – have openings, and are recruiting new members.

Applications for these OCTA Board-appointed committees are due April 10th for CAC and SNAC and May 1st for TOC. To apply, click here.

FOLLOW US ON SOCIAL MEDIA @JoinAndrewDo

For more on Supervisor Andrew Do and events in Central Orange County, follow us on social media @JoinAndrewDo.