June 6, 2017
Volume 2

Issue 10

News and Updates

County Approves Plan to Help Homeless on the Riverbed

On Tuesday, the Board of Supervisors (Board) approved the homeless ad-hoc committee's proposal to create a six month pilot program, which is designed to position the County as the lead in providing the Continuum of Care services needed to assist our citizens out of homelessness.

The homeless ad-hoc committee consisting of Supervisor Do and Supervisor Spitzer proposed this pilot program as a step towards a comprehensive plan to end homelessness, especially in encampments around the County.

The County currently operates the Courtyard here in Santa Ana and the Bridges at Kraemer Lane in Anaheim, however the Board recognizes that the solution to homelessness requires a multi-phase approach. This pilot study is strategic in its approach and is designed to invite collaboration with our partner cities and non-profit organizations.

The Board directed County staff to enter into a contract for services for up to $750,000 for six months; engage with cities along the Riverbed encampments and work to identify areas for basic needs outside of the flood channel; develop a public safety plan along the Santa Ana Riverbed with the Orange County Sheriff's Department; and provide a quarterly report on the success in finding housing alternatives for the encamped homeless population.

Emergency Preparedness - Sidewalk CPR Training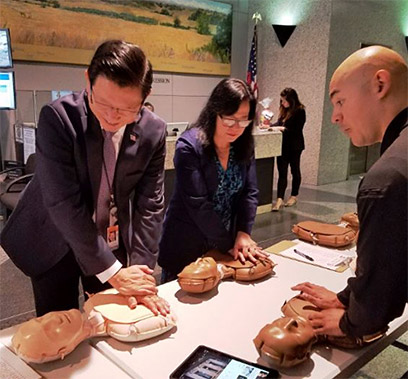 Supervisor Do and members of the public participated in a free "Sidewalk CPR" training last Thursday. These events were held at 10 separate locations across Orange County in order to educate and train residents how to respond to sudden cardiac arrest and other medical emergencies.

These "Sidewalk CPR" trainings were coordinated by Orange County Emergency Medical Services (EMS) and the American Heart Association (AHA). Emergency health agencies including Fire Departments, Ambulance Companies, Hospitals and educational programs were participants in administering the training for "hands only CPR", which anyone can learn fairly easily in only 5 minutes.

When an adult has a sudden cardiac arrest, his or her survival depends greatly on getting immediate CPR. Effective bystander CPR can double or triple a victim's chances of survival. If you would like more information regarding "hands only" CPR, please visit http://www.healthdisasteroc.org/ems.

More Senior Farmer's Market Vouchers to Come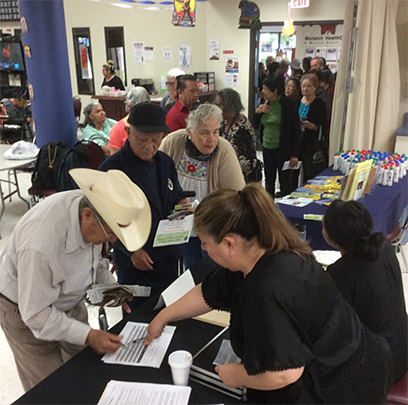 On May 26th, Supervisor Andrew Do and the Office on Aging hosted a Farmer's Market Voucher Distribution Day at the Santa Ana Senior Center, distributing $20 vouchers to low income seniors for fresh produce at local Farmer's Markets.

The voucher distribution had the best attendance of any event held by the Office on Aging, other than their yearly Senior Summit, and all 100 vouchers were handed out in a record-breaking hour and a half. We would like to thank all the staff who facilitated the distribution and the seniors for coming out and participating in the program.

Supervisor Andrew Do and the Office on Aging will be hosting another Farmers Market Voucher distribution on July 7th at the County Community Service Center in Westminster from 9 am to 12 pm. Vouchers are distributed on a first come first serve basis. To be eligible for this program you must be 60 or older and low-income, with a household annual income that does not exceed more that 185% of the poverty level. You must also have not already received a 2017 SFMNP booklet.

If you have any questions about the program, you can call the Office on Aging at 800-510-2020 or visit their website here.

Santa Ana Resident Appointed to Assessment Appeals Board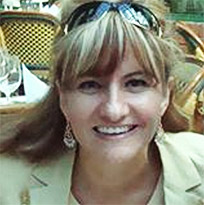 At the Board of Supervisor's Meeting Tuesday, Santa Ana resident Flor Roman was appointed by Supervisor Andrew Do to the Assessment Appeals Board No. 3.

Flor Roman was born and raised in Mexico City, where she received her Bachelor's Degree in Business Administration before immigrating to the United States in 1990. Flor has had extensive experience in the financial and real estate fields. In 1995, Roman joined Maxwell Real Estate in Santa Ana and obtained her Real Estate Broker's License. In 1999, Roman acquired Maxwell Real Estate and changed the name to Roman Realtors & Financial Services, Inc., where she now serves Orange, Riverside and San Bernardino Counties, with the same enthusiasm, dedication, and professionalism that has helped propel her to great heights in the real estate industry.

She has also been a distinguished member of many organizations including the National Association of Realtors, Pacific West Association of Realtors, National Association of Women REO Brokers, and a founding member of the National Latina Business Women Association of Orange County Chapter.

Flor Roman's motto "Excellence through Service" aptly describes her accomplishments, skills, and personality that make her an extremely qualified candidate for this appointment.

More Solutions for our Homeless Veterans

Supervisor Andrew Do toured the Tustin Veteran's Outpost last Thursday with Tustin Mayor Allan Bernstein and president of the Orange County Rescue Mission Jim Palmer.

The Tustin Veteran's Outpost is a recently refurbished 9 unit apartment complex designed house formerly homeless Veterans and their families while linking them to essential services needed to rebuild their lives. The site is run by the Orange County Rescue Mission, who purchased it from the City of Tustin, and is funded entirely through private donations.

If you would like to learn more about the work being done at the Tustin Veteran's Outpost or would like to donate, please visit https://www.rescuemission.org/homeless-veterans-housing/ for more information.



DISTRICT

STAFF
Chris Wangsaporn
Chief of Staff

Nick Lecong
Deputy Chief of Staff

Tara Campbell
Communications Director

Veronica Carpenter
Senior Policy Advisor

Luigi Luciano
Policy Advisor

Ofelia Velarde-Garcia
Policy Advisor

Chris Gaarder
Administrative Assistant

Adriianna Lagorio
Administrative Assistant

Manning Pham
Administrative Assistant

Joyce Rivero
Executive Secretary

Matt Haines
Executive Aide



Stay Updated!