July 11, 2017
Volume 2

Issue 14

News and Updates

Connecting our Homeless to Services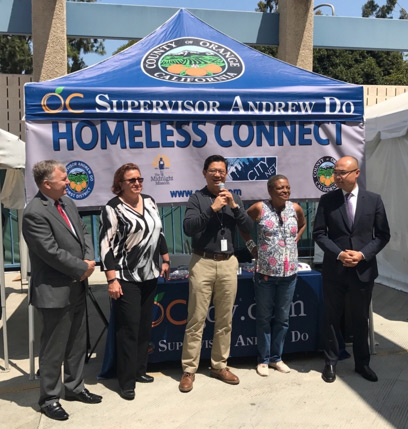 On Friday, Supervisor Andrew Do and community partners hosted the County's first ever Homeless Connect event at the Courtyard Transitional Homeless Center. Meals, services, blankets, and hygiene kits were provided to homeless individuals.

Services included free blood pressure and glucose tests provided by Serve the People Community Center, free manicures provided by Universal Nails and free haircuts provided by Midnight Mission. Bus passes were provided by 211 Orange County and more services were provided by nonprofits and agencies like Illumination Foundation, OC Public Defender's Office and Orange County Health Care Agency and Behavioral Health. The over 1,000 meals served were donated by Bella's Kitchen and Farmer Johns.

"We are bringing the services directly to our homeless population," said Supervisor Andrew Do. "The services and donations provided today are integral to improving the quality of life of these individuals."

Individuals who visited all of the booths at the event were given a raffle ticket. Prizes included donated gift cards to Target, Walgreens, IHOP and AMC Theaters.

Supervisor Andrew Do opened the Courtyard Transitional Homeless Center in October 2016. The Courtyard provides shelter to 400 every night and serves 1,000 meals daily. More than eighty individuals have been permanently housed from the Courtyard.

You can read more on this event in the OC Register article here.

Independence Day Message from Supervisor Do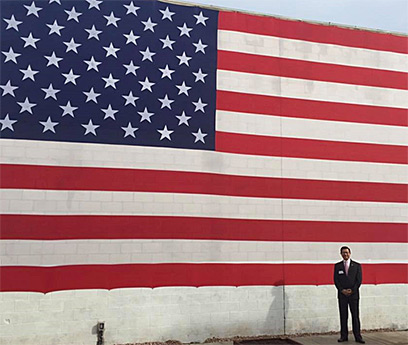 As we look back on all the fun we had with friends and family this Independence Day celebrating the freedom we enjoy on a daily basis, let us remember that freedom is never free.

It is the land of the free, because of the brave. Thank you to our brave men and women in uniform who protect that freedom each and every day.

As someone who grew up in a country that did not have that same precious gift of freedom, I cherish the liberties that America has given to me and my family.

I hope you enjoyed the time with your family, friends, and community and may God bless America!

Farmer's Market Vouchers for Seniors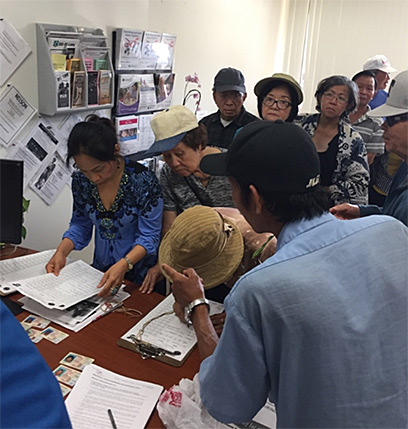 On July 7th, Supervisor Andrew Do and the Office on Aging hosted the second Farmer's Market Voucher Distribution Day at the County Community Service Center in Westminster, distributing $20 vouchers good for fresh produce at local Farmer's Markets to low-income seniors.

The voucher program was a success, distributing all 100 vouchers in only 30 minutes. Staff on site had an efficient way of signing up seniors, verifying eligibility, and handing out the vouchers complete with lists of farmers markets in the area.

Vouchers are distributed on a first come first serve basis. To be eligible for this program you must be 60 or older and low-income, with a household annual income that does not exceed more that 185% of the poverty level. You must also have not already received a 2017 SFMNP booklet.

If you have any questions about the program, you can call the Office on Aging at 800-510-2020 or visit their website here.

CWLA Community Forum: Homelessness

Supervisor Andrew Do will be participating in the California Women's Leadership Association's (CWLA) community forum on homelessness on Friday July 14th. The forum will take place at The Illumination Foundation in the Casa Training room located at 1505 E 17th Street, Santa Ana 92705.

A panel of speakers will have a multi-faceted discussion on addressing current policies, and what leadership is doing to confront the issue of homelessness.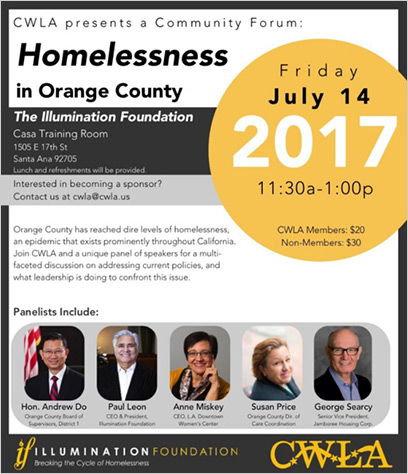 DISTRICT

STAFF
Chris Wangsaporn
Chief of Staff

Nick Lecong
Deputy Chief of Staff

Tara Campbell
Communications Director

Veronica Carpenter
Senior Policy Advisor

Luigi Luciano
Policy Advisor

Ofelia Velarde-Garcia
Policy Advisor

Chris Gaarder
Administrative Assistant

Manning Pham
Administrative Assistant

Joyce Rivero
Executive Secretary

Matt Haines
Executive Aide



Stay Updated!