August 22, 2017
Volume 2

Issue 20

News and Updates

Garden Grove Neighborhood Association Holds Meet on Main: Homelessness Edition

Supervisor Do spoke at the Garden Grove Neighborhood Association's Meet on Main Thursday as part of their ongoing speaking series regarding the issues of homelessness in Garden Grove and Orange County.

Supervisor Do along with City Net Vice President Matt Bates gave an update to over 40 residents about the County's new pilot program occurring at the Santa Ana Riverbed and progress at the Courtyard Transitional Center.

"We've transitioned 130 individuals out of the Courtyard and into housing, that's meeting and exceeding our goal of 10 per month." Said Supervisor Do "We also have 25% of the residents that are currently employed. I'm proud to say we're keeping up the momentum in addressing homelessness."

The Orange County Board of Supervisors approved the new $750,000 pilot program to provide additional services to the homeless on the Santa Ana Riverbed, naming City Net as the service provider. This initiative is aimed at linking more people to housing options, getting them enrolled in services, and providing more law enforcement coverage of the area to increase security and safety.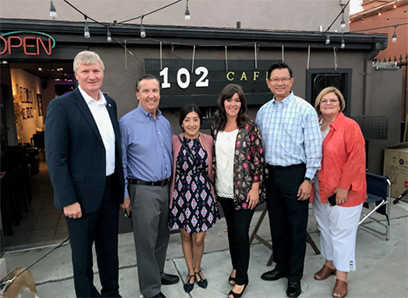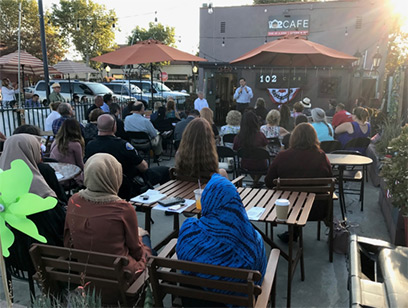 Supervisor Do Visits Pure Game

Supervisor Andrew Do visited the nonprofit Pure Game at the Harbor Learning Center in Santa Ana on Friday to observe programs designed to build character and emotional intelligence amongst at-risk. Pure Game's mission is to provide positive mentors who champion the development of a child's self-esteem and confidence, inspiring them to believe in themselves and the possibilities of a better life.

Pure Game uses a cooperative form of soccer to provide teach valuable lessons. Things such as self-control, confidence, and comradery are fostered in a healthy environment.

Supervisor Do shared his story with the teens at the Harbor Learning Center in Santa Ana and how "staying in the game" will bring them success in the future.

If you would like more information on Pure Game please visit their website here and their Facebook page here.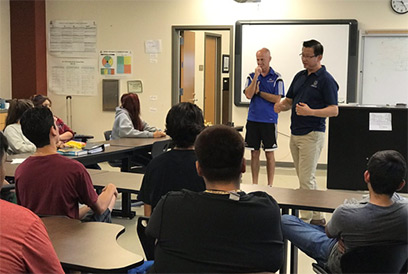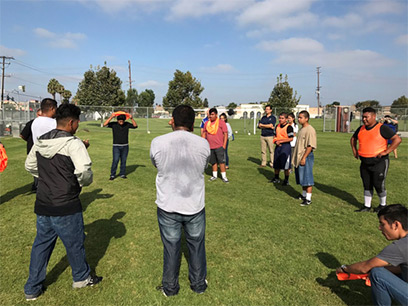 Eco Challenge Poster Contest Winners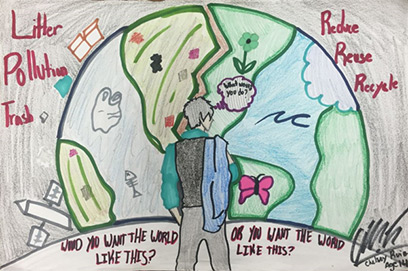 Garden Grove resident Chelsey Ruiz, age 14, has been named the Eco Challenge Poster Contest winner representing the First District.

The Eco Challenge contest is sponsored by OC Waste & Recycling in partnership with Discovery Cube Orange County and Angels Baseball. This year's contest theme promotes the eco-friendly benefits of recycling food and green waste.

Chelsey's poster was selected from a pool of over 500 contestants. She will be recognized at Angels Stadium during a special on-field presentation before the Angels game on Friday, September 15th. She will also serve as an honorary Bat Kid at an Angels Baseball game.

Congratulations to Chelsey on this incredible achievement. Come out to the game to cheer her on!

OC Job Fair Expo Coming Soon

The City of Anaheim and the Anaheim Chamber of Commerce are hosting a job fair at the Anaheim Convention Center on Wednesday, September 20, 2017, from 10 AM to 2 PM. A host of partners will also be participating in the event, including the County of Orange.

Thousands of job opportunities will be available along with apprenticeship programs. Some services offered include resume workshops, career workshops, and entrepreneurship resources. Parking and admission are free.

If you would like more information about this event please visit the website here.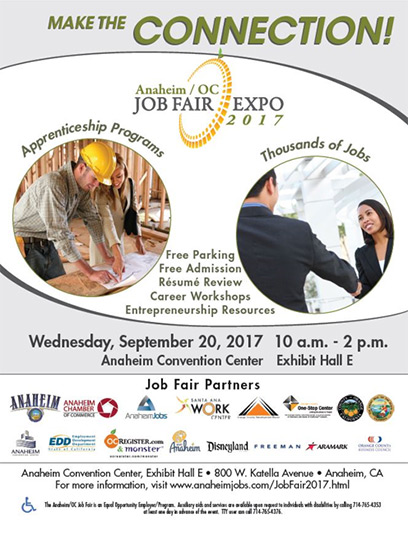 DISTRICT

STAFF
Chris Wangsaporn
Chief of Staff

Nick Lecong
Deputy Chief of Staff

Tara Campbell
Communications Director

Veronica Carpenter
Senior Policy Advisor

Luigi Luciano
Policy Advisor

Ofelia Velarde-Garcia
Policy Advisor

Chris Gaarder
Policy Advisor

Manning Pham
Administrative Assistant

Joyce Rivero
Executive Secretary

Matt Haines
Executive Aide



Stay Updated!