News and Updates

211OC Recognized for Helping with Homeless Connect

Supervisor Andrew Do recognized 211OC staff Tim, Mayra, Jackie and Linda for their help with our Homeless Connect event at the Courtyard Transitional Shelter in Santa Ana a few weeks ago.

211OC partnered with Supervisor Do's office and the County to put on the first ever Homeless Connect event where we brought various services and meals directly to the homeless. There were over 1,000 meals served and over 600 in attendance. We were able to present the services in a fun and interactive way that led to a very successful event.

Thank you to all those who partnered in putting this event together and continue to provide services to help our homeless get back on their feet.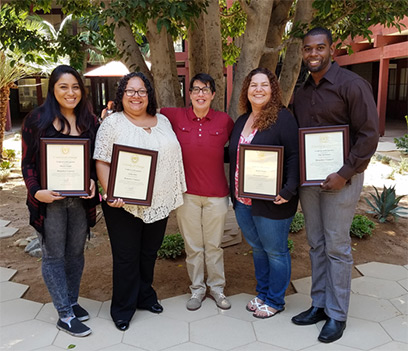 Supervisor Do Appoints Art Pedroza to EMCC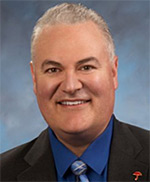 Supervisor Andrew Do appointed Art Pedroza to the Orange County Emergency Medical Care Committee (EMCC) to represent the First District.

Art is a 30 year Santa Ana resident of experience in occupational safety and over 8 years of experience in risk control for both insurance brokers and carriers. Art has also served as an Adjunct Professor at Cerritos College for over 13 years.

Art graduated with a Bachelor of Science in Business Management, a Master's in Business Administration, and a Project Management Certificate.

The EMCC acts in an advisory capacity to the County Board of Supervisors and to Orange County Emergency Medical Services on all matters relating to the emergency medical services provided in Orange County. The EMCC reviews issues relating to ambulance services and emergency medical care operations throughout the County.

We are glad to have Art representing the First District on EMCC.

Volunteer for Our Community Cleanup

Orange County Supervisor Andrew Do and Santa Ana Councilmember Juan Villegas will be hosting a graffiti paint out and community cleanup this October in Santa Ana.

The paint out and cleanup will take place at Cesar Chavez Campesino Park on October 7th from 9am-12pm. The address of the park is 3225 West 5th Street, Santa Ana, CA 92703.

All community members are invited to volunteer to beautify one of our great parks and take pride in their neighborhood. Volunteers are encouraged to RSVP for the event at the link here.

Come out to support clean and healthy neighborhoods in Santa Ana and across Orange County!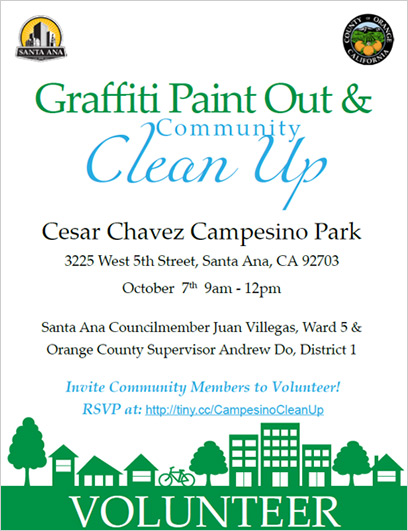 OC's Ancient Wonders at Mile Square Park

OC Parks and the Dr. John D Cooper Archeological and Paleontological Center are hosting OC's Ancient Wonders on Saturday, September 9th at Mile Square Regional Park. This free, educational family event will present Orange County's rich heritage of natural history, prehistoric animals and plants, and Native American culture.

The event will feature displays of local fossils and Native American artifacts, educational crafts and hands-on activities for kids of all ages, archery demonstrations, Native American storytelling, guided hikes led by Naturalist for You, a volcano demonstration, and a butterfly tent by Western Monarch Guardians.

Schedule of events:

11:45 AM – Guided hike by Naturalist for You
12:30 PM – Volcano demonstration
1:15 PM – Native American Storytelling by Jacque Tahuka-Nunez of Journeys to the Past
2:00 PM – Guided hike by Naturalist for You
Archery demonstrations and Butterfly tent available throughout the day

Event is free. Parking is $5 per vehicle. The event will be located at the park's Nature Area and Archery Range.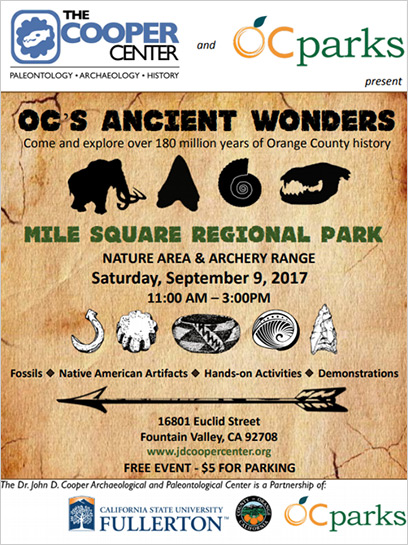 MADD Walk Coming to Orange County

Mothers Against Drunk Driving (MADD) will be hosting it's "Walk Like MADD" fundraising event on Saturday, September 9th at the Huntington Beach Boardwalk. All proceeds from this event will support MADD's mission to end drunk driving.

MADD advocates for the end of drunk and drugged driving, and supports victims of those crimes. They also focus on the prevention of underage drinking.

You can register for the non-competitive 5K walk at the link here. Registration for adults is $25 while youth are $20. If you would like more information please contact Robert Cox at (714) 838-6199 or robertcox@madd.org.