September 5, 2017
Volume 2

Issue 22

News and Updates

Supervisor Do Speaks at the Human Rights Conference

Supervisor Andrew Do spoke at the Human Rights Conference at the Chua Dieu Ngu Vietnamese Buddhist Temple in Westminster this weekend. Hundreds gathered to discuss human rights in Tibet and Vietnam.

There are 6 million Tibetans in Tibet and 95 million Vietnamese in Vietnam who are being denied human rights and freedoms. The conference facilitated a dialogue as to how we can end the suffering of these millions of people.

To learn more on the conference, you can read the OC Register's article by clicking here.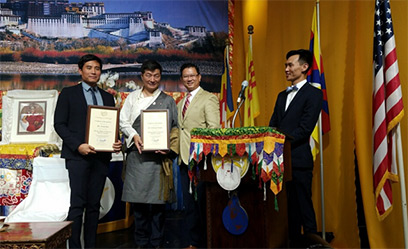 Masks of Guerrero Exhibit

On Thursday, August 30th the Consulate of Mexico in Orange County in partnership with the Government and State of Guerrero and in collaboration with the "Federacion Guerrerense Binancional" unveiled a new are exhibit in the heart of Santa Ana called the Masks of the State of Guerrero.

This new exhibit is featured at the gallery "Raul Anguiano" at the Consulate of Mexico located at 2100 E. 4th Street, Santa Ana CA 92705. The focus of the exhibit is to showcase the creation, tradition, and ritual of the people of Guerrero.

Admission to the public is free and the gallery is open from 8 a.m. to 2 p.m., now through October 12th.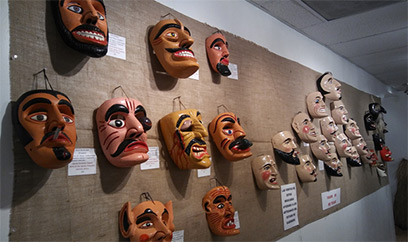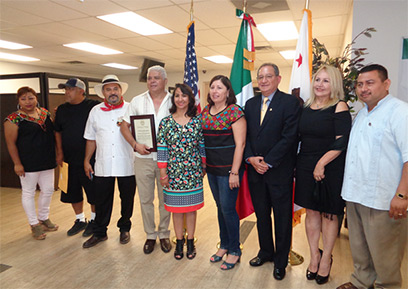 Are Your Pets Ready for an Emergency?

As Hurricane Harvey unfolds in Texas, it is a good reminder to ensure disaster preparedness plans are in place for your family and your animals. The best way to protect your pets is to ensure they are prepared for these situations.

Pets should be included in your evacuation plans and you should practice and routinely update those plans. Some things to consider when planning are:

Register with www.AlertOC.com, the mass notification system designed to keep OC residents informed of emergencies.
Develop an evacuation plan that includes at least two different evacuation routes. Locate evacuation sites outside of your immediate area.
To limit a pet's stress, make sure your pets are trained to enter a crate or cage comfortably.
Maintain a go bag for each pet that includes vaccination and other important medical records, medications, food, collar and leash, photos of your family with your pets for identification purposes, etc.
When asked to evacuate, please do so as soon as possible and be sure take your pets with you to avoid heavy traffic, road closures or rapidly changing situations for pets taking place in your area.
For more information please visit www.ocpetinfo.com. Don't leave your pet out of your emergency preparations!


CalOptima Open House at the CCSC

Orange County Supervisor Andrew Do and CalOptima Chief Executive Michael Schrader are hosting an open house Thursday, September 28th at the Orange County Community Service Center from 10am to 1pm. The address for the event is 15496 Magnolia St., Suite 111, Westminster, CA 92683.

The open house is celebrating the opening of the new satellite office in Westminster while allowing community members to be linked to vital County services. There will be extensive opportunities to network with community organizations and service providers. You can also learn about the programs and services available at our new satellite office and how your organization can collaborate with the County of Orange and CalOptima to benefit the community.

If you would like more information regarding this event please visit www.caloptima.org or call 714-246-8809.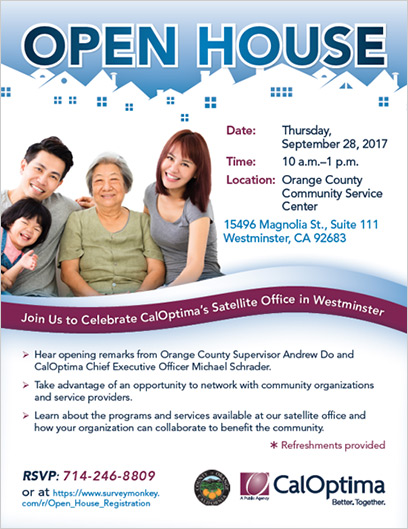 DISTRICT

STAFF
Chris Wangsaporn
Chief of Staff

Nick Lecong
Deputy Chief of Staff

Tara Campbell
Communications Director

Veronica Carpenter
Senior Policy Advisor

Luigi Luciano
Policy Advisor

Ofelia Velarde-Garcia
Policy Advisor

Chris Gaarder
Policy Advisor

Manning Pham
Administrative Assistant

Joyce Rivero
Executive Secretary

Matt Haines
Executive Aide



Stay Updated!