September 12, 2017
Volume 2

Issue 23

News and Updates

County Approves Law Enforcement Services on the Riverbed

Today, the Board of Supervisors approved law enforcement services dedicated to the Sana Ana riverbed.

The action taken today comes from a directive provided by Supervisor Andrew Do on June 6, 2017 where the Board unanimously approved funds aimed at providing triage operations, intensive case management, wrap around services, workforce training and development, and links to housing for those living on the riverbed.

The County contracted with City Net, who began work on the Santa Ana riverbed on July 1, 2017. Since then, already over 30 homeless people have been linked to housing.

"The goal is to provide opportunities for those living on the riverbed to get help and move into housing," said Vice Chair Andrew Do, First District Supervisor. "Today's action will provide a balance between services and law and order to ensure a healthy and safe environment for all. These services are an integral part to ending homelessness in Orange County."

The law enforcement services along the County's flood channels will go into effect Thursday, September 14, 2017.

Supervisor Do Kicks Off OC Ancient Wonders Day

The Dr. John Cooper Archeological and Paleontological Center, in collaboration with OC Parks and the County of Orange, hosted OC's Ancient Wonders this past Saturday in order to educate the public about Orange County's rich heritage of natural history, prehistoric animals and plants, and Native American culture.

The County of Orange, OC Parks and The Dr. John D. Cooper Archaeological and Paleontological Center partner to preserve, curate, and manage the fossils and artifacts within Orange County for the purpose of scientific research, outreach and education. The event Saturday featured local fossils, Native American artifacts, guided hikes, a butterfly tent, and many more family friendly activities.

Supervisor Andrew Do helped kick off the volcano demonstration by speaking about the importance of preserving our regions unique natural and cultural history.

"It's important that we preserve Orange County's fossils and artifacts for future generations." Said Supervisor Do "Being exposed to both the history of the natural world and the cultural legacy of where you're from can help educate and inspire our next generation, leading to them becoming more involved in their communities."

For more information about the John D. Cooper Center and future events please visit http://www.ocparks.com/historic/cooper_center or https://www.jdcoopercenter.org/.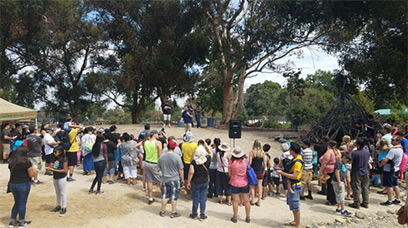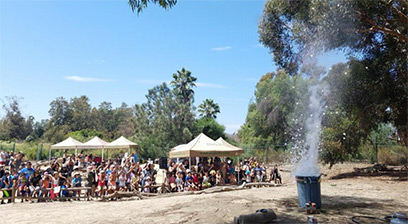 New Appointee to the Senior Citizens Advisory Council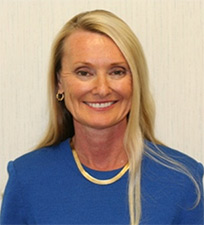 Supervisor Andrew Do has appointed Dr. Denise Habjan, DDS to serve on Orange County's Senior Citizens Advisory Council. Dr. Habjan is an Irvine resident who has practiced dentistry in Santa Ana for over 30 years. A large part of her practice is treating patients with special needs of all ages. Dr. Habjan also does contract work for the military, juvenile corrections and disabled veterans.

Dr. Habjan received her Bachelors of Science from Allegheny College and her Doctorate of Dental Surgery from Georgetown University School of Dentistry. She has won numerous awards including Orange County's Top Dentist's, Who's Who in Executives and Professionals, and America's Registry of Outstanding Professionals, to name a few.

Dr. Habjan is an active member of the Orange County Dental Society and Rotary Club of Santa Ana. We are very excited to have Dr. Habjan representing Central Orange County on the Senior Citizens Advisory Council.

Strike Out Slavery with the Los Angeles Angels of Anaheim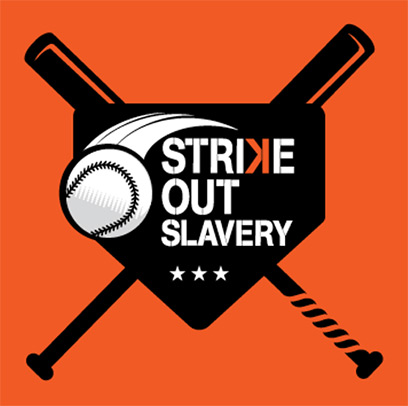 The inaugural Strike Out Slavery Event will take place this weekend on September 16th at Angel Stadium both before and after the game that day to raise awareness and funds to fight against modern-day slavery. Strike Out Slavery was created by Diedre Pujols, whose husband is legendary first baseman Albert Pujols of the Los Angeles Angels of Anaheim.

Strike Out Slavery is partnering with a number of groups, including the Orange County District Attorney's Office, to raise awareness and funds for major non-profit organizations committed to fighting human exploitation and trafficking.

There will be a pregame event with music, giveaways, and resources such as ID kits for children. Following the game the main event will begin and will include fireworks and a free concert by multi-platinum and Grammy-nominated recording artist Nick Jonas.

Orange County is a does have human exploitation and trafficking. It is vital that we are aware of modern day slavery's prevalence, dangers, and what we can each do to help end it. For more information about the event please visit http://www.strikeoutslavery.com/.

Free Flu Shots in Westminster

The Orange County Health Care Agency is partnering with the City of Westminster, along with other partners, in an effort to distribute free flu shots to the public.

On Thursday October 26th there will be free flu shots at the Westminster Community Service Center located at 8200 Westminster Boulevard. The flu shots will be administered on site. There is no appointment needed, services are walk-up only.

You cannot receive the flu shot if:

You are sick on the day of vaccination
You have a severe allergy (more than just hives)
You have previously had a severe reaction to a flu vaccine
You have a history of Guillian-Barre Syndrome
You are under 3 years of age
Prepare you and your family for the upcoming flu season and help avoid the spread of illness. If you have any questions please visit www.ochealthinfo.com/freeflushot.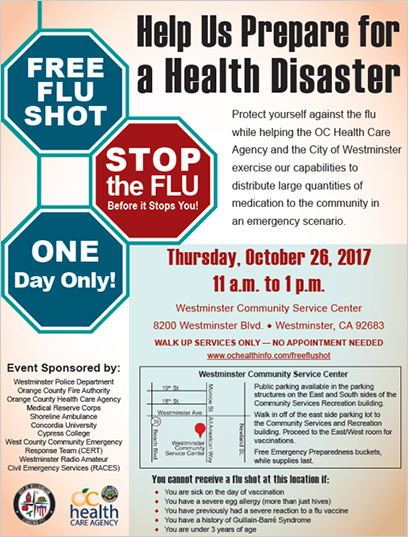 DISTRICT

STAFF
Chris Wangsaporn
Chief of Staff

Nick Lecong
Deputy Chief of Staff

Tara Campbell
Communications Director

Veronica Carpenter
Senior Policy Advisor

Luigi Luciano
Policy Advisor

Ofelia Velarde-Garcia
Policy Advisor

Chris Gaarder
Policy Advisor

Manning Pham
Administrative Assistant

Joyce Rivero
Executive Secretary

Matt Haines
Executive Aide



Stay Updated!