September 19, 2017
Volume 2

Issue 24

News and Updates

Unveiling of the Miguel Hidalgo Plaque at Mile Square Park

Orange County Supervisor Andrew Do, in partnership with the Mexican Consulate, celebrated Mexican Independence Day by unveiling a plaque to the Miguel Hidalgo statue one year after bringing the statue to at Mile Square Park.

The 27" x 30" plaque features Miguel Hidalgo's name and the story of how he first inspired the people of Mexico to rise up in arms against oppressive Spanish colonial rule. On September 16, 1810, Hidalgo called for a revolution against the Spanish and led the movement alongside his followers and rebellious army. That date was later known as Mexico's Independence Day. Hidalgo is considered a hero in Mexican culture for leading the revolution. The statue is a testament to the strong Mexican culture we have here in Orange County.

The event included distinguished guests such as Consul of Mexico Mario Cuevas, Congressman Dana Rohrabacher, and Fountain Valley Mayor John Collins. Consul Cuevas and Congressman Rohrabacher spoke, along with Supervisor Do, on themes of diversity, unity, and the fight for freedom.

Miguel Hidalgo's is one of three statues currently displayed at Mile Square Park to embody the value of freedom and the spirit of independence. The two other leaders featured are President Ronald Reagan and General Trần Hưng Đạo. All three statues serve to celebrate freedom and those who fought bravely to preserve it.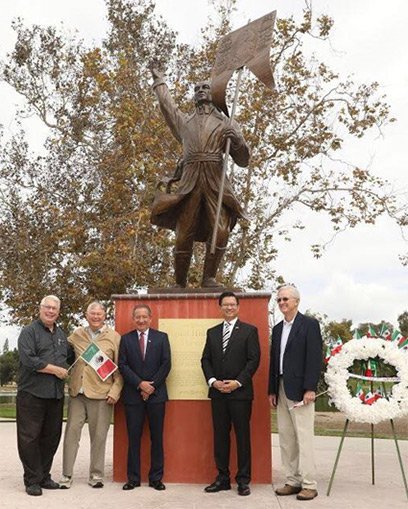 Celebrating Mexican Independence Day

The Fiestas Patrias Festival and Parade in Santa Ana celebrated the 207th anniversary of Mexico's Independence. The festivities began Saturday with El Grito de la Independencia, which marks Mexico's initial call for independence from Spain, and culminated Sunday in the annual Fiestas Patrias Parade.

This year's parade theme "Mexico; Magia y Encuentro" was showcased by the colorful floats, bands, dance and equestrians groups that marched down Main Street. The parade also included prominent community members and elected officials. Supervisor Andrew Do rode in the parade along with his wife Judge Cheri Pham.

"It's important to recognize and celebrate the diverse cultures that make Orange County so great," said Supervisor Andrew Do. "This festival illustrates that freedom, democracy, and independence are truly shared values of our community."

The celebration featured entertainment from headliner musicians Antonio Aguilar Jr. and Los Horoscopos along with local music and dance groups. There were also a multitude of cultural performances that included dancing and instruments.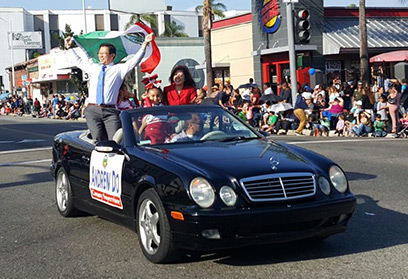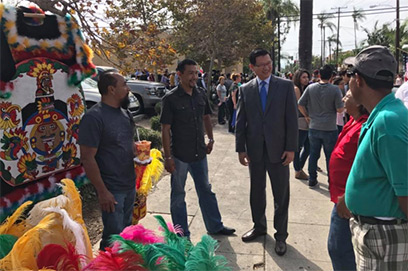 Students Ride Free with Santa Ana College ID

Supervisor Andrew Do spoke at the launch of a new pilot program by OCTA and Santa Ana College that allows nearly 42,000 students to ride any OC Bus for free.

This new pilot program is intended to encourage the use of public transportation through the OC Bus system and take cars off the road, all while offering students the benefit of low-cost transportation.

The program allows all Santa Ana College students to get a free bus pass as part of their student identification cards. This pass is good for unlimited rides for the fall 2017 and spring 2018 semesters. After this, enrolling students will pay a minimal fee per semester for the second and third years of the pilot program. Full-time students will pay $6.75, while part-time students will pay $5.75. This is a significant savings, as a typical semester student bus pass is regularly $185.

For more information, please visit http://www.octa.net/Bus/Fares-and-Passes/Santa-Ana-College-Pass/.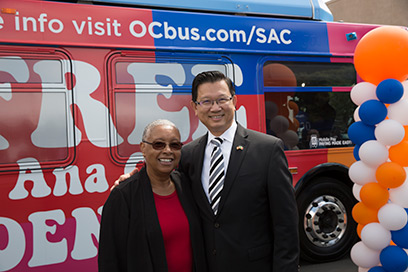 Eco Challenge Winner Honored at Angels Game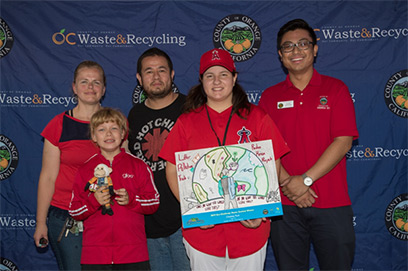 The winners of the 2017 Eco Challenge Poster Contest were recognized at a special on-field presentation before the Angels game on Friday. The Eco Challenge Poster Contest is put on annually by OC Waste and Recycling in partnership with the Discovery Cube Orange County and Angels Baseball.

This year's theme promoted the eco-friendly benefits of recycling food and green waste. Fourteen-year-old Garden Grove resident Chelsey Ruiz won, representing the First District. Her poster was chosen from 500 contestants. She will also serve as an honorary Bat Kid at an Angels Baseball game.

Why is it important to recycle food and green waste in Orange County? Organic waste accounts for more than a third of the material in California's waste stream. Collecting and processing organic materials to meet new mandates will change how we manage waste within our homes and contribute to bigger change. For information, visit CalRecycle.



DISTRICT

STAFF
Chris Wangsaporn
Chief of Staff

Nick Lecong
Deputy Chief of Staff

Tara Campbell
Communications Director

Veronica Carpenter
Senior Policy Advisor

Luigi Luciano
Policy Advisor

Ofelia Velarde-Garcia
Policy Advisor

Chris Gaarder
Policy Advisor

Manning Pham
Administrative Assistant

Joyce Rivero
Executive Secretary

Matt Haines
Executive Aide



Stay Updated!