September 26, 2017
Volume 2

Issue 25

News and Updates

Join Us at the Moon Festival this Weekend

Join Orange County Supervisor Andrew Do this weekend to celebrate the Moon Festival. The celebration will take place from 1 pm to 8 pm at Mile Square Park in Fountain Valley.

The Moon Festival is a traditional cultural celebration for the largest full moon of the year. There will be live music from community-renowned artists, martial arts demonstrations, and a performance of the traditional lion-dance by Bi Tri Dung Kung Fu Academy.

Admission is free as well as parking. There will also be free moon cake, lanterns, and balloons to help attendees celebrate the occasion. Children can enjoy the free bounce house, face painting, and magic show.

If you have any questions please email first.district@ocgov.com or call (714) 834-3110.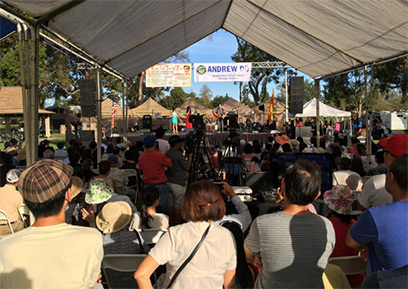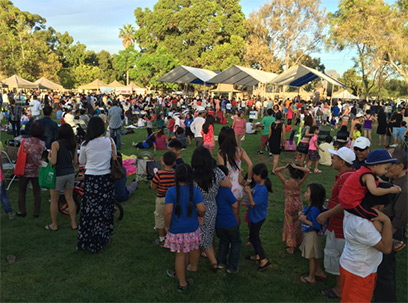 Graffiti Paint Out

Supervisor Andrew Do and Santa Ana Councilmember Juan Villegas will be hosting a graffiti paint out and community cleanup in order to beautify our public spaces and encourage residents to take pride in their neighborhoods.

The paint out and cleanup will take place at Cesar Chavez Campesino Park on Saturday, October 7th from 9am-12pm. The address of the park is 3225 West 5th Street, Santa Ana, CA 92703.

All community members are invited to volunteer to beautify one of our great parks. Volunteers are encouraged to RSVP for the event at the link here.

Come out to support clean and healthy neighborhoods in Santa Ana and across Orange County!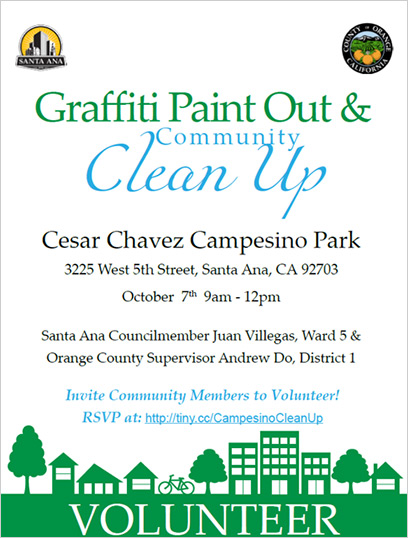 Serve on Orange County's Grand Jury

Applications for the 2018-2019 Orange County Grand Jury are now open. If you have an interest in serving the people of Orange County, consider applying for this position and making a positive impact on your community.

The major functions of a grand jury are divided into criminal indictments and civil investigations. While both functions are executed by the same panel in Orange County, the civil investigation portion requires the majority of time. Service on the Grand Jury is a full-time position for a full year.

Requirements for service include:

Orange County Resident
U.S. Citizen
18 or Older
Knowledge of English
Sound Judgement
The Courts are looking for a diversified panel, in age and ethnic backgrounds, in order to properly represent Orange County. If you're thinking about taking a gap year from college, are looking for an internship, or just want to be involved in making your community a better place, the Grand Jury is an excellent opportunity. Apply today at www.ocgrandjury.org.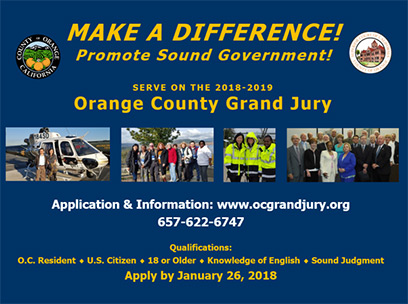 OCTA Long Range Transportation Plan Survey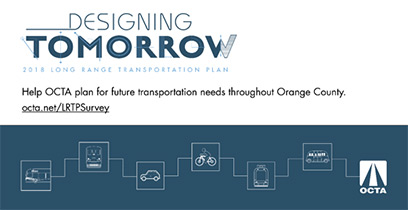 To help relieve congestion, OCTA is updating its Long Range Transportation Plan (LRTP) for the County. Called Designing Tomorrow 2040, the general goals of the 2018 LRTP are to assess the performance of the transportation system over a 20+ year horizon, and to identify the projects that best address the needs of the system based on expected population, housing and employment growth, and financial and revenue assumption forecasts.

As we look into the future, increasing population and employment opportunities will have a major impact on day-to-day commutes. With projected increases of 10 percent in population, 11 percent in housing, and 17 percent in employment, the time spent in traffic is expected to increase by 66 percent by the year 2040 if no additional improvements are made to Orange County's transportation system.

Your thoughts are important and can influence the future of Orange County transportation. By taking this survey, you will help OCTA prioritize improvements that will affect your daily journey throughout the county.



DISTRICT

STAFF
Chris Wangsaporn
Chief of Staff

Nick Lecong
Deputy Chief of Staff

Tara Campbell
Communications Director

Veronica Carpenter
Senior Policy Advisor

Ofelia Velarde-Garcia
Policy Advisor

Chris Gaarder
Policy Advisor

Manning Pham
Administrative Assistant

Joyce Rivero
Executive Secretary

Matt Haines
Executive Aide



Stay Updated!