October 10, 2017
Volume 2

Issue 27

News and Updates

One Year Anniversary of the Courtyard Transitional Center

October 5th marked the one-year anniversary of the opening of the Courtyard, Orange County's first Transitional Homeless Shelter.

The Courtyard has been incredibly successful, providing shelter for at least 400 individuals each night and providing over 1,000 meals daily. This year, the Courtyard has successfully graduated 153 individuals into housing and 125 residents living at the Courtyard are employed. To date, the Courtyard has served 323,738 meals and had volunteers from more than 200 community groups donate 25,582 volunteer hours helping residents.

These numbers have a very real impact on people, like former Courtyard resident Bewchard Jango Cooper. Bewchard was placed in housing in early September but still returns to the Courtyard to make current residents laugh and smile. He is on his way to getting his GED to become a cook. Success stories like this show how the Courtyard has truly given so many a helping hand.

If you would like to learn more about the Courtyard Transitional Center or would like to make a donation or volunteer, you can find information here.

Pictured below are Supervisor Do with Doris Starling, who supervises the Courtyard, and Bewchard Jango Cooper, a former Courtyard resident.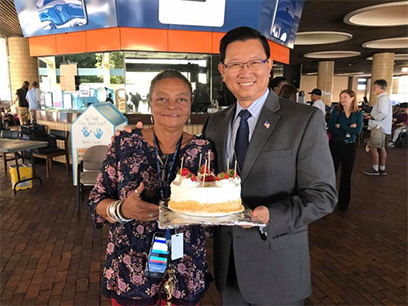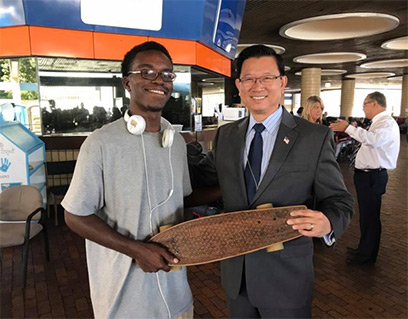 Supervisor Andrew Do Hosts Food Safety Seminar with Chairwoman Michelle Steel

Supervisor Andrew Do, along with Chairwoman Michelle Steel, hosted a Food Safety Seminar with the Orange County Health Care Agency in Garden Grove on Thursday. The aim of the seminar was to educate restaurant and food related business owners on the process of health and safety inspections.

There were over 300 people in attendance for the presentations and seminar. All those who participated were given a certificate of completion for their dedication to providing safe and sanitary food preparation and delivery to the public.

For more information on the process of health and safety inspections, you can click here.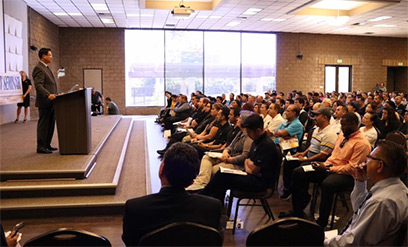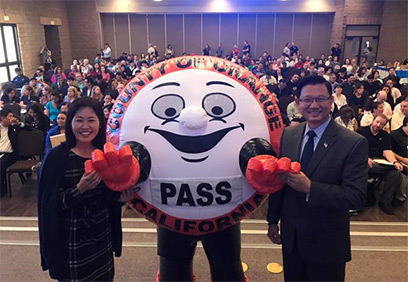 Santa Ana Community Cleanup a Success

Orange County Supervisor Andrew Do and Santa Ana Councilmember Juan Villegas co-hosted a graffiti paint out and community cleanup on Saturday in order to beautify public space in Santa Ana and encourage residents to be active in their neighborhoods.

The paint out took place at Cesar Chavez Campesino Park from 9am-12pm. Many of the volunteers that participated were from local high schools such as Los Amigos and Mater Dei. Volunteers painted over graffiti, picked up trash, and beautified the park. Members of the Santa Ana Police Department were also present to support the cleanup efforts.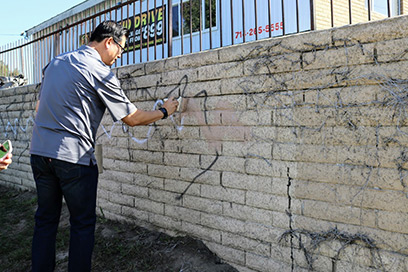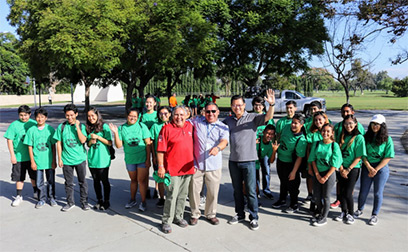 Benjie's Deli Celebrates their 50th Anniversary

Orange County culinary icon and "Best Deli in Orange County" Benjie's Deli celebrated 50 years of business last week!

Benjie's was opened in 1967 by Stan Weinstein and is now run by his son and daughter-in-law Lloyd and Noriko Weinstein. The restaurant, which specializes in authentic Jewish fare and deli sandwiches, keeps up its appearance as a 70's styled New York Deli. Residents from across Orange County have been coming to Benjie's for years and years. While times have changed, the quality food and classic ambiance of Benjie's has stayed the same.

Supervisor Andrew Do's office presented a certificate of recognition to the Weinstein family. Many community members spoke, reminiscing over good times they've had at the restaurant and the bright future it still holds.

If you would like to know more about this Orange County staple, visit their website here or Facebook here.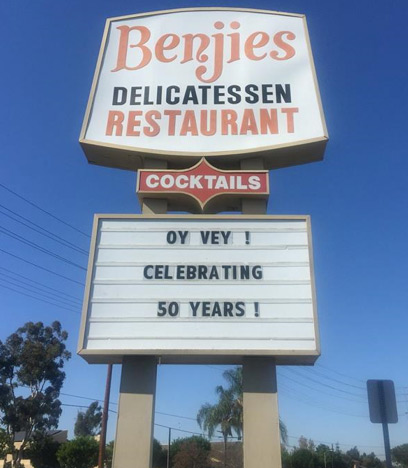 DISTRICT

STAFF
Chris Wangsaporn
Chief of Staff

Tara Campbell
Communications Director

Veronica Carpenter
Senior Policy Advisor

Ofelia Velarde-Garcia
Policy Advisor

Chris Gaarder
Policy Advisor

Manning Pham
Administrative Assistant

Joyce Rivero
Executive Secretary

Matt Haines
Field Representative



Stay Updated!