October 17, 2017
Volume 2

Issue 28

News and Updates

Supervisor Andrew Do Sponsors Free Health Fair

Orange County Supervisor Andrew Do was the title sponsor of Orange County's largest free health fair put on by the Vietnamese Physician Association of Southern California (VPASC) on Sunday at the Westminster Rose Center, helping over a thousand community members receive access to medical services.

The free health fair had over 400 physicians, nurses, and others volunteer their time to help vulnerable populations within our community. Medical services available included blood pressure tests, flu vaccines, dental care, breast cancer screenings, and many more. Other contributors to the fair included Westminster Vice Mayor Tyler Diep and a host of health related organizations. For more information about what VPASC does in the community and future health fairs, please visit their website or Facebook page.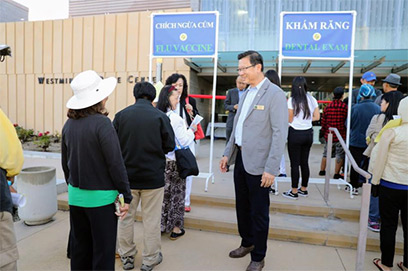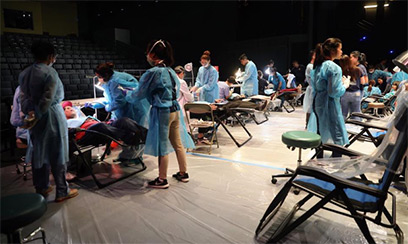 Supervisor Do Hosts A Public Safety Community Meeting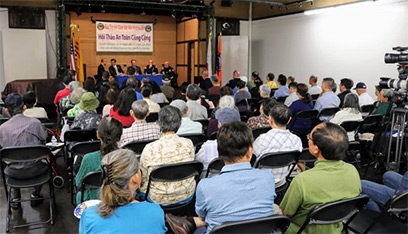 On Saturday, Supervisor Do hosted a public safety community meeting inviting the Westminster Police Department, Garden Grove Police Department, District Attorney Tony Rackauckas, and Westminster Vice Mayor Tyler Diep to take part in updating and educating residents about crime and safety within the community.

Westminster Police Chief Ralph Ornelas and Garden Grove Police Chief Todd Eglin gave an update on why there has been an uptick in crime and provided tips on how residents can keep their families, homes, and businesses safe.

Speakers encouraged those in attendance to not be afraid to report crimes they see to their local police department. You can watch the meeting and learn we can keep our homes and business safe at the YouTube video below.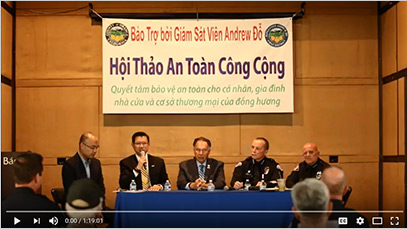 Click on the image above to view the video.

Conditions of Children in OC Report Shows Improving Outcomes for Our Youth

Today, the 23rd Annual Conditions of Children in Orange County report was released, offering a comprehensive assessment of the health, economic well-being, education and safety of the County's children.

The following are just a few areas of the report that have shown improvement for the lives and well-being of Orange County's youth:

Mental Health: Overall hospitalization rates for serious mental health and substance abuse conditions among children dropped for the first time in five years.
College Readiness: Overall college readiness rates have increased, with University of California / California State University eligible students rising to 51.1% - an increase of 13.8% in 10 years.
Gang Membership: The number of youth belonging to gangs saw a 80.6% decrease of in the total number of known gang members ages 10 to 17 years old in Orange County. This is despite a national trend that seen an increase in street gang members of approximately 49% since 2013.
"Our children deserve to have a safe, healthy environment with access to high-quality education. I'm pleased to see the positive progress and outcomes in this report that help our youth in Orange County live better, healthier and happier lives," said Supervisor Andrew Do, who serves at the Chair of the Orange County Children's Partnership, the collective that is responsible for publishing this report.

To hear more about the results found in the report, join us for a presentation at the Delhi Center in Santa Ana on Friday, October 27th from 9-11am.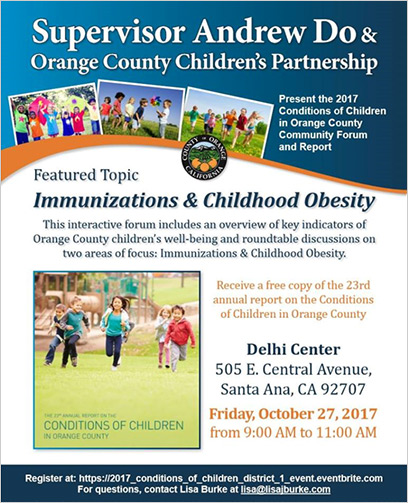 Click on the image above to view the event flyer.

Redefine Hazard Avenue This Weekend

Future street improvements will be demonstrated for the public at a free Go Human event this Saturday, October 21 from 10am – 2pm at James Irvine Intermediate School.

The event hosted by Go Human, the County of Orange, and the cites of Garden Grove, Santa Ana, and Westminster, will be an opportunity to ride your bike on a separated bike lane or walk along a neighborhood greenway. Other family-friendly activities include a free children's bike rodeo, community resource booths, giveaways, and more. If you can't bring your own bike, there will be bikes to borrow for free at the Go Human booth.

Supervisor Andrew Do and staff members will have a table at the event in order for the public to stop by for more information and enjoy fun activities for kids such as a bike helmet decorating station.

While at the event be sure to grab a Go Human Challenge guide, visit each activity hub, and provide your feedback on the pop-up improvements to be entered to win the grand prize. Come experience what each part of the route feels like and give feedback in order to have an impact on your community.

The improvements are designed to make walking and biking in our community safer and more enjoyable. For more information please visit the Facebook event page here.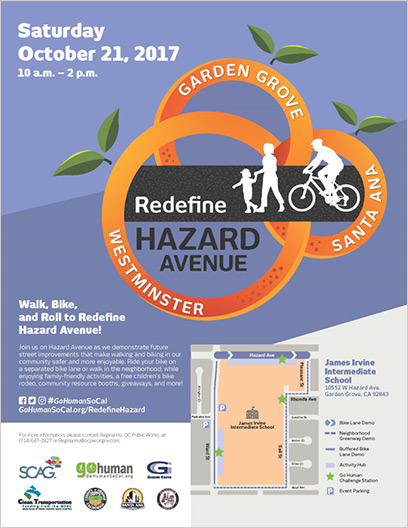 Click on the image above for more information.



DISTRICT

STAFF
Chris Wangsaporn
Chief of Staff

Tara Campbell
Communications Director

Veronica Carpenter
Senior Policy Advisor

Ofelia Velarde-Garcia
Policy Advisor

Chris Gaarder
Policy Advisor

Manning Pham
Administrative Assistant

Joyce Rivero
Executive Secretary

Matt Haines
Field Representative



Stay Updated!