October 24, 2017
Volume 2

Issue 29

News and Updates

Supervisor Andrew Do Hosts Free Flu Shot Events

Join Supervisor Andrew Do and the Orange County Health Care Agency at one of our three flu shot events this month. These events are free to the public and are on a first-come first-serve basis, no RSVP is required.

The first event will be held tomorrow, October 25th, from 1pm-4pm at the County Community Service Center annex in Westminster. Two other events will be held on October 27th at the Delhi Center in Santa Ana from 11:30am-2:30pm, and on October 30th at the Westminster Senior Center from 10am-1pm. The addresses for these events can be found on the attached flyer.

If you have any questions or would like more information, please contact Joyce Rivero at joyce.rivero@ocgov.com or (714) 834-3110.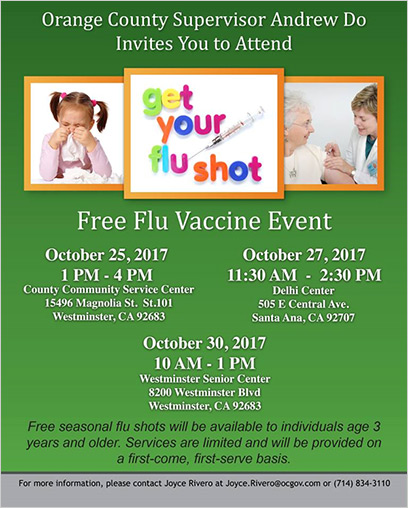 Promoting Active Transportation

On Saturday, pop-up street improvements were put in Garden Grove as part of the Redefine Hazard Avenue event in order to showcase potential improvements and get feedback from the community. The event was co-hosted by Go Human, the County of Orange, the Southern California Association of Governments, and the cities of Garden Grove, Westminster, and Santa Ana.

The main event was held along Hazard Ave. in front of James Irvine Intermediate School while the pop-up bike lane extended into the surrounding neighborhood. Pop-up improvements included a separated bike lane and neighborhood greenway. The improvements are designed to make walking and biking safer in our community. Participating organizations had tents set up in front of the school with family friendly activities such as helmet decorating at Supervisor Do's table, healthy fruit smoothie making at the Boys and Girls Club table, and even a children's bike rodeo put on by Go Human. More than 200 people participated in the event throughout the day.

Supervisor Andrew Do was in attendance to speak on the importance of expanding access to open space and healthy activities for the community. The collaboration between the County, cities, and other organizations aimed at promoting active transportation options and healthy communities.

If you would like more information about Redefine Hazard Avenue, please visit the website here.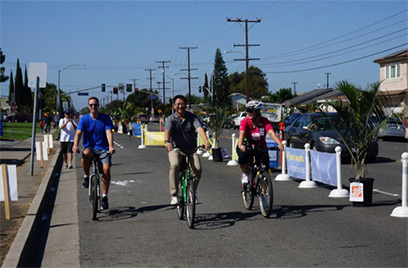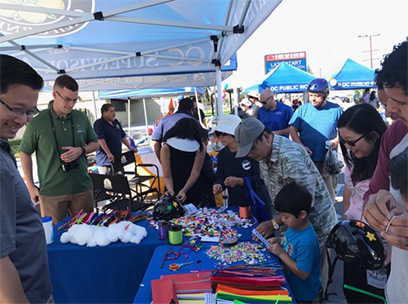 Future Site of Our Lady of La Vang Shrine at Christ Cathedral

On Saturday, the Roman Catholic Diocese of Orange held a mass and blessing for the future site of the Our Lady of La Vang shrine at Christ Cathedral in Garden Grove. The Most Rev. Kevin Vann, Bishop of Orange, blessed the future site of the shrine and led mass for the hundreds of people in attendance.

Our Lady of La Vang is an apparition of the Virgin Mary that appeared to Vietnamese Catholics in 1798 during a period of intense persecution of Catholics in Vietnam. Her image is viewed as a symbol of resilience and strength and was recounted by many as having saved them during the Fall of Saigon on April 30th at the close of the Vietnam War.

Orange County is home to over 100,000 Vietnamese Catholics and the largest Vietnamese population outside of Vietnam. Chairwoman Michele Steel and Supervisor Andrew Do spoke at the ceremony and presented the Diocese with a Resolution on behalf of the County of Orange honoring the momentous occasion. The new shrine will become a pilgrimage site for Vietnamese Catholics around the world and represents a unifying force in our community.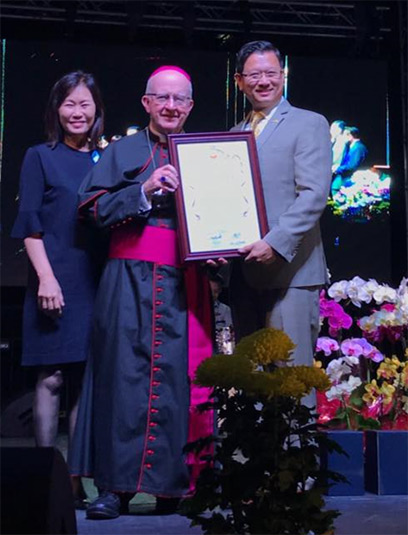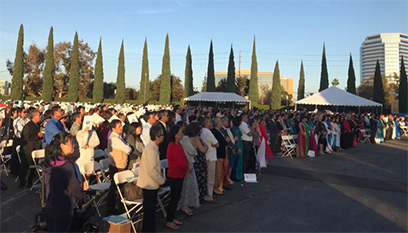 High Temperatures Bring Risk of Heat-Related Illnesses

Orange County will be seeing temperatures in the high 90s to 100 degrees through Wednesday, increasing the risk of heat-related illness.

Recommended precautions to prevent heat related illnesses include:

Drink plenty of water; don't wait until you are thirsty.
Wear light, loose-fitting clothing.
Stay out of the sun if possible, and when in the sun wear a hat, preferably with a wide brim, and use sunscreen.
Avoid strenuous activities if you are outside or in non-air conditioned buildings. If you are working outdoors, take frequent rest and refreshment breaks in a shaded area.
Never leave children, elderly people or pets unattended in closed cars or other vehicles.
Check on those, like neighbors, who are at high risk to make sure they are staying cool – including seniors who live alone, people with heart or lung disease, and young children.
Stay cool indoors – if your home is not air conditioned, visit public facilities such as shopping malls and libraries to stay cool.

For more information on heat related illnesses, check the below info-graphic and visit the Centers for Disease Control and Prevention website at http://emergency.cdc.gov/disasters/extremeheat/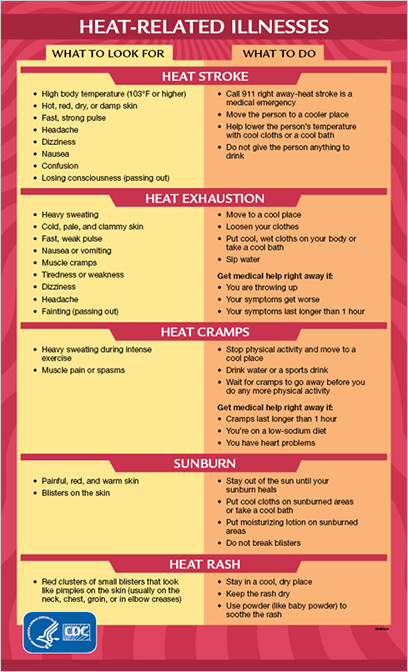 DISTRICT

STAFF
Chris Wangsaporn
Chief of Staff

Tara Campbell
Communications Director

Veronica Carpenter
Senior Policy Advisor

Ofelia Velarde-Garcia
Policy Advisor

Chris Gaarder
Policy Advisor

Manning Pham
Administrative Assistant

Joyce Rivero
Executive Secretary

Matt Haines
Field Representative



Stay Updated!