April 18, 2017
Volume 2

Issue 3

News and Updates

ADVISORY COMMITTEE


CalOptima is currently seeking candidates to serve on its Investment Advisory Committee.

The Investment Advisory Committee provides important advice and recommendations to the CalOptima Board of Directors in regards to the investment of CalOptima's funds.

The Committee is a great opportunity to get involved with an organization that has a substantial impact on communities across Orange County. The services provided and administered by CalOptima are utilized by over 800,000 residents.

More information for the application process can be found here.

SCHOLARSHIP OPPORTUNITY

The CalOptima Employee Activities Committee is offering a scholarship opportunity to students pursuing careers in health care or social services.

There are 3 scholarships that will be awarded to the top three essay submissions. The First place essay will also be entered into the Association for Community Affiliated Plans national scholarship with an opportunity to win an additional $5,000.

The application can be found here. Please www.CalOptima.org for more information or call (714) 246-8729 with any questions.

SUPERVISOR DO APPOINTS TWO NEW COMMISSIONERS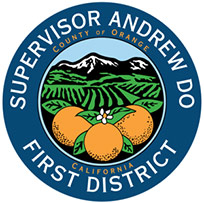 The Orange County Board of Supervisors approved two new appointees from District 1 at their last meeting. The two will represent the cities of Westminster, Garden Grove, Santa Ana, and part of Fountain Valley at their respective appointments.

Supervisor Andrew Do nominated Kim Do for the Orange County Human Relations Commission and An Nguyen to the Orange County Housing and Community Development Commission.

Kim Do is a local pharmacist and owner of Tana Pharmacy in Westminster and active community member. She is also the president and founder of the Vietnamese American Woman Association.

An Nguyen is an accomplished journalist and president of Ana Real Estate & Ana Funding Inc. She has also served as a board director for multiple projects and organizations such as the Community Resource Opportunity Project, OC YMCA, and hosts her own radio show.

DISCOVERY CUBE HOSTS BUBBLEFEST IN SANTA ANA

The Discovery Cube Orange County hosted Bubblefest XXI this weekend at their location in Santa Ana.

The spring break event for children and families offered a variety of interactive and educational options for guests. The event featured bubble artistry, real science, a laser show, and much more. Over 500 guests attended the 12:30 show at the cube.

A representative from Supervisor Andrew Do's office, Ofelia Velarde-Garcia, was in attendance to present a certificate of recognition to Deni Yang, the artist behind the bubble show. Deni Yang has been performing bubble shows for most of his young life, following in the footsteps of his parents Fan and Ana Yang. The family have earned international acclaim for their combination of art, science, and bubbles.

If you would like to know about more upcoming Discovery Cube events visit their website here.

STAND UP FOR VETERANS RESOURECE FAIR

Supervisor Do, in collaboration with many other agencies, will be hosting the Stand UP for Veterans event this Thursday April 20th at the Santa Ana Municipal Stadium.

The event will be held from 9 am until 3 pm and will provide access to free veteran services. Veterans will assemble in a base camp model that will include showers, meals, clothing, hygiene care kits, medical and legal advice, and veteran benefit information, employment services, in a safe and supportive environment including veteran peer navigators. The first 100 to show up will receive a "Barracks in a Bag" kit.

"This event will help make sure we link veterans to the services we have for them." Supervisor Do said, "We have to make sure that we take care of our veterans and give them access to every program out there. They've already given so much, it's our turn to give back."

If you would like to attend or volunteer please visit the OneOC website here for more information.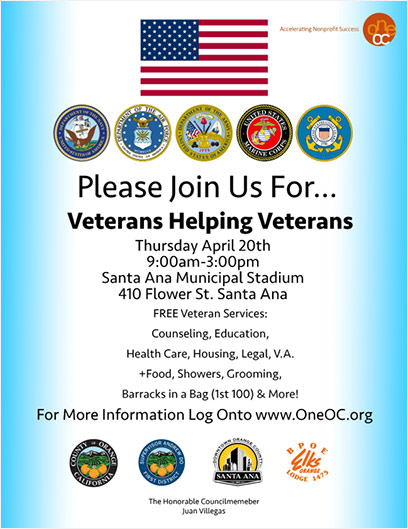 DISTRICT

STAFF
Chris Wangsaporn
Chief of Staff

Nick Lecong
Deputy Chief of Staff

Tara Campbell
Communications Director

Veronica Carpenter
Senior Policy Advisor

Luigi Luciano
Policy Advisor

Ofelia Velarde-Garcia
Policy Advisor

Chris Gaarder
Administrative Assistant

Adriianna Lagorio
Administrative Assistant

Manning Pham
Administrative Assistant

Joyce Rivero
Executive Secretary

Matt Haines
Executive Aide



Stay Updated!