News and Updates

Kickoff of the HomeAid Essentials Donation Drive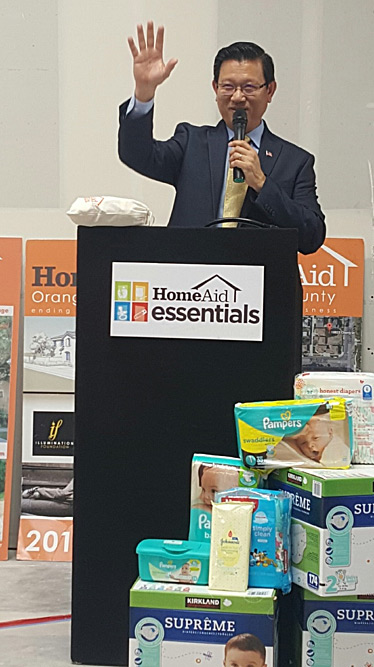 HomeAid hosted its 10th annual Essentials Donation Drive this week at their Family Care Center in the City of Orange. As a member of the Orange County Children and Families Commission, Supervisor Do spoke on what role the commission has in funding and partnering with programs like HomeAid.

The HomeAid Essentials Donation Drive focusses on collecting essentials for families in need here in Orange County. The Orange County Children and Families Commission has partnered with HomeAid for 18 years and has added more than 400 shelter beds to accommodate the unique needs of homeless children and their families.

If you would like to make a donation to HomeAid in support of Orange County Families, you can visit www.homeaidoc.org/essentials to find a Donation Drive near you.

"Drawing Out Stigma" at the Multi-Ethnic Arts & Family Festival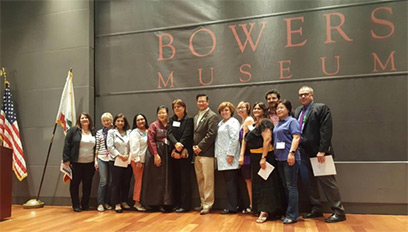 On Sunday, the Multi-Ethnic Collaborative of Community Agencies (MECCA) and the Orange County Health Care Agency hosted their "Drawing Out Stigma" Multi-Ethnic Arts & Family Festival at Bowers Museum in Santa Ana for Mental Health Matters Month. Supervisor Andrew Do gave the opening address centered on continuing the discussion on mental health and what we can do to address it.

The works of art were created by community members of different cultural backgrounds and professional artists, both of whom have experienced mental health issues.

Many organizations participated including Each Mind Matters California, OC Children's Therapeutic Arts, and many multi-ethnic community groups. There was food, live international music, dance performances, and art displays for families to enjoy while learning more about destigmatizing mental health.

If you would like to learn more about Mental Health Matters Month please visit www.eachmindmatters.org/mental-health/.

New Appointee to the OC Veterans Advisory Council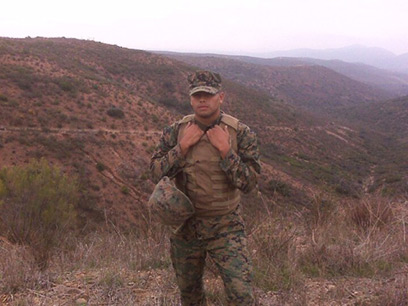 A vacancy on the Orange County Veterans Advisory Committee has been filled by Marine Corp Veteran Mario Munoz, appointed by Supervisor Andrew Do. Munoz will represent the First District of Orange County on the committee.

Mario Munoz is a post-9/11 Veteran and Orange County native that served in both Operation Enduring Freedom and Operation Iraqi Freedom. He attended Santa Ana High School, Santa Ana College, and California State Dominguez Hills for Ecology and Environmental Science.

Munoz has been an active member in the community after his 6 years of service in the Marines, working as a wrestling coach at Godinez Fundamental High School in Santa Ana and at Veteran's Resource Center's at both Santa Ana College and Cal State Dominguez Hills.

The experience and expertise in regards to Veteran's issues that Munoz possesses will be greatly beneficial to the operation of the Orange County Veterans Commission.

Recognizing our Small Businesses

In honor of National Small Business Week, Supervisor Do met with small businesses throughout the district to recognize them for the benefits they bring to the local economy and the impact each one of them has on the lives of people in the community.

George Rivero of JACE Hardwood Flooring has been doing business in Westminster for 12 years. George and his team have installed flooring throughout the County and also specialized in restoring historical homes and properties. JACE Hardwood Flooring has gained a reputation for quality workmanship and attention to detail.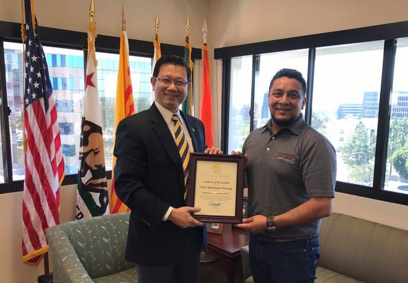 Luis Rojas has been operating Santa Ana Hardware for 7 years. This local hardware store carries specialty tools, general repair supplies, bikes and bike parts, and much more. Locals enjoy stopping in for personal service and attention to detail.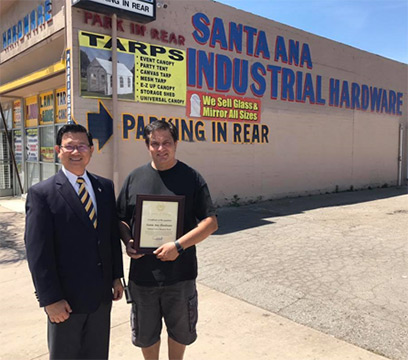 Art's Income Tax, run by Art Sosa, is located in Santa Ana and provides income tax and notary services. He has been doing business in Santa Ana for 26 years and has assisted thousands with their taxes.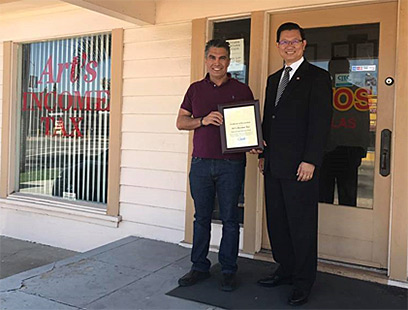 Javier Pineda has been doing business in Santa Ana for 16 at his firm the Law Offices of Javier Pineda. Javier and his team have been helping represent residents throughout Orange County.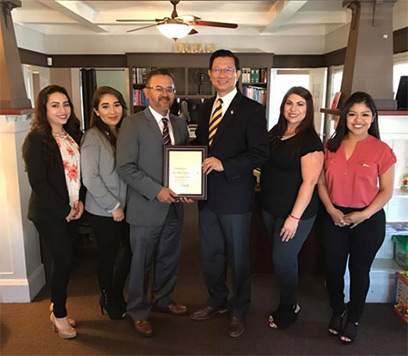 Alcala Tonsorial Arts specializes in traditional fine men's grooming. Andy Alcala has been doing business in Westminster for 10 years and has a large base of loyal, repeat customers who enjoy fine haircuts for a professional, classic look.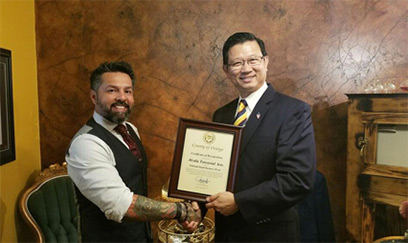 Diaz-Moreno & Associates has been providing real estate, income tax, and immigration services in Santa Ana for 16 years. Their firm has given access to a diverse range of services for the local community in a friendly, professional environment.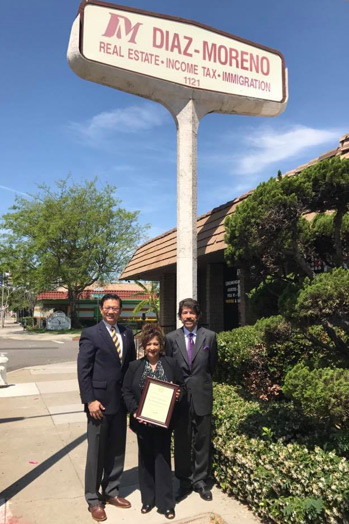 E.L.P. Custom Wood Finish has been doing business in Westminster for 17 years providing services for wood projects in the home and beyond. They have a long history and commitment to providing quality workmanship for their customers.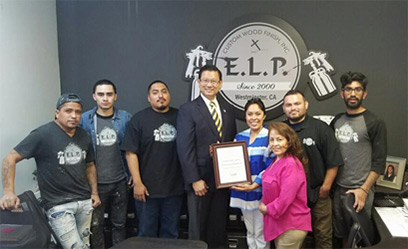 Yen of 828 Pho has been serving up delicious cuisine from different cultures in Santa Ana for 9 years. This has been a go-to spot for great Pho in Downtown for many years and has been featured in OC Weekly Restaurant Week.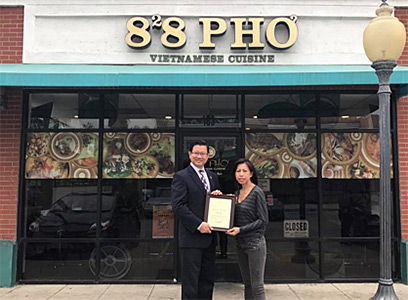 All Phase Inc. has been doing business in Garden Grove for years installing, repairing, and supplying heating, air conditioning, and refrigeration systems. All Phase Inc. is based in West Garden Grove and provides manufacturer direct services to the local area and beyond.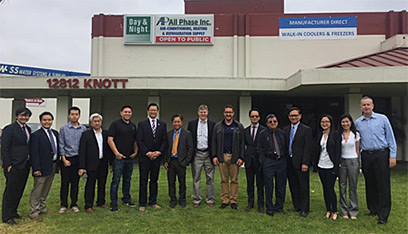 California Cookie Dough is the newest business to join Fountain Valley. Serving up a childhood favorite for adults, this business is dishing up delicious craft cookie dough from red velvet to circus animal to peanut lover with a cool glass of milk or nitro cold brew coffee on tap.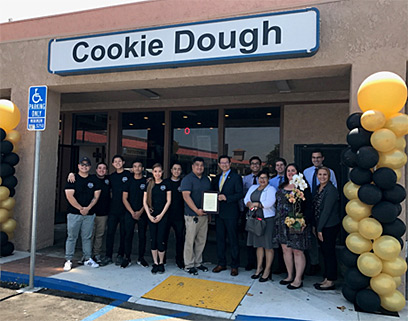 Nancy Mourek-Green of Nanook's Custom Embroidery has been doing business in Garden Grove for 17 years. They produce custom embroidered apparel, graphic printing, and promo items to businesses, schools, Elks Club members, and many more.
The First District of Orange County has a strong and vibrant small business sector that fosters a sense of community in neighborhoods. We're proud to feature these small businesses and appreciate the hard work and effort of all small business owners and employees for their vital part in keeping Orange County prosperous.

CalOptima Seminar on Mental Health Wellness

CalOptima's educational seminars start this Friday! Come join us for breakfast and learn about "Mental Health Wellness: Understanding and Accessing Behavioral Health Benefits and Services." The seminars will be held at CalOptima's satellite office located at 15496 Magnolia Avenue, Suite 111 in Westminster.

The presentations will be offered in English, Spanish and Vietnamese. These events are open to members and service providers and are offered at no cost.