News and Updates

Supervisor Do Speaks on Mental Health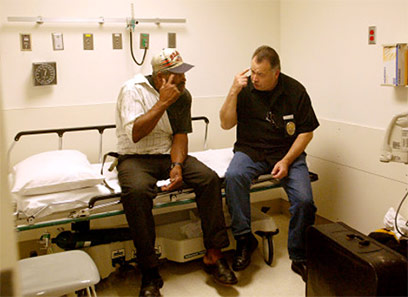 This week Supervisor Do authored an opinion piece in the Orange County Register highlighting Mental Health Matters Month. You can find the article here.

One of the largest barriers to people accessing treatment is the negative stigma that continues to surround issues of mental health across the country. The purpose of the article is to contribute further to the conversation we as a community are having about mental health and help guide people towards the ultimate goal of destigmatizing mental health. Once more people begin to see mental health as a legitimate medical concern, more people will feel confident to seek the help and support they need.

"While continuing these efforts is a good starting point, it is crucial that we step up and #UpliftOC. So talk about mental health with your families, your neighbors, your friends and together let's end the stigmatization of mental health," wrote Supervisor Do. "Let's bridge the gap for those suffering from mental health issues. Let's work together to address this need in the county, the United States and the world."

If you would like more info on how you can help destigmatize mental health, please visit www.ochealthinfo.com/bhs.

New Homeless Numbers Released

Numbers from the Point-In-Time (PIT) count for Orange County were released last week, you can find the latest numbers here. The PIT count is a biennial tally of people without a home on a particular night. We count because we want to understand homelessness in our community in order to end it. This PIT count provides vital information that guides and shapes the way we approach and solve homelessness in Orange County.

Supervisor Andrew Do was interviewed by KPCC about the new numbers and how the County has been responding to the issue of homelessness. You can listen to the interview here.

This report comes on the heels of the County opening two new shelters, the Courtyard Transitional Shelter in downtown Santa Ana and Bridges at Kraemer Place located in Anaheim, this last year. While projects like these are moving the County in the right direction, a continued effort is necessary to keep up the momentum to end homelessness in Orange County.

Celebrating National Donut Week

Last week was National Donut Week and to mark the holiday, Supervisor Do visited a few local donut shops across the district. He recognized them for the positive impact they have on the economy and the sweet treats they make that fuel so many activities that are cornerstones of our community.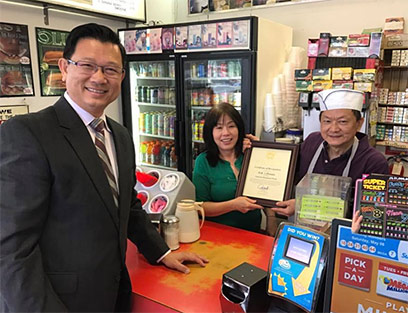 D.K's Donuts in Garden Grove has been run by Phillip and Annie Lee for many years. Generations of children and adults have enjoyed donuts from D.K.'s.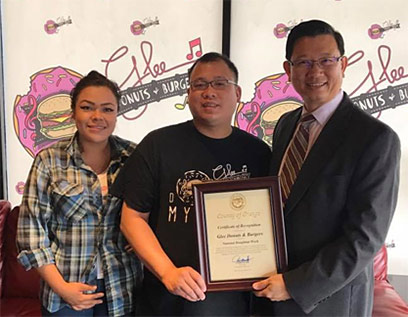 Glee Donuts & Burgers is another family owned business. They have been operating in Fountain Valley, offering unique menu items like donut burgers and cream filled croissants.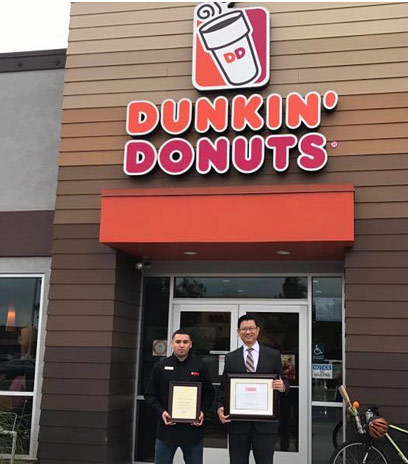 Dunkin' Donuts in Santa Ana opened last year and has been a hit ever since. Commuters and locals enjoy Dunkin' Donuts signature east coast feel and menu.

Thanks again to all the donut shops, large and small, that adding to the economic development community in Central Orange County while providing us with sweet treats. Happy National Donut Week!

Eco Challenge Poster Contest Deadline Nears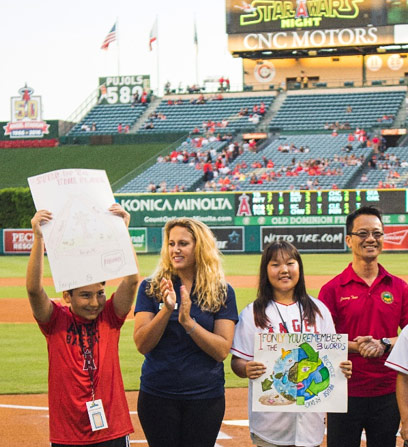 There is still time to enter the 2017 Eco Challenge Poster Contest. Entries are due by Friday, June 30th, 2017. OC Waste & Recycling is teaming up with Angels Baseball again to inspire environmental stewardship in youth between the ages of 8 and 14.

The focus of this year's contest is organics recycling – reducing the amount of food waste and green waste sent to landfills from our homes, schools and communities. Contestants create original art that illustrates how to reduce and recycle green waste and food waste. One winner from the First District will win a Bat Kid Experience, including a visit to the dugout to meet players, tickets to a game, a Bat Kid Jersey and an on-field introduction.

Orange County faces a new recycling challenge: how to reduce and recycle green waste and food waste. Contestants will show us their vision for meeting this new challenge.

Full rules and eligibility details are available at OC Bat Kids.

Pictured above is last year's First District contest winner, Maverick Malfavon, at the on-field ceremony in Angel Stadium.