May 23, 2017
Volume 2

Issue 8

News and Updates

Continuing the Discussion on Homelessness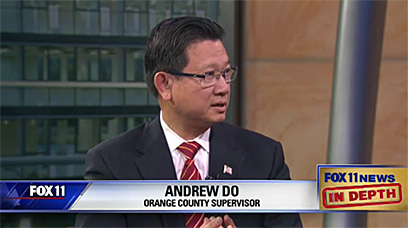 This past Sunday, Supervisor Andrew Do returned to FOX 11 News In Depth with the Hurtado Sisters, residents of the Courtyard Transitional Center in Santa Ana, for an update on homelessness in Orange County.

The Hurtado Sisters have been a great example of those who are working hard to improve their lives. The sisters lost their home when their father was laid off nearly a year ago and have been residing at the Courtyard while continuing to attend college. Since their interview in February, the three sisters have experienced positive changes. Michelle has moved in with her mother in Imperial Valley, Heidi has received a generous scholarship, and Amy has been granted admission to California State University Fullerton.

"These young ladies are truly an inspiration," said Supervisor Do. "They are taking the steps to improve their lives, by working, going to school, and applying for financial aid. I am glad the County could provide the shelter and food to house these girls as they work towards a bright future."

If you would like to see the full interview you can find it here.

Recognizing our Homeless Shelter Leader, Doris Starling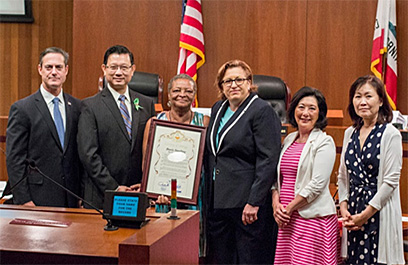 Today, the Orange County Board of Supervisors honored Doris Starling of The Midnight Mission with a Resolution for her tremendous work at the Courtyard Transitional Center.

Doris has had a long career of over 30 years helping the homeless. One particular highlight of her career was when she led "Project 50" for the County of Los Angeles. This project targeted the 50 most chronically homeless or hard to serve individuals and placed them in Permanent Supportive Housing, where 85% remain in permanent housing today.

Doris currently oversees the Courtyard Transitional Center in Santa Ana which houses over 400 individuals a night along with serving over 1,000 hot meals a day. She has been crucial in the development of innovative and effective approaches employed at the Courtyard and other low-barrier shelters, making sure residents are able to transition back to independence.

If you would like to make a donation to the Courtyard Transitional Center and aid in our effort to end homelessness, you can visit the Midnight Mission website here.

National Public Works Week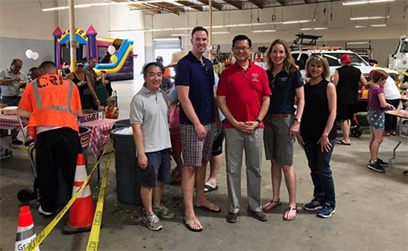 Orange County Public Works hosted their annual Open House in honor of National Public Works Week this weekend. The Open House centered on family fun and education. Those in attendance enjoyed giveaways, booths, and Public Works exhibits. Various types of Public Works equipment were on display for visitors to see up close.

Our Public Works team provides many vital services including:

Maintaining 321 miles of roadways in unincorporated areas
Overseeing 380 miles of regional flood control channels
Completing 58 design/construction Capital Projects at 24 different County Facilities
Our Public Works team routinely risks their own safety for the safety of others. We would like to thank our Public Works team for their commitment to excellence and service, including Director Shane Silsby, Deputy Director of Operations and Maintenance Kevin Onuma, Deputy Director of OC Environmental Resources Amanda Carr, and Assistant Director Vicki Quiram.

Farmer's Market Vouchers

This Friday May 26th, join the Office on Aging for a Farmer's Market Voucher Distribution Day. The vouchers will be distributed from 9 am to 12 pm at the Santa Ana Senior Center, 424 W 3rd St. Santa Ana, CA 92701.

The Senior Farmer's Market Nutrition Program (SFMNP) provides vouchers for low-income seniors to purchase eligible foods such as fruit, vegetables, herbs, and more from local farmer's markets. Each Farmer's Market Voucher booklet is worth $20 in fresh produce.

To be eligible for this program you must be 60 or older and low-income, with a household annual income that does not exceed more that 185% of the poverty level. You must also have not already received a 2017 SFMNP booklet.

If you have any questions about the program, you can call the Office on Aging at 800-510-2020 or visit their website here.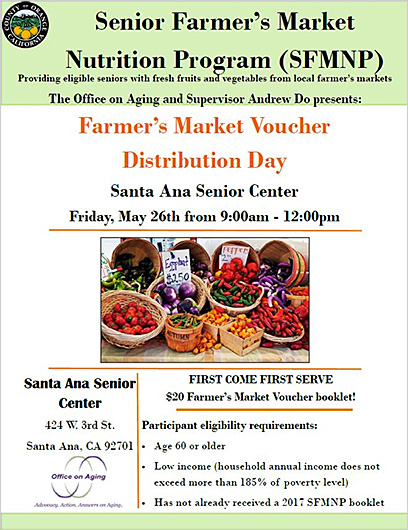 DISTRICT

STAFF
Chris Wangsaporn
Chief of Staff

Nick Lecong
Deputy Chief of Staff

Tara Campbell
Communications Director

Veronica Carpenter
Senior Policy Advisor

Luigi Luciano
Policy Advisor

Ofelia Velarde-Garcia
Policy Advisor

Chris Gaarder
Administrative Assistant

Adriianna Lagorio
Administrative Assistant

Manning Pham
Administrative Assistant

Joyce Rivero
Executive Secretary

Matt Haines
Executive Aide



Stay Updated!