May 30, 2017
Volume 2

Issue 9

News and Updates

Honoring our Fallen Heroes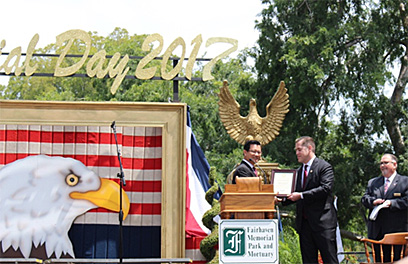 Fairhaven Memorial Park & Mortuary hosted their 25th annual Memorial Day Service on Monday in Santa Ana. The service was attended by more than 3,500 individuals and featured speeches from Veterans, an aerial flyover of World War II-era planes by Memorial Flights, and music by OC Sound and the Orange County Concert Band.

Many members of the community spoke during the service to highlight the valiant sacrifices made by the men and women of the United States Armed Forces and the significant impacts they've had on so many Americans. Supervisor Andrew Do was a featured speaker in the memorial ceremony and talked about the brave soldiers who helped him and his family during the tumultuous events of the Vietnam War.

It is so important that we as a community take time for solemn remembrance of those who paid the ultimate price in defense of freedom here and around the globe. Thank you to all who have served, we are forever grateful for your sacrifices made in the name of liberty.

Garden Grove's Strawberry Festival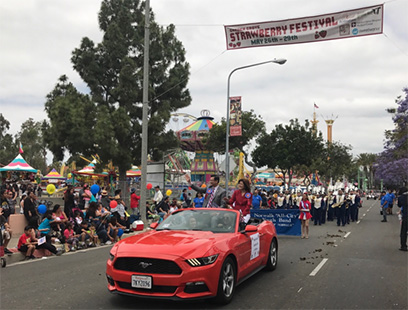 The 59th Annual Garden Grove Strawberry Festival was held this weekend from Saturday through Monday. The Festival featured carnival rides, parades, celebrities, music and more to enjoy over the holiday weekend.

The festivities began with the opening parade featuring Grand Marshal Burt Ward, who played Robin in the ABC TV Series Batman. A former Garden Grove City Councilmember and currently representing Garden Grove on the Board of Supervisors, Supervisor Andrew Do rode in the parade along with his wife and two daughters.

If you'd like to learn more about the Strawberry Festival's long and colorful history as a community event, you can visit http://strawberryfestival.org/history/.

County's Veterans Housing Project Receives Award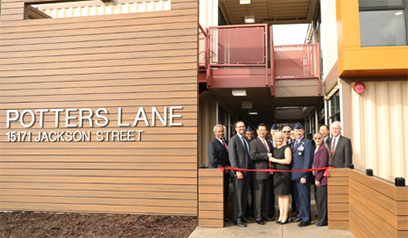 Potter's Lane, the County's recently opened housing development for homeless Veterans in Midway City, has been recognized as an Award of Merit Winner in the 2017 Gold Nugget Award Competition by the PCBC, an annual two-day housing conference, product display and business exchange. The conference regularly draws attendees from all over the United States, Canada, Mexico and more than 25 other countries.

The awards for Potter's Lane are in category 16, Best Affordable Housing Development with 30 to 60 Dwelling Units an Acre, and category 47, Residential Housing Project of the Year. Potter's Lane will compete with 4 other developments in each of these categories on June 29th at the conference in San Diego for the Grand Award in each.

"These awards are a testament to the hard work and dedication of our Housing Development, Health Care Agency and OC Public Works staff here at the County that have helped these projects come to fruition," said Supervisor Andrew Do. "The coordination of all the departments has led the County to be on the cutting edge of innovation with projects like Potter's Lane."

You can view Potters Lane along with other Award of Merit Honorees at PCBC's website here.

Orange County's 3rd Annual Re-Entry Resource Fair

The Orange County Re-Entry Partnership will be hosting the 3rd Annual Re-Entry Fair on Tuesday June 13th from 11 am to 2 pm in order to link formerly incarcerated individuals and their families to resources.

The fair will be hosted in the front portico of the Honda Center, located at 2695 E Katella Ave, Anaheim, CA 92806. Community resources, education opportunities, employers, and more will be available. There will also be an opportunity drawing for eligible participants.

For more information or to participate as a vendor, please contact OCREP at (657) 859-9444 or send an email to info@ocreentry.com.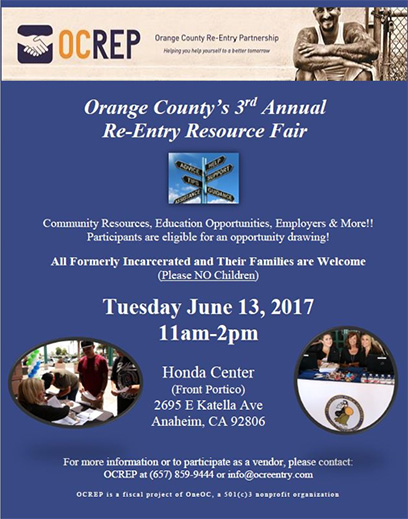 DISTRICT

STAFF
Chris Wangsaporn
Chief of Staff

Nick Lecong
Deputy Chief of Staff

Tara Campbell
Communications Director

Veronica Carpenter
Senior Policy Advisor

Luigi Luciano
Policy Advisor

Ofelia Velarde-Garcia
Policy Advisor

Chris Gaarder
Administrative Assistant

Adriianna Lagorio
Administrative Assistant

Manning Pham
Administrative Assistant

Joyce Rivero
Executive Secretary

Matt Haines
Executive Aide



Stay Updated!