April 24, 2018
Volume 3

Issue 17

News and Updates

Orange County Bolsters Mental Health Support Services

Orange County is bolstering its non-crisis mental health support hotline after experiencing a 56 percent surge in non-emergency calls last year.

The Orange County Board of Supervisors approved a new contract today that will provide more than a half-million dollars in funding for OC Warmline, a free and confidential non-crisis service for residents that are experiencing a mental health problem or behavioral health issue.

"If you're experiencing a mental health challenge, pick up the phone and call OC Warmline," urged Supervisor Andrew Do, Chairman of the Orange County Board of Supervisors. "The best way to prevent a crisis is to address mental health issues at the earliest possible stage."

During the 2016-17 fiscal year, OC Warmline experienced a 56 percent surge in calls. That increase came on the heels of 19% increase in call volume during the previous year.

Today, Orange County Supervisors allocated $536,566 in state Mental Health Services Act funds for the program's operations in the upcoming fiscal year. Under the renewed agreement, NAMI Orange County will provide non-crisis telephone, live chat and texting services to any Orange County resident needing support for behavioral health issues.

Services are provided by trained staff or volunteers with a similar lived experience as the caller. The service is available weekdays between 9 a.m. and 3 a.m. and from 10 a.m-3 a.m. on weekends. All incoming calls are screened for imminent safety concerns and are immediately linked to the suicide prevention services, when appropriate.

If you or someone you know is struggling with a mental health or substance abuse issue, here are three ways to get help from OC Warmline:

"Orange County is following through on our promise to make it easier for families to access the right mental health services when they need it," said Supervisor Do.

Last month, the County approved Chairman Andrew Do's request for an audit of more than $219 million in mental health spending in an effort to improve programs and better coordinate services with the county's homeless response.

Chairman Do Sponsors Play 60 for Children of Military Families

On Saturday, Chairman Andrew Do sponsored a Play 60 football camp hosted at Mile Square Park by the Los Angeles Chargers and Bob Hope USO. This Play 60 camp was held in honor of the Month of the Military Child, with participation being reserved for children of our active duty military here in Orange County.

Play 60 is a national youth health and fitness campaign focused on increasing the wellness of children by encouraging them to be active for at least 60 minutes a day. Chairman Andrew Do kicked off the camp where children were led through football drills by members of the LA Chargers organization and Quarterback Cardale Jones.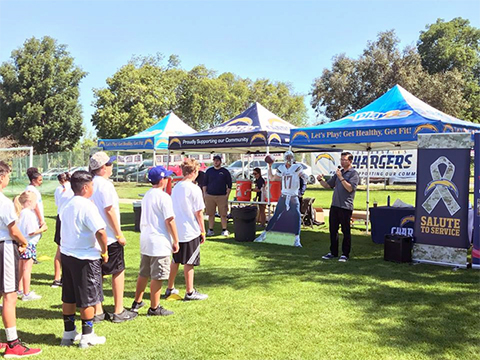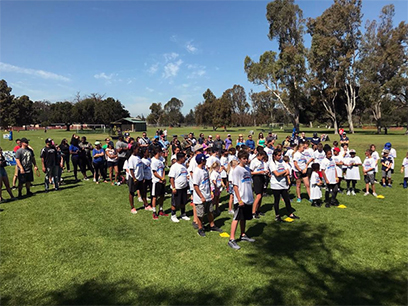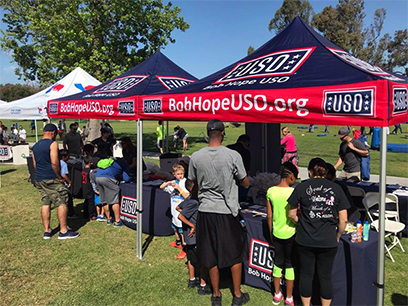 Join Chairman Do for a Public Safety Community Forum

On Monday, April 30th, Chairman Do will be hosting a Public Safety Community Forum in partnership with the City of Garden Grove including Mayor Steve Jones and Mayor Pro Tem Kris Beard.

The event will be held from 6:30 PM to 8:30 PM in the multi-purpose room of Garden Park Elementary School located at 6562 Stanford Avenue, Garden Grove, CA 92845.

Chairman Andrew Do will speak on issues impacting Orange County, including homelessness. There will also be an update from Garden Grove officials including City Manager Scott Stiles, Fire Chief Tom Shultz, Police Chief Todd Elgin, and Community and Economic Development Director Lisa Kim.

For more information or to RSVP please call (714) 834-3110 or email Joyce.Rivero@ocgov.com.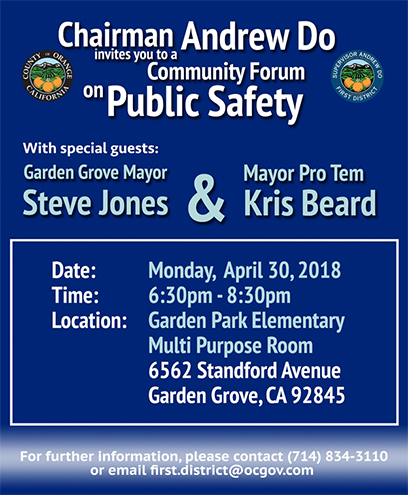 10th Annual Dia del Nino and Dia del Libro

On Saturday, the City of Santa Ana Parks and Recreation Department hosted the 10th annual Dia del Nino and Die del Libro (Day of the Child and Day of the Book) events at the Santa Ana Main Library.

Chairman Do's office recognized Librarian Lupita Arroyo and Parks and Recreation Director Gerardo Mouet for their dedication and commitment to offering these educational opportunities to our youth.

Santa Ana Councilman Juan Villegas and Chairman Do's office cut the cake for those in attendance during the celebration. For more information on events like this one, visit the library website here.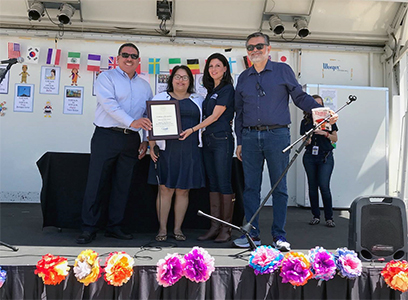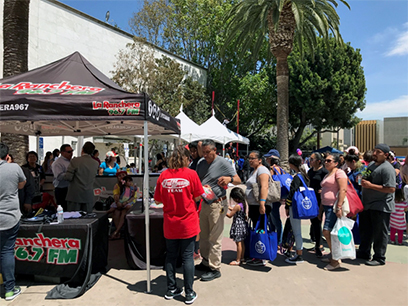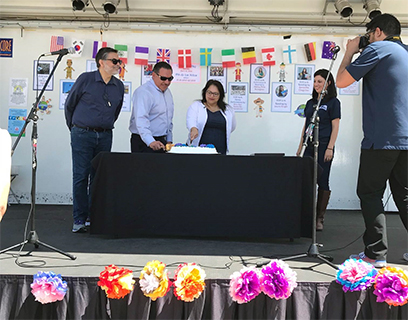 DISTRICT

STAFF
Chris Wangsaporn
Chief of Staff

Veronica Carpenter
Deputy Chief of Staff

Tara Campbell
Communications Director

Ofelia Velarde-Garcia
Policy Advisor

Chris Gaarder
Policy Advisor

Manning Pham
Administrative Assistant

Joyce Rivero
Executive Secretary

Matt Haines
Communications Specialist



Stay Updated!