May 8, 2018
Volume 3

Issue 19

News and Updates

Homelessness: County Approves $1.6 Million to Prevent Return of Riverbed & Civic Center Encampments

Orange County is taking steps to prevent the return of homeless encampments at the Santa Ana Civic Center and Riverbed, which were permanently cleared earlier this year.

Today, the Orange County Board of Supervisors approved $1.6 million for supportive housing services for homeless individuals that were removed from the Santa Ana Riverbed and Civic Center. In March, the county cleared 13,950 needles, 400 tons of debris and 5,279 pounds of hazardous waste from the Riverbed encampment.

"Today's action will help prevent the return of homeless encampments at the Civic Center and Riverbed," said Supervisor Andrew Do, Chairman of the Orange County Board of Supervisors.  "Orange County will continue to do everything we can to address homelessness, but we need help from our cities to increase long-term housing capacity and emergency shelter facilities."

Under an agreement with the Illumination Foundation, the county will provide funding for a minimum of 60 people to receive temporary housing at a motel while searching for long-term independent or supported housing in the community. Individuals will receive access to meals, transportation and storage facilities.

Homeless individuals that participate in the program will be required to sign and adhere to a code of conduct that spells out behavioral expectations in order to receive the housing assistance.

"Orange County will continue to provide help for people that want to get back on their feet and take control of their lives," said Supervisor Do.

Last month, county officials removed 234 people from the Santa Ana Civic Center Plaza of the Flags. More than 700 people were removed from a homeless camp along the Santa Ana Riverbed in February.

Since July 1, 2017, the County and its contractor, City Net, have contacted 1,182 individuals from the Santa Ana Riverbed and Civic Center about assistance services, of whom 58 percent accepted help.

Mental Health Awareness Month

On Sunday, Chairman Do attended the Drawing Out Stigma Multi-Ethnic Arts and Family Festival hosted by the Multi-Ethnic Collaborative of Community Agencies (MECCA) at Bowers Museum in Santa Ana. The annual Drawing Out Stigma event focusses on eradicating undue stigma surrounding mental illness and mental health treatment in communities across Orange County.

Over 4,000 people gathered to see the featured artwork created by community members of different cultural backgrounds who have experienced mental health issues. Art exhibits were accompanied by live performances and ethnic foods. The exhibition increased awareness for those who have suffered from a mental health issue and to make other community members more comfortable in seeking help for possible mental health issues they may have themselves.

Chairman Do spoke of the importance of reducing mental health stigma, especially in ethnic communities where a recent CalOptima Member Health Needs Assessment found it is a significant barrier to treatment, and thanked all those involved for their dedication to making that goal a reality. Organizations involved included Abrazar, Inc., Orange County Children's Therapeutic Arts Center, OMID Multicultural Institute of Development, Korean Community Services, The Cambodian Family, Southland Integrated Services, Inc., and Access California Services.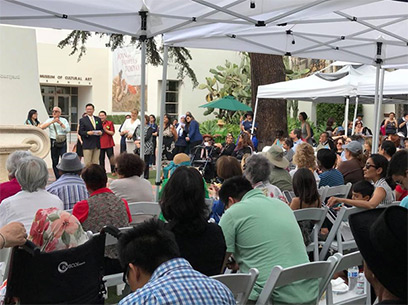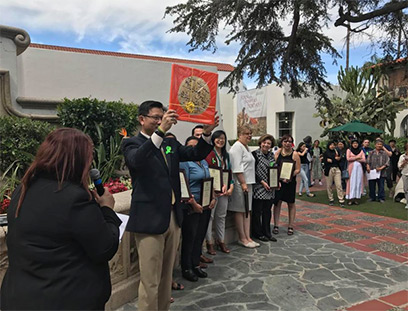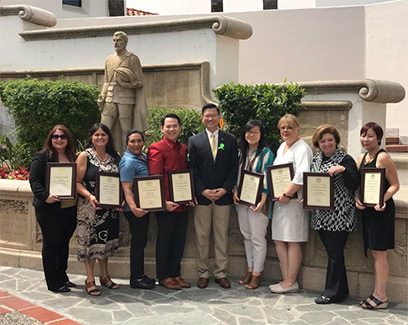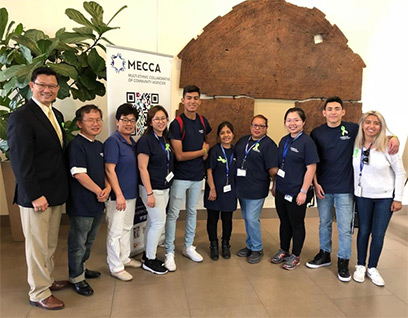 At Tuesday's meeting, the Orange County Board of Supervisors declared May as Mental Health Awareness Month in Orange County. Chairman Do presented a resolution to the Orange County Health Care Agency's Outreach and Engagement Team, commonly referred to as "Blue Shirts", for their role as the boots-on-the-ground team helping those with mental illness access services. The board thanked staff who had performed outreach at the Flood Control Chanel and Civic Center to homeless individuals for their hard work and dedication ensuring people have access to crucial mental health services throughout the County.

Chairman Andrew Do invites you to wear a green ribbon or wristband in commemoration of Mental Health Awareness Month and to start conversations with friends, family, and co-workers about mental health in order to reduce stigma.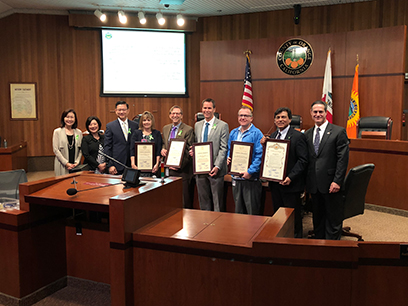 Grocery Program

Second Harvest Food Bank of Orange County will be at the County Community Services Center in Westminster on the following dates at 11am distributing FREE groceries through the Senior Grocery Program.

If you or someone you know could utilize this helpful program, please see the attached flyer for more information.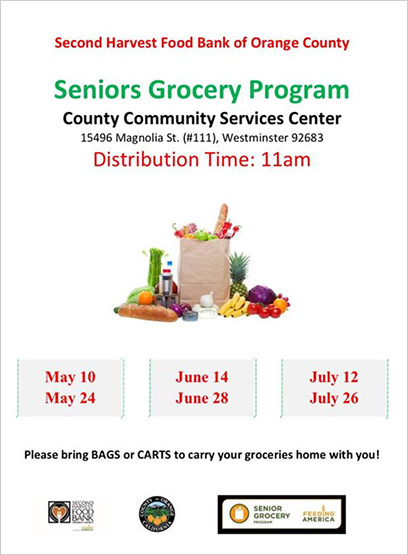 Escape the Heat

In preparation for the summer months, here are some designated Cooling Center Locations in our area where you can escape the heat and cool off in these air-conditioned facilities:

Fountain Valley:

Founders Village Senior Center: M-F  8:30-4
Fountain Valley Library: M-Th 10-7, F-Sa 9-5
Garden Grove:

H. Louis Lake Senior Center: M-F 7-5
Chapman Library: M-Th 10-7, Sa 9-5
Garden Grove Library: M-Th 10-7, F-Su 9-5
Tibor Rubin Library: M-Th 10-7, Sa 9-5
Midway City:

Midway City Community Center: Hours vary, call 714-893-0203 for information
Santa Ana:

Garfield Community Center: M-T 12-8; F 1-6
Newhope Library: M-Th 2-7; Sa 10-5
Central Branch Library: M-Th 10-9;  F - Sa 10-6; Su 12-4
Salgado Community Center: M-F 10-9; Sa 9-4
El Salvador Community Center: M-F 8-8
Jerome Center: M-F 8-9; Sa 9-1; Sunday Closed                                                       
Southwest Senior Center: M-Th 8-9; F 8-6; Saturday/Sunday Closed
Santa Ana Senior Center: M-F 8-5
Santa Anita Community Center: M-Th 1-8; F 1-6; Sa 9-12:30
Westminster:

Westminster Senior Center: M-Th 7:30-5:30; Fridays alternate 7:30-4:30 or 8-1
Westminster Library: M-Th 10-7, F-Sa 9-5



DISTRICT

STAFF
Chris Wangsaporn
Chief of Staff

Veronica Carpenter
Deputy Chief of Staff

Tara Campbell
Communications Director

Ofelia Velarde-Garcia
Policy Advisor

Chris Gaarder
Policy Advisor

Manning Pham
Administrative Assistant

Joyce Rivero
Executive Secretary

Matt Haines
Communications Specialist



Stay Updated!