January 9, 2018
Volume 3

Issue 2

News and Updates

Supervisor Do Elected Chairman of the Board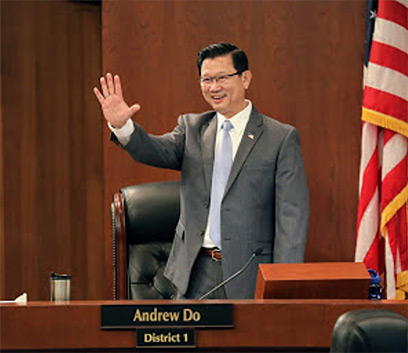 Supervisor Do was elected to serve as Chairman after serving as the Vice Chairman in 2017.

Supervisor Do was elected to serve as Chairman after service as the Vice Chairman in 2017. He represents the First District, which includes Garden Grove, Midway City, Santa Ana, Westminster, and a portion of Fountain Valley. Prior to serving on the Board, Chairman Do was a business owner, Orange County Deputy Public Defender, Orange County Deputy District Attorney, and Councilmember for the City of Garden Grove. Chairman Do started working for the County over 30 years ago, serving in various County departments over the years.

"As a former political refugee, I am honored and humbled to be able to serve in this capacity and give back to the community that has given so much to me," said Chairman Andrew Do. "Our County provides opportunities to immigrants like myself, to thrive. I look forward as chairman to continue to improve the quality of life here in Orange County for all residents."

Chairman Do will be providing a State of the County address at 8:30am on Tuesday, January 23, 2018 in the Board Hearing Room of the Hall of Administration, 333 W. Santa Ana Blvd., Santa Ana, CA 92701.

Board of Supervisors Directs $15 Million for Mental Health Housing to Aid Homeless

Today, Chairman Andrew Do and Vice Chairman Shawn Nelson directed the Orange County Health Care Agency to use $15 million of available unspent Mental Health Services Act (MHSA) funds for mental health housing projects. This funding is aimed at increasing the number of mental health housing units available in Orange County to house chronically homeless individuals with severe mental illnesses.

The directive was introduced by Chairman Andrew Do and seconded by Vice Chairman Shawn Nelson, both of whom have worked collaboratively to bring this to the Board of Supervisors. The Board approved the motion unanimously. This additional funding will be critical in completing future projects for MHSA Housing.

"One of my first initiatives as Chair is ensuring we are using existing funding resources, such as MHSA, to address the lack of mental health and permanent supportive housing to reduce the number of people suffering from homelessness here in Orange County," said Chairman Do. "Vice Chair Nelson and I have been collaborating to find creative, effective, and actionable ways to address this pressing issue at the nexus of mental health and homelessness. I'm excited we were able to secure this additional funding so that we will have more housing stock to combat chronic homelessness."

The new directive will be brought back to the Board of Supervisors in Spring of 2018 for final approval.

In addition, the Santa Ana Veteran's Village and Aqua Projects, both Special Needs Housing Projects (SNHP) in Santa Ana, were allocated $5 million in MHSA funding. These permanent supportive housing projects will serve those with a severe and persistent mental illness who are homeless or at risk of being homeless. A total of 20 units of the Santa Ana Veterans Village will be funded by this allocation, along with nine units at the Aqua Project. Both projects seek to reduce homelessness, reduce incarcerations, reduce hospitalizations, and increase vocational, educational, and employment activities as outcomes for their residents.

"The Santa Ana Veterans Village and the Aqua Project are both great examples of the County continuing to build on our successes," said Chairman Do. "Constant and consistent progress is necessary to address an issue with such magnitude and importance as homelessness."

Both the new $14.5 million funding directive and the two permanent supportive housing projects in Santa Ana are part of the Board of Supervisor's commitment to finding compassionate and effective solutions to homelessness in Orange County. The action taken by the Board is a critical step in continuing to build the system of care.

This comes on the heels of the County's approval to purchase an office building in the City of Orange to be used as a Crisis Stabilization Unit and to administer additional behavioral health services in order to further address homelessness.

Dia de los Reyes Celebrated in Santa Ana

On Saturday, thousands of people across Orange County celebrated Dia de los Reyes, otherwise known as the Epiphany Celebration or Three Kings Day, in honor of the culmination of the twelve days of Christmas and to commemorate the three wise men who brought gifts for the infant baby Jesus. A representative of Supervisor Andrew Do's office attended two of these celebrations in Santa Ana hosted at Cesar Chavez Campesino Park and 32 por Mexico.

The event held at Cesar Chavez Campesino Park was organized by Felipe Guerrero, President of the Santa Anita Neighborhood Association, Linda Decker of Victorious Women of Prayer, and Fishes and Loaves, who provided the food. An estimated 150 children, along with their parents, were in attendance to receive food, gifts, and to celebrate the occasion. Multiple community organizations celebrated including the Fountain Valley based Navy recruiting office and Jim Torres of Disabled American Veterans.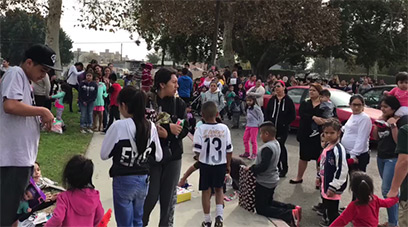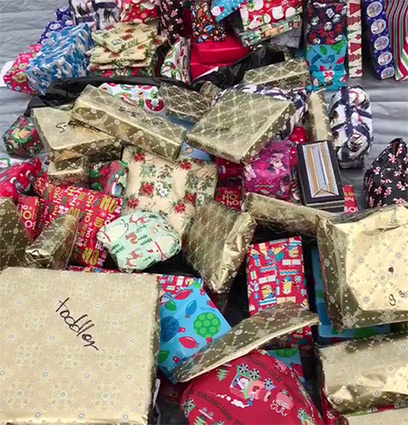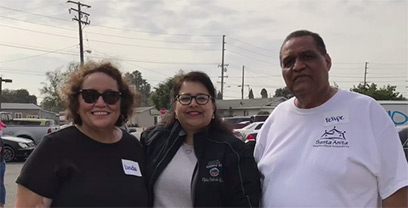 Another event was hosted by 32 por Mexico at their building in Santa Ana. Kids received gifts, food, and other goodies. Rosca bread, a hallmark of this celebration, was served to attendees. The president of 32 por Mexico Mike Gonzalez, SAUSD board member Cecilia Iglesias, IHSS Commissioner Helen Martinez, along with other community leaders and residents were in attendance for the celebration.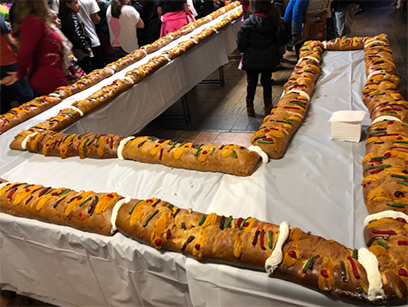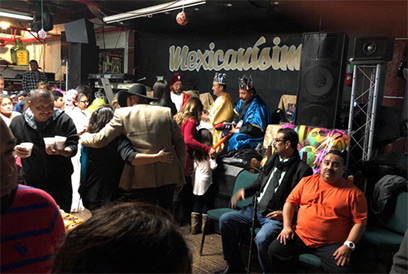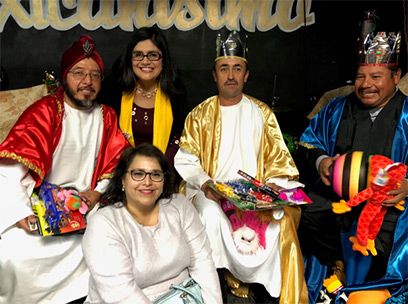 OCIT Cyber Security Tips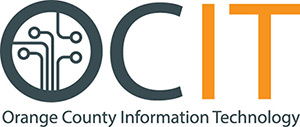 In the digital age, it can be dangerous to go online without the proper knowledge of cyber security. To protect yourself and loved ones, read these tips on how to stay safe online.

Know your Surroundings -

Online Communities (Social Media)


You don't know who is on the other side of the screen
Facebook friends are not your friends – that is, unless, your kids go to school together, you have lunch together or you grew up together
Facebook is ok to reconnect with people and for exchanging ideas and be generally social
We tend to overshare online – details can be collected to make a picture

Be Aware of and Manage the following:
Privacy and security settings
Once posted, always posted
Your online reputation can be a good thing – consider reputation defense services to keep positive info to the top of searches online for your name
Keep personal info personal
Know and manage your friends
Know what action to take: If someone is harassing or threatening you, remove them from your friends list, block them, and report them to the site administrator.
Remember - STOP. THINK. CONNECT

Most Common Mechanisms used for Cyber Attacks:

Weak Authentication - Hackers taking advantage of easy to guess or crack passwords
Weak authentication usually means one or more of the following:
Weak, guessable passwords are allowed
There is no lockout enforced after a certain number of invalid login attempts
Password reset methods are not secure
Social Engineering (Hackers use various methods to convince end users to provide them access to their computers or devices)


Be aware of who you are speaking with and never give up personal information to cold calls or someone calling to demand payment. When in doubt verify the caller.
IRS Scams: To defeat these consider the following:


Call you to demand immediate payment. The IRS will not call you if you owe taxes without first sending you a bill in the mail.
Demand that you pay taxes and not allow you to question or appeal the amount you owe.
Require that you pay your taxes a certain way. For instance, require that you pay with a prepaid debit card.
Ask for your credit or debit card numbers over the phone.
Threaten to bring in police or other agencies to arrest you for not paying.
If you don't owe taxes, or have no reason to think that you do:
Do not give out any information. Hang up immediately.
Contact TIGTA to report the call. Use their "IRS Impersonation Scam Reporting" web page. You can also call 800-366-4484.
Report it to the Federal Trade Commission. Use the "FTC Complaint Assistant" on FTC.gov. Please add "IRS Telephone Scam" in the notes.
If you know you owe, or think you may owe tax:
Call the IRS at 800-829-1040. IRS workers can help you.

Tech Support Scams: Consider the following to defeat someone pretending to be technical support:


If you get a call from someone who claims to be a tech support person, hang up and call the company yourself on a phone number you know to be genuine. A caller who creates a sense of urgency or uses high-pressure tactics is probably a scam artist.
Don't give control of your computer to a third party who calls you out of the blue.
Do not rely on caller ID alone to authenticate a caller. Criminals spoof caller ID numbers. They may appear to be calling from a legitimate company or a local number, when they're not even in the same country as you.
Online search results might not be the best way to find technical support or get a company's contact information. Scammers sometimes place online ads to convince you to call them.
Never provide your credit card or financial information to someone who calls and claims to be from tech support.
If a caller pressures you to buy a computer security product or says there is a subscription fee associated with the call, hang up.
Never give your password on the phone. No legitimate organization calls you and asks for your password.

Known Vulnerabilities (Hackers use, known vulnerabilities in computers operating systems, smart phones, tablets and other devices connected to the Internet to gain access)


The only way to defeat this attack method is to regularly apply the security patches for the computers, phones, tablets and devices.

More Tips online at: staysafeonline.org



DISTRICT

STAFF
Chris Wangsaporn
Chief of Staff

Veronica Carpenter
Deputy Chief of Staff

Tara Campbell
Communications Director

Ofelia Velarde-Garcia
Policy Advisor

Chris Gaarder
Policy Advisor

Manning Pham
Administrative Assistant

Joyce Rivero
Executive Secretary

Matt Haines
Field Representative



Stay Updated!