May 15, 2018
Volume 3

Issue 20

News and Updates

Community Spotlight: Corner Market's History of Helping the Neighborhood

Armando "Mando" Aguinaga has been running the Corner Market in the El Salvador Park neighborhood of Santa Ana at 802 N Raitt St. since 1952. At 83 years old, he still has a passion for his work and his community. For decades, Mando has employed dozens of youth from the area for afterschool jobs helping around his shop. This little corner store has been more of a resource for the community than you might expect due to exceptional character of its proprietor.

Working at the Corner Market wasn't your everyday afterschool job. Teen employees, most in high school, were held accountable for their grades, afterschool conduct, extracurricular engagement, and a host of other values that Mando believes make them engaged and productive citizens. If an employee's grades were suffering, they wouldn't get any hours until they brought them back up. If a teen didn't show up to work or Mando saw them participating in questionable activity, a phone call to their parents was quick to follow. By investing in not only the professional, but the personal, development of youth in the area, Mando has made a significant impact on the lives of teens, their families, and the neighborhood overall.

When times were tough for some of the neighborhood's older residents, many of whom lived on a fixed income, Mando would give them no interest store credit for a couple of weeks to cover necessities at the end of the month. Younger employees saw elderly folks sign their name on a receipt as documentation of credit and were bewildered that Mando trusted those in the community so much as to extend that kind of a helping hand. Witnessing the humanity and compassion for the community displayed at the Corner Market has had an impact on many of the youth who've worked there.

One former neighborhood youth employed at the Corner Market, Jorge "George" Sanchez, earned his PhD and now serves as a college administrator at Coastline College. Another former employee went on to become an official with the Department of Homeland Security. These are just a couple examples of how the values of hard work, personal responsibility, and community engagement taught by Mando helped local kids thrive.

When Mando's son Ramsey, a Santa Ana Police Officer, passed away in February from a long and hard-fought battle with cancer, the entire neighborhood rallied around Mando and his family. Facebook pages were made and memorials held, there was an outpouring of support.

Chairman Andrew Do presented Mando with a Community Spotlight Award in recognition of his impact on the neighborhood of El Salvador Park, the City of Santa Ana, and the County of Orange. Thank you to Mando and all he has done to help youth in the neighborhood by spreading positive values.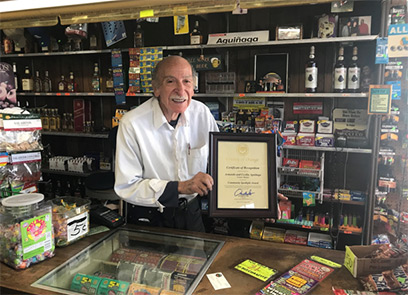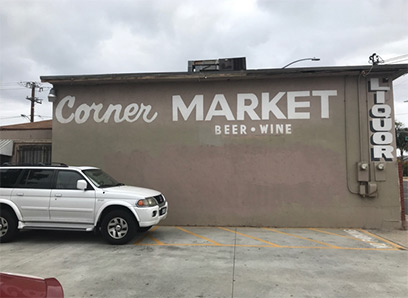 Townsend-Raitt Street Fair held in Santa Ana

The weather didn't keep people away from the annual Townsend Raitt Fair on Saturday hosted by KidWorks, a non-profits who serves children across Santa Ana. Chairman Andrew Do and staff hosted a booth at the event giving away 1,000 bottles of water and shared with residents what County services are available to them.

The Townsend Raitt Fair is held annually with a focus on community engagement and access to services for disadvantaged communities. Groups passing out educational materials and linking residents to services included nonprofit organizations, CalOptima, the City of Santa Ana, the Santa Ana Police Department, Santa Ana College, and more.

For more information about the fair and how you can become more involved in supporting Santa Ana neighborhoods like Townsend Raitt, visit the KidWorks website or Facebook page.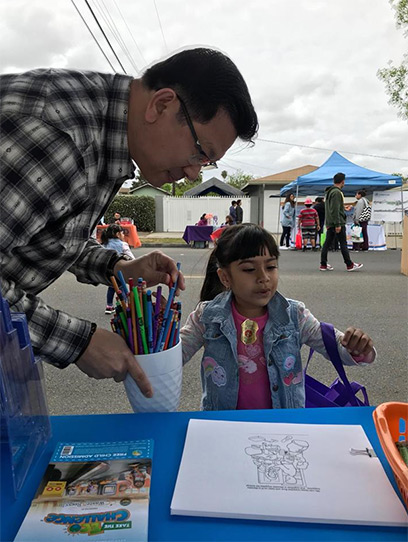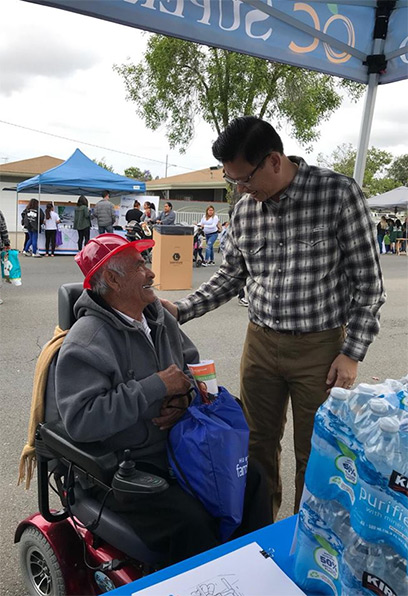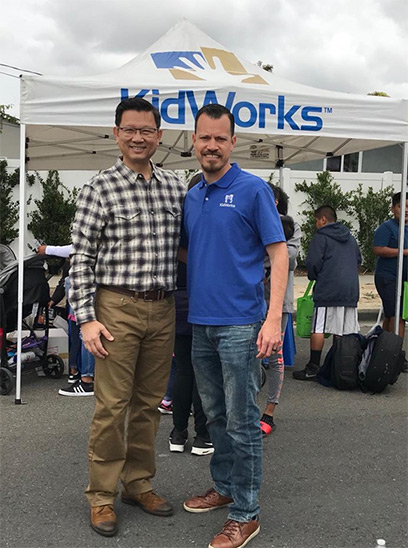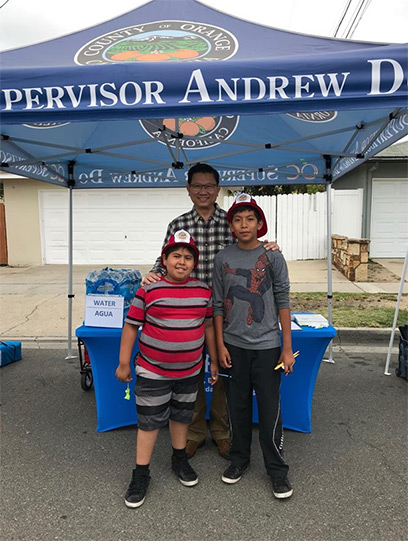 Chairman Andrew Do Celebrates National Nurse Recognition Week

On Thursday, Chairman Andrew Do presented a Resolution from the Orange County Board of Supervisors in honor of National Nurse Recognition Week. This year's theme was how nurses inspire, innovate, and influence in the communities they serve.

Supervising Public Health Nurse Becky Stone accepted the Resolution on behalf of the over 440 extraordinary nurses of the Orange County Health Care Agency.

County nurses were instrumental in linking homeless individuals from the Santa Ana Riverbed and Civic Center to much needed services, especially substance abuse and mental health treatment. Nurses evaluate these homeless individuals and figure out what options work best for each and every one of their unique situations. Just a few examples of how impactful and far reaching our nurse's work is include:

Protecting 1,450 homeless individuals by vaccinating them against Hepatitis A,
Stopping the spread of communicable disease by investigating 7,900 incidents,
Providing 33,940 vaccines needed by the public for work, volunteer, school, and travel, and
Helping 13,500 children with special needs receive medical care.
Thank you to all of the outstanding nurses across Orange County who work tirelessly every day in an incredibly diverse range of capacities to meet the health needs of our residents.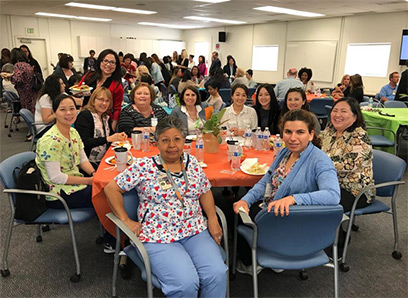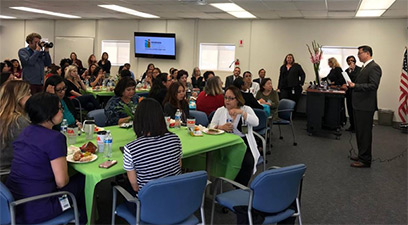 Summer Concert and Cinema Series

OC Parks has announced the dates and times for two popular programs, the Summer Concert Series and the Sunset Cinema Series. Both provide fun, family friendly entertainment for Orange County residents and visitors. Admission is free and all ages are welcome.

The Summer Concert Series will be hosted at a number of Orange County parks on Thursdays from June through August, 5 PM to 8 PM. For a full list of bands and locations, see the attached flyer.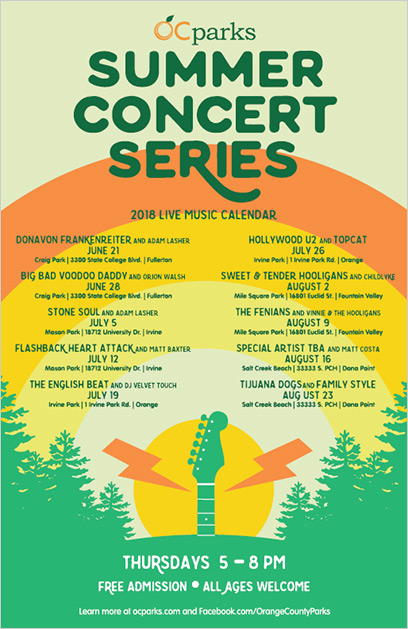 Click on the image above to view a PDF version.
The Sunset Cinema Series is also hosted at a number of parks throughout Orange County from June through September. Family friendly movies are shown from 6 PM to 10 PM and include both new releases and beloved classics. See the attached flyer for a full list of movies and dates.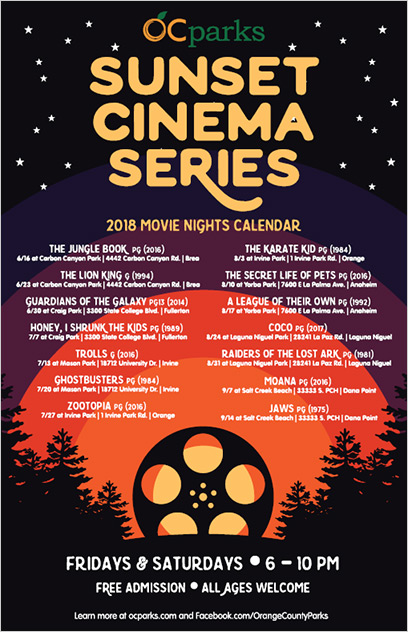 Click on the image above to view a PDF version.
For more information on either of these fun event programs, visit the OC Parks website. A full list for both series can also be found on their Facebook page.



DISTRICT

STAFF
Chris Wangsaporn
Chief of Staff

Veronica Carpenter
Deputy Chief of Staff

Tara Campbell
Communications Director

Ofelia Velarde-Garcia
Policy Advisor

Chris Gaarder
Policy Advisor

Manning Pham
Administrative Assistant

Joyce Rivero
Executive Secretary

Matt Haines
Communications Specialist



Stay Updated!