June 5, 2018
Volume 3

Issue 23

News and Updates

Orange County Vows to Fight Plan for Expanded Needle Giveaway

After removing 14,000 dirty needles from the Santa Ana Riverbed, Orange County is fighting a proposal to give away more needles to addicts.

Today, a unanimous Board of Supervisors adopted a resolution to oppose a pending application with the California Department of Public Health for a mobile needle giveaway program in Orange County.

After being denied a local permit by the City of Santa Ana, the Orange County Needle Exchange Program is seeking to exploit a loophole in state law that would allow a mobile unit to evade local city restrictions. The program, which plans to operate in a different city each day of the week, will give away 20 syringes for every dirty needle.

If the state grants the permit, Chairman Andrew Do has asked the county's attorneys for a plan to fight the needle giveaway in court.

For more on this story, check out Chairman Do's news here.

Public Comment Deadline: June 25th
The Orange County Board of Supervisors is urging residents to submit public comments to the California Department of Public Health. By law, the agency must accept public comments for a 90-day period, which ends June 25, 2018.

You can send your comments to SEPApplication@cdph.ca.gov.

Garden Grove Neighborhood Association's Annual Backyard Meeting

On Saturday, Chairman Andrew Do along with a host of local elected officials gave updates to community leaders and residents at the 15th Annual Garden Grove Neighborhood Association's (GGNA) Backyard Meeting. Before speaking to the gathering, Chairman Do recognized Maureen Blackmun, President of the GGNA, with a bouquet of flowers for her 15 years of hard work and dedication to bringing community members together.

Chairman Do gave an update regarding Orange County's efforts to address homelessness, mental health, housing, and more. He focused especially on the need for emergency homeless shelters in all three Service Planning Areas in northern, central, and southern portions of the County in order to ensure that efforts addressing homelessness are shared equally.

To learn more about the GGNA, visit their Facebook page here.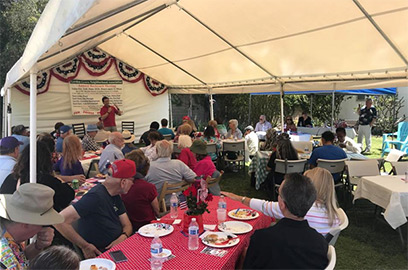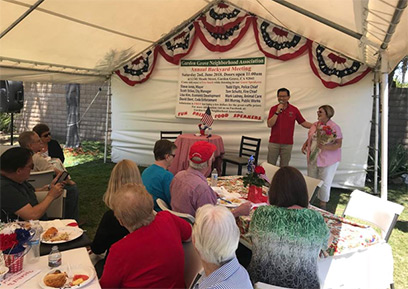 Santa Ana Vision Makers Breakfast

Chairman Andrew Do was the featured speaker at Friday's Santa Ana Chamber of Commerce's Vision Makers Breakfast. This quarterly event brings in local leaders for interviews to share their thoughts on contemporary issues and give updates on what they're doing in the community.

Jena Jensen from CHOC Children's moderated the discussion with Chairman Do and discussed Orange County's efforts to address homelessness, the need for more affordable housing, and developments in the OC Streetcar project.

To learn more about upcoming community events like Vision Makers, visit the Santa Ana Chamber of Commerce website here.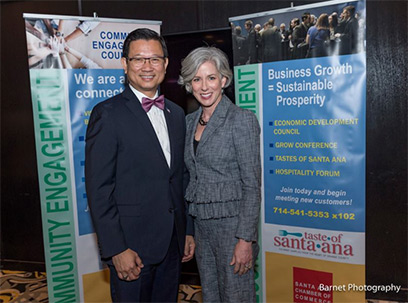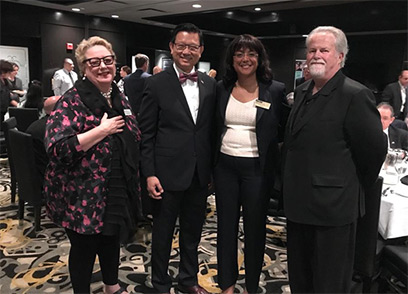 Orange County Recognizes World Elder Abuse Awareness Day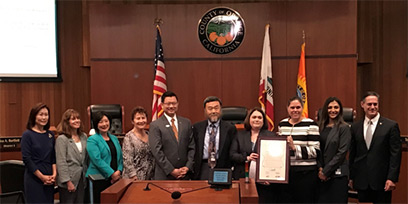 On Tuesday, the Orange County Board of Supervisors recognized June 15th, 2018, as World Elder Abuse Awareness Day in Orange County.

In the United States, 10,000 people a day are turning 65 years of age. Two million seniors a year are abused, neglected, or financially exploited. In Orange County alone, there were 12,838 cases regarding abuse and neglect of seniors and adults with disabilities reported. Current estimates suggest that as few as one in 14 cases of elder and dependent adult abuse is reported, including fewer than one in 25 incidents of financial abuse, because the victims are ashamed, hopeless, intimidated, or afraid of the perpetrator.

The County of Orange including the Social Services Agency, Health Care Agency, Office on Aging, Orange County Sheriff's Department, and other Orange County community partners such as the Council on Aging are committed to helping seniors live longer, healthier lives in the communities of their choice for as long as possible. These programs also support family caregivers, address issues of exploitation, neglect and abuse of elders, and adapt services to the needs of elders. It is crucial that we help seniors stay socially connected with the community in order to improve quality of life and safeguard against potential abuse. The Board of Supervisors urges every resident to recognize World Elder Abuse Awareness Day and celebrate seniors and the people who serve and support them.

For more information on World Elder Abuse Awareness Day, you can visit the link here.

OCTA Internship Program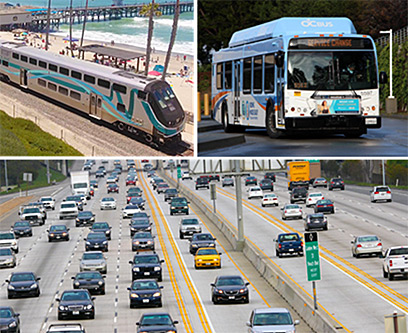 The Orange County Transportation Authority is looking for qualified applicants for its Emerging Professionals Intern Program. This year-round student/intern opportunity offers real world work experience on meaningful projects under the guidance of transportation professionals.

Interns in this program will be exposed to OCTA's career opportunities in the transportation industry. Also, interns will gain a deeper understanding of transportation's many facets through OCTA orientation, projects and teams, ad internal networking.

The pay range is from $14.00 - $17.00 per hour depending on education level. This position is not eligible for employee benefits. The work schedule will consist of approximately 20 hours a week, not to exceed 1,000 hours within a continuous 12 month period.

Requirements for the program include:

Currently a full-time college student enrolled in a two-year or four-year college program and following a course of study leading to a Bachelor's or Master's degree, with emphasis in Business, Supply Management or Finance.
Must be a full-time student maintaining a 2.5 GPA.
Intern must conduct themselves in a professional manner.
The application deadline for this position is Tuesday, June 12, 2018.

For more complete information and to apply, click here.



DISTRICT

STAFF
Chris Wangsaporn
Chief of Staff

Veronica Carpenter
Deputy Chief of Staff

Tara Campbell
Communications Director

Ofelia Velarde-Garcia
Policy Advisor

Chris Gaarder
Policy Advisor

Manning Pham
Administrative Assistant

Joyce Rivero
Executive Secretary

Matt Haines
Communications Specialist



Stay Updated!