June 26, 2018
Volume 3

Issue 26

News and Updates

Chairman Do's Plan for Accountability in Addressing the Homeless Crisis

Today the Orange County Board of Supervisors approved Chairman Andrew Do's proposal to restore the Office of Independent Review (OIR) and explore the nexus between law enforcement and social services in addressing the homeless crisis.

As recommended by Chairman Do, the OIR will look in the following:

Audit Inquiry #1: Orange County District Attorney/Public Defender: How effective is Homeless Outreach Court?

Audit Inquiry #2: Sheriff's Department: Are local law enforcement agencies engaging in "homeless dumping" in specific communities and/or do policies result in a disproportionate burden on the City of Santa Ana?

Audit Inquiry #3: Probation Department: Are state "catch-and-release" policies, including AB 109, Proposition 57 & Proposition 47, contributing to the homeless crisis?

Audit Inquiry #4: Social Services Agency: Is the Social Services Agency effectively reaching and assisting homeless individuals and/or what are the evolving best practices for assistance programs that can help lead to self-sufficiency?

Why the Office of Independent Review Should Investigate Homelessness

Homelessness: Impacts All 5 Departments under OIR Scope
Homelessness serves as the nexus among all five departments that fall under the Office of Independent Review's charter:

Orange County Sheriff-Coroner's Department: Individuals who are homeless frequently interact with Orange County Sheriffs for anti-camping and/or trespassing as well as other crimes.
Office of the District Attorney: Some homeless individuals may be prosecuted by the District Attorney.
Office of the Public Defender: Some homeless individuals may be involved in criminal cases with representation from public defenders.
Probation Department: Some homeless individuals are on probation.
Social Services Agency: Individuals interact with the Social Services Agency for assistance programs.
Homelessness: Systemic Issue & County's Greatest Public Policy Challenge

Without question, homelessness is considered the County's most pressing public policy challenge. Moreover, the issue is a systemic problem – exactly the topic of concern to the Office of Independent Review – and requires a comprehensive response.

You can read more about Chairman Do's proposal on the website here.

Chairman Do Advocates for Orange County

Last week, Chairman Andrew Do travelled to both Washington D.C. and New York City advocating for Orange County infrastructure projects and funding.

Washington D.C.

Chairman Do spent three days in the Capitol last week meeting with lawmakers to discuss a number of topics pertinent to Orange County with a focus on infrastructure projects, such as the OC Streetcar and the I-405 Improvement Project, and issues of homelessness.

Reforms regarding infrastructure projects aimed at enhancing the delivery of federally funded projects, increasing quality and prioritizing efficiency were discussed with Congressman Bill Shuster, Chairman of the Transportation and Infrastructure Committee, and Congressman Garret Graves, Chairman of the Water Resources Subcommittee.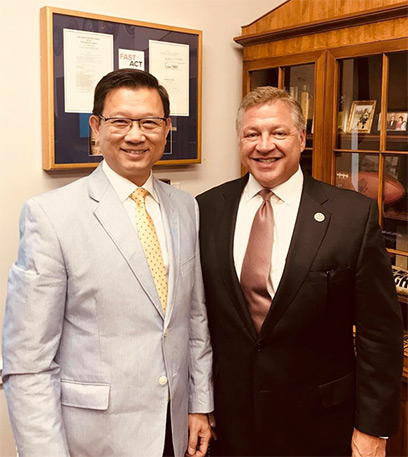 New York City

As a member of the Orange County Transportation Authority (OCTA) Board of Directors and Chairman of the Finance and Administration Committee, Chairman Do travelled to New York to discuss financial aspects of the agency and efforts to accelerate project delivery and accomplish cost savings.

Chairman Do was joined by Tim Shaw, Vice Chairman of the OCTA Board of Directors, and Supervisor Lisa Bartlett, who also sits on the Board of Directors. Together, they met with ratings agencies to discuss specific issues such as bond debt, OCTA's creditworthiness, and furthering the objectives of Measure M2. Also advocating for OC transit in New York were OCTA CEO Darrell Johnson and other members of OCTA staff.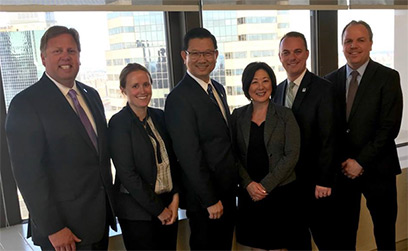 More Housing for the Homeless

Today, the Orange County board of Supervisors approved funding for two additional housing projects that provide 77 new units of permanent supportive housing for the homeless. Both of these projects are located in Central Orange County, one in Westminster and the other in Santa Ana. This continued commitment to addressing issues of homelessness is outlined in the County's recently announced plan to develop 2,700 new units of permanent supportive housing.

Westminster: Della Rosa Supportive Housing Project

The County allocated $1,166,400 towards the development of the Della Rosa Supportive Housing project in the City of Westminster. This development will create 49 new units. 24 of the new units will be available to residents who make less than 50% of the median county income. The other 25 units will be funded by Housing and Urban Development (HUD) Project-Based Housing Choice Vouchers and dedicated as permanent supportive housing for the chronically homeless.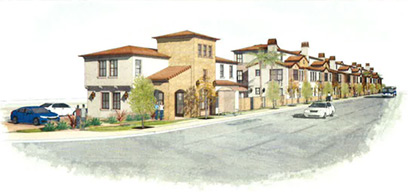 Santa Ana: The Aqua Apartments Project

Nearly $9 million of Mental Health Services Act (MHSA) funds are being dedicated to creating permanent supportive housing units in Santa Ana. The proposed project will include 57 new units of permanent supportive housing will be constructed as part of this project, 28 of these will be funded through the County's MHSA funds. Mental health and other supportive services will be provided to tenants on-site once the project is completed.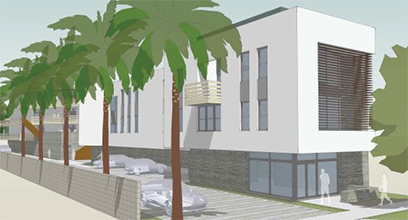 Celebrate the 4th of July in the First District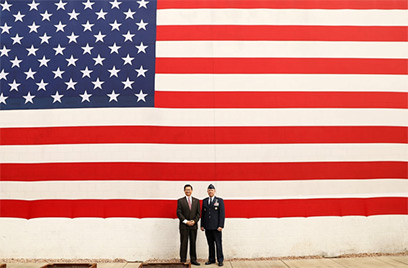 If you are looking for ways to celebrate this 4th of July, check out one of the community events happening in the First District of Orange County:

8th Annual 4th of July Celebration at Centennial Park:
The City of Santa Ana will host a 4th of July Celebration at Centennial Park, 3000 W. Edinger Ave., that will include live music, delicious food, jumpers, face painting, a firework show and meet and greets with historical American figures. This event runs from 4:00- 9:30 pm. Chairman Andrew Do will be speaking to those in attendance on the importance of observing the 4th of July. Bring your lawn chair, blanket, picnic basket and enjoy a fun filled evening of patriotic entertainment!


Fountain Valley Senior Center Independence Day Celebration:
The Fountain Valley Senior Center, located at 17967 Bushard St., is hosting an Independence Day Celebration July 3rd from 11:30 am- 1:30 pm. Those who are 55 years or older are eligible to buy tickets for $7 each, the tickets must be purchased in person. Buy them soon so you don't miss out on the fun!



DISTRICT

STAFF
Chris Wangsaporn
Chief of Staff

Veronica Carpenter
Deputy Chief of Staff

Tara Campbell
Communications Director

Ofelia Velarde-Garcia
Policy Advisor

Chris Gaarder
Policy Advisor

Manning Pham
Administrative Assistant

Joyce Rivero
Executive Secretary

Matt Haines
Communications Specialist



Stay Updated!