July 10, 2018
Volume 3

Issue 28

News and Updates

Join in Our Mental Health Services Act Public Forum

The County of Orange is hosting a Mental Health Services Act Public Forum to get community input on how we can improve mental health care in our County. The forum will be held on Monday, July 16th, from 1PM to 4PM at the Delhi Center, 501 E. Central Ave., Santa Ana, CA 92707.

The Orange County Health Care Agency is looking for input on Prevention and Early Intervention (PEI) and Community Services and Supports (CSS) housing planning. If you are someone you know are interested or involved in these areas, OCHCA wants to hear from you. All individuals are welcome to join!

For more information please visit the frequently asked questions page here, call (714) 834-3104 or email mhsa@ochca.com.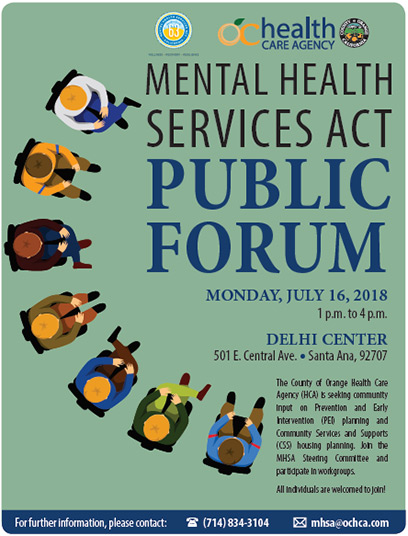 Clear Some Clutter at National Drive-Thru Day!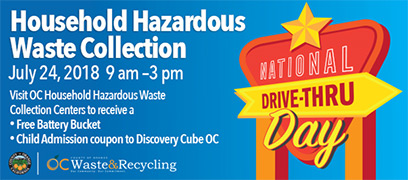 National Drive-Thru Day – Celebrate by Clearing Space!

Have a cluttered garage or cabinets and need to free up some space? Celebrate National Drive-Thru Day with OC Waste & Recycling onTuesday July 24.

Bring items such as e-waste, unused paints, pesticides, automotive products, batteries and more to a Household Hazardous Waste Collection Center (HHWCC). After "driving thru" one of our four HHWCC's, visitors will receive a FREE battery bucket and child's admission coupon to Discovery Cube OC while supplies last.

When visiting, ask about the Materials Exchange Program (MEP) onsite where OC residents can choose up to five items per week from a selection of reusable household cleaners, paint, yard and car-care products.

Household Hazardous Waste Collection Centers are located in Anaheim, Huntington Beach, Irvine and San Juan Capistrano and are free to county residents. Can't make it on July 24? No worries, the centers are open every Tuesday through Saturday from 9 a.m. – 3 p.m. (except during rain events).

Follow @OCWaste on Facebook, Twitter, and Instagram for other recycling events, tips and promotions. For more information visit oclandfills.com or call 714-834-4000

Help Those in Need by Donating Clothing to Working Wardrobes

Join Chairman Andrew Do and the County of Orange as we help those in need by donating your lightly used professional clothing and accessories to Working Wardrobes. The clothing drive will be held at the Hall of Administration, 333 W Santa Ana Blvd., Santa Ana, CA 92701 from July 16th through July 27th. You can bring your donation to our office on the 5th Floor.

Working Wardrobes helps over 5,000 clients a year re-enter the workforce, and that takes a significant amount of professional attire. The programs that benefit from clothing drives like this help men, women, young adults and veterans overcome difficult challenges so they can achieve the dignity of work. All clothing MUST be in good condition (gently-worn), cleaned, pressed and on hangers.

For more information on Working Wardrobes and their incredible efforts to help Orange County residents visit their website here.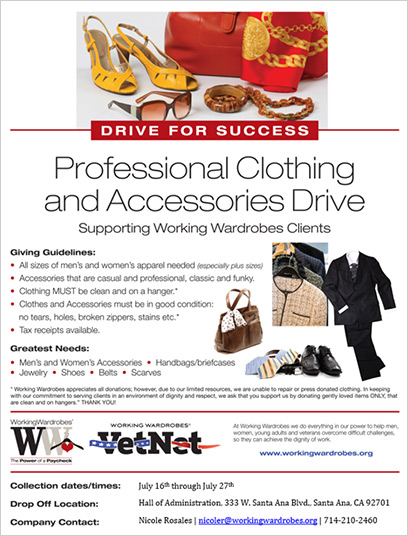 Join Us for Free Family Fun this Sunday

Join our office this Sunday at the Heritage Museum of Orange County's From Dinosaurs to People: Reliving Orange County's Past day of fun! Supervisor Do has sponsored the free family-friendly event that includes a kids zone with archeology, paleontology, fossils and more.

Come have a day of fun on Sunday, July 15, 2018 from 11am-4pm at Heritage Museum of Orange County, 3101 W. Harvard Street, Santa Ana, CA 92704.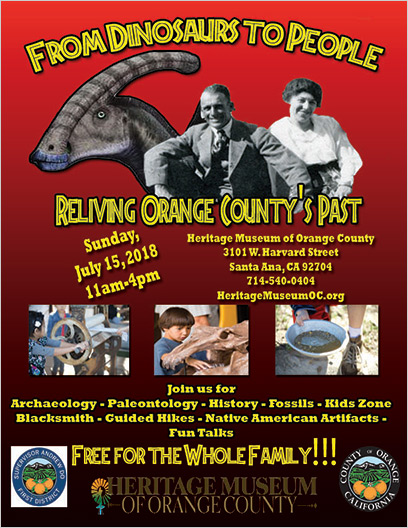 DISTRICT

STAFF
Chris Wangsaporn
Chief of Staff

Veronica Carpenter
Deputy Chief of Staff

Tara Campbell
Communications Director

Ofelia Velarde-Garcia
Policy Advisor

Chris Gaarder
Policy Advisor

Manning Pham
Administrative Assistant

Joyce Rivero
Executive Secretary

Matt Haines
Communications Specialist



Stay Updated!