January 16, 2018
Volume 3

Issue 3

News and Updates

Mr. Matcha Opens on Main Street in Garden Grove

On Wednesday, Mr. Matcha opened their Main Street location in downtown Garden Grove. Mr. Matcha serves matcha-inspired treats and drinks, and features a spacious outdoor patio for customers to enjoy their green tea infused creations.

The owners also recently opened another location in Santa Ana. Chairman Andrew Do's office welcomed the new business to Garden Grove with a Certificate of Recognition.

If you would like more information about Mr. Matcha's innovative offerings, visit their website here.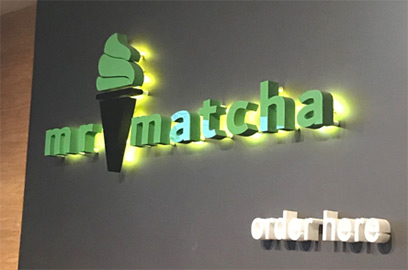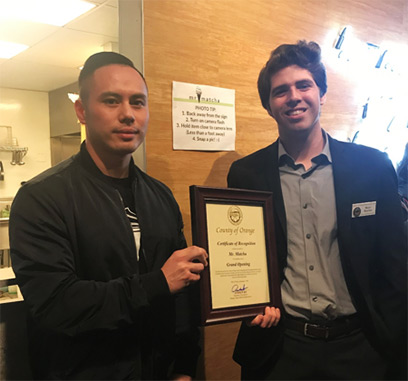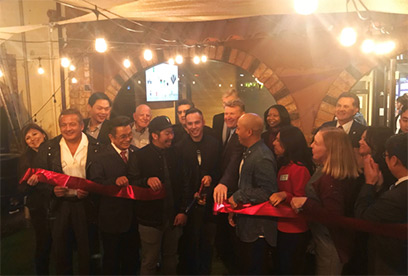 The Survive & Thrive 5K Run/Walk Health and Safety Expo is Coming to Orange County

In partnership with the County of Orange and OC Parks, Crime Survivors will be hosting the Survive & Thrive 5k Run/Walk Health and Safety Expo in Irvine to benefit victims and survivors of crime and their families.

The event will be hosted at Mason Park, 18712 University Drive, Irvine, CA 92612. Featured at the event will be a 5k run/walk, live entertainment, vendor booths, health screenings, and a dove release in honor of survivors.

The Health and Safety Expo will take place from 7a.m. until 12p.m. The 5k run/walk begins at 9a.m. after special guest presentations and the survivors dove release.

If you would like more information regarding this event please see the attached information or visit the website here.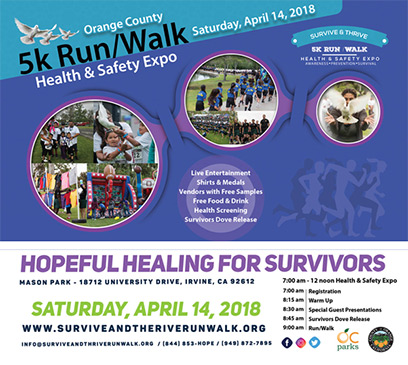 Resolve to Recycle Right in 2018—Empty, Clean and Dry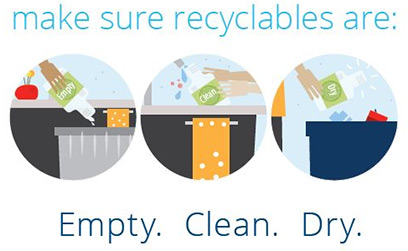 Among your New Year's resolutions, why not resolve to recycle? It feels good to keep perfectly usable stuff out of landfills and to give our recyclable paper, cardboard, and containers a chance to be made into new products.

Most of us know what to recycle. Now it's time to up the game and RECYCLE RIGHT. OC Waste & Recycling offers tips to help turn recycling resolutions into action in 2018.



RECYCLE THESE.
Empty. Clean. Dry.



Plastic bottles, jars, and jugs.
Glass jars and bottles—Clear, amber and green Handle gently. Broken glass is not recyclable.
Paper—Mail, magazines, catalogs, office paper, newspaper, cereal boxes, phone books. Glossy paper is recyclable.
Cardboard
Steel and aluminum cans
Aluminum foil and bakeware Reuse and then wipe clean to recycle

Join the Orange County Grand Jury!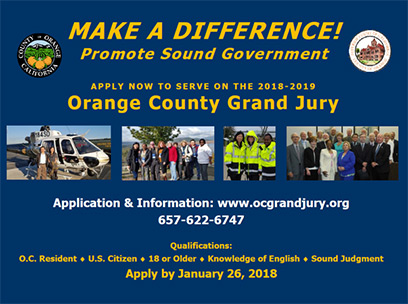 Apply to serve on the next Grand Jury! You will have the opportunity to make a positive impact for all Orange County residents. The Grand Jury is a full-time position for a year (July 2018 through June 2019) and will be an incredible, unique experience for each of the 19 members.

The Superior Court in Orange County is seeking diverse applicants countywide who are at least 18 years old, U.S. Citizens, and O.C. residents. An application form and more information are online at www.ocgrandjury.org. The deadline to apply is January 26, 2018.



DISTRICT

STAFF
Chris Wangsaporn
Chief of Staff

Veronica Carpenter
Deputy Chief of Staff

Tara Campbell
Communications Director

Ofelia Velarde-Garcia
Policy Advisor

Chris Gaarder
Policy Advisor

Manning Pham
Administrative Assistant

Joyce Rivero
Executive Secretary

Matt Haines
Field Representative



Stay Updated!