News and Updates

Needle Giveaway Postponed After Orange County Files Lawsuit

The Orange County Needle Exchange Program (OCNEP) has postponed its planned mobile needle giveaway program until September. This comes after the County of Orange filed a lawsuit on Friday.

Supervisor Andrew Do called for an emergency meeting on Friday to take legal action after the California Department of Public Health approved the needle giveaway last Tuesday. Council Members and Public Safety Officials from the four cities impacted by this program, Santa Ana, Anaheim, Costa Mesa and Orange, spoke at the special Board of Supervisors meeting to express their support of Supervisor Do's proposal to take legal action challenging the needle giveaway. Earlier in June 2018, officials from these cities had sent letters to the State to oppose the needle giveaway program.

Hours after the Orange County Board of Supervisors unanimously approved Supervisor Do's direction to take legal action, the Costa Mesa City Council unanimously voted to join the County's lawsuit and on Monday the Orange City Council joined as well. Supervisor Do and other County and City officials voiced concerns regarding the public health and safety impacts of the program. Topping that list are questions about how the program plans to ensure the proper disposal of all needles and concerns about the potential flooding of communities with needles due to the excessive "N plus 20" exchange rate. Watch the video for more on why the needle exchange poses public health and safety risks in its current form, or check out the article here.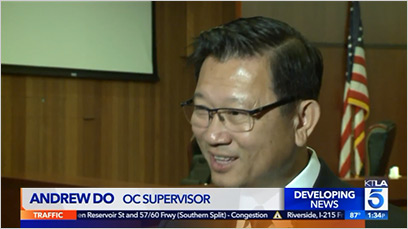 Click on the above image to see the video.

Orange County Health Plan Approves $10 Million for Homeless Recuperative Beds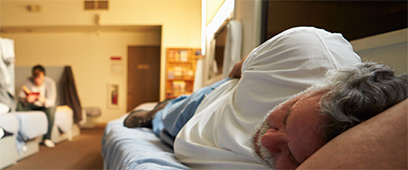 Orange County will soon get a much-needed boost in the number of recuperative medical beds for the homeless. Under a plan, authored by Supervisor Andrew Do, Orange County's health plan for low-income residents will dedicate $10 million towards additional recuperative care beds that help sick or injured homeless patients recover.

This plan addresses the revolving door of homeless patients in and out of Orange County emergency rooms and prevents taxpayers from incurring further medical costs. Homeless patients are seven times more likely to use the emergency room and nine times more likely to be hospitalized than other members of Medi-Cal. The recuperative care beds, funded by a one-time $10 million transfer, will be available to homeless CalOptima members who are discharged from hospitals, skilled nursing facilities as well as those referred directly by health care clinics and public health nurses. These beds offer a middle ground between an expensive hospital bed and unsafe return to life on the streets. While in recovery, homeless individuals are linked to other crucial services that aid in transitioning people out of homelessness, including permanent supportive housing.

For more information read the entire release here.

Mental Health Summit This Saturday

Join Supervisor Andrew Do at the 2018 Orange County Asian and Pacific Islander Mental Health Summit this Saturday, August 11th from 8a.m. – 4p.m. at Freedom Hall in Mile Square Park, 16801 Euclid St, Fountain Valley, CA 92708.

The summit will cover the many mental health services provided to the community. There will be mental health experts and physicians discussing what mental health services are needed in the ethnic communities as well as how mental health intersects with aspects like law enforcement, employment, homelessness and more.

Come join us for this robust discussion on how we can better address the mental health needs of our County by bringing communities together and promoting well-being. Admission is free, parking is $5.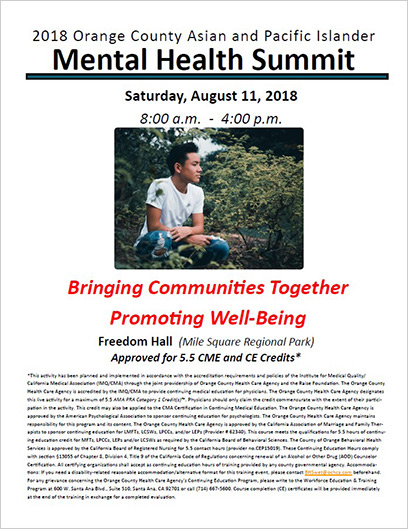 Click on the image above to see the PDF version.

Santa Ana State of the City

On Thursday, Supervisor Andrew Do attended the Santa Ana Chamber of Commerce's State of the City where he had a guest performance playing guitar with the Pulido Family Band. Supervisor Do joined Santa Ana Mayor Miguel Pulido, Mayor Pulido's father Miguel Pulido Sr., and his two sons Miguel Jr. and David playing songs in English, Spanish and French.

For more on the state of the city, visit the Santa Ana Chamber of Commerce's site here.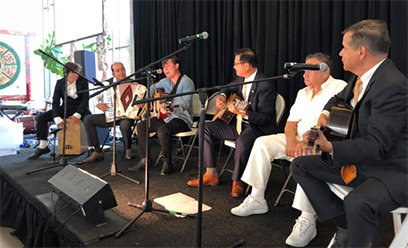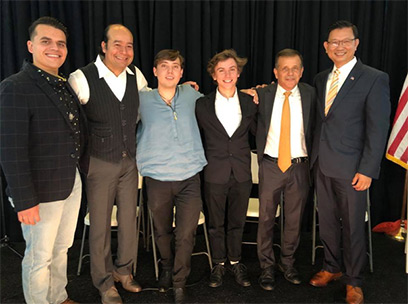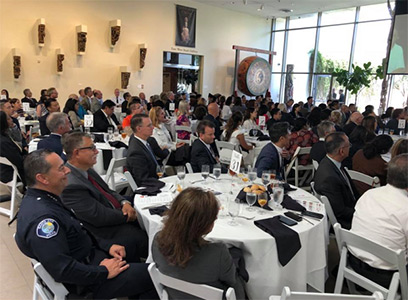 Construction Alert: McFadden Bridge Closure


The McFadden Ave. bridge will be closed starting August 7, 2018 at 10 p.m. for approximately 12 months for reconstruction. Vehicles, bicycles and pedestrians will not be able to use the bridge during reconstruction.

Detours:

Eastbound Routes (EB)

EB McFadden Ave. to NB Goldenwest St. to EB Bolsa Ave. to SB Beach Blvd.
EB McFadden Ave. to SB Goldenwest St. to EB Edinger Ave. to NB Beach Blvd.
Westbound Routes (WB)

WB McFadden Ave. to NB Beach Blvd. to WB Bolsa Ave. to SB Goldenwest St.
WB McFadden Ave. to SB Beach Blvd. to WB Edinger Ave. to NB Goldenwest St.
For detailed information on the project's current activities, closures and detours please click here.