August 21, 2018
Volume 3

Issue 34

News and Updates

Nationwide Foundation Donates $65,000 to OC Homeless Shelter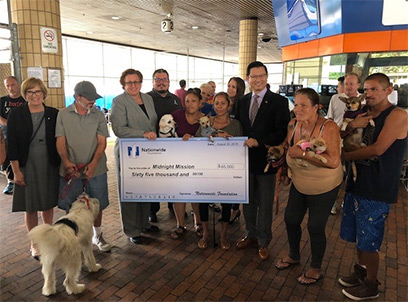 From Left to Right: Debbie Meyers, Assistant Vice President of Operations for Nationwide Pet, Susan Price, Director of Care Coordination for the County of Orange, Chairman Andrew Do, Orange County Board of Supervisors, Courtyard Residents and Pets
The Nationwide Foundation presented a $65,000 check to The Midnight Mission to install a pet area at Orange County's Courtyard homeless shelter, one of the few shelters in Orange County that accepts pets.

Most shelters in Orange County do not allow homeless individuals to bring their pets along with them when they accept services. Accommodating animal companions in low barrier shelters will encourage more service-resistant homeless individuals to accept services as well as provide these animals with a more suitable home.

A new pet area will benefit all the Courtyard residents. A designated area for pets to exercise, be fed and bathed, and relieve themselves will positively impact the health of the animals and the cleanliness of the facility. Individuals suffering from a mental illness and need a service animal will be able to more effectively care for the pet, therefore making treatment that includes a service animal more manageable. With access to facilities they need to take care of their animals, we can increase the likelihood of positive patient outcomes.

Homelessness is a regional problem with implications for all parts of our society. It impacts businesses, neighborhoods, emergency services and a number of other public and private areas of our lives. Due to the pervasive impacts of this crisis, stakeholders from public, private and nonprofit organizations must work together to create solutions.

The pet area is slated to be complete by December. Every day, the Courtyard provides shelter to approximately 400 people and offers more than 1,000 hot meals. Since opening in October 2016, 410 individuals have been linked to stable housing.

"Topping Out" Ceremony Held for New Building 16 Construction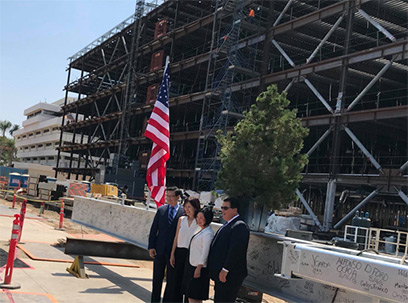 On Thursday, the County "topped out" the first structure to the multi-phase Civic Center Master Plan in Santa Ana.

Supervisor Andrew Do and many County employees signed the final beam before it was lifted into place. As is tradition in topping-out ceremonies, an American flag was attached to the beam as well as a small evergreen tree that signifies the safe completion of the structure's frame and a wish for continued good luck for the future of the project.

"The topping out of Building 16 is a historic event; it ushers in the beginning of a new era at the County of Orange," said Supervisor Do. "We are creating a more efficient and ecological workspace while rethinking what accessing County services should look like with the new one-stop-shop resource center that will be housed here. Together, we help forge a better way of doing things for the people of Orange County."

The new building has been under construction since September 2017, when the County broke ground on the facility. As construction continues, it is estimated to be ready for occupancy by the first quarter of 2020.

For more information on what the new building will entail for the civic center, read the full release here.

Kiwanis Club of Santa Ana Hosts Strike Gold for Kids Gala

The Kiwanis Club of Santa Ana held their 20th annual gala "Strike Gold for Kids" this past Sunday raising money to benefit children's programs.

Supervisor Andrew Do's office recognized the "Strike Gold for Kids" honorees Madison Elementary School Principal Lisa Gonzales-Solomon and Anaheim White House Restaurant Chef Bruno Serato for their contributions to the well-being and vitality of our community. 

Outgoing Kiwanis Club President Elizabeth Garcia Rivas was also recognized for her tireless efforts and service to the club. Congratulations to incoming President Luis Mier for being selected to lead the Kiwanis in their philanthropic mission.

For more information on the Kiwanis Club of Santa Ana, visit their website here.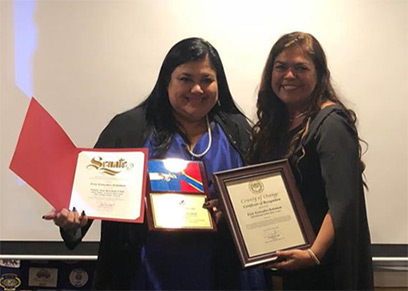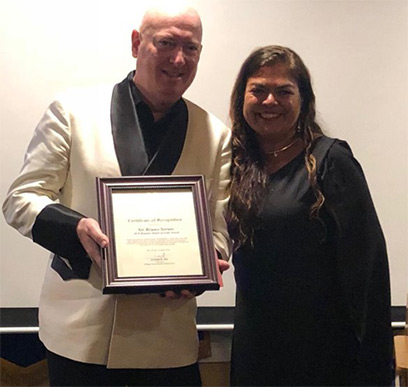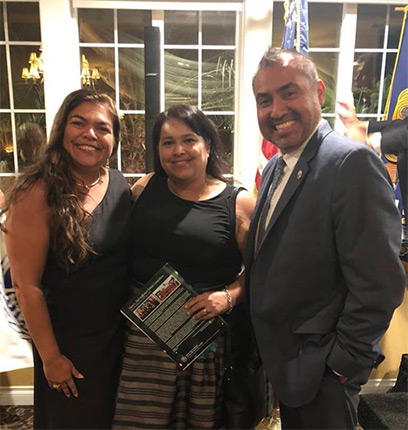 Free Health & Wellness Fair

The Fountain Valley Chamber will host a Health & Wellness Fair on Tuesday, September 25th from 11:00am to 3:00pm. More than 30 exhibitors will have informative displays on topics including hereditary cancer screenings, blood pressure & BMI screenings, health insurance options, the latest in health technology and more. Each attendee will be given a complimentary door prize ticket. The winner will receive a basket of health-related items. Lunch will be available for purchase.

The Health & Wellness Fair will be held at the Fountain Valley Recreation Center, 16400 Brookhurst (at Heil), inside the Recreation Center building.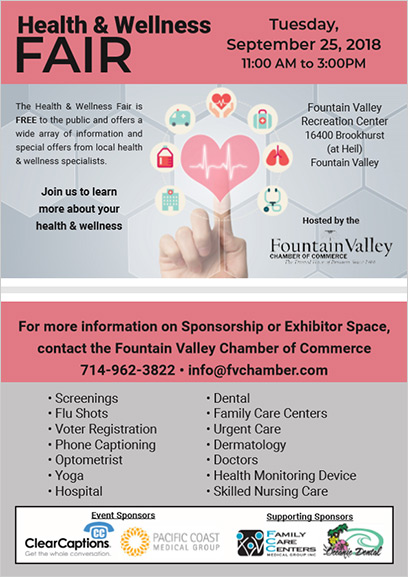 Gold Award and Eagle Scout Honors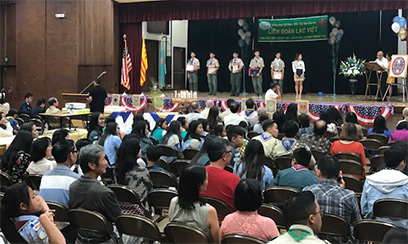 Fountain Valley Girl Scout Troop 515 and the Boy Scouts of America Troop & Crew 980, Pacifica District held a joint event to honor their recent Gold Award and Eagle Scout recipients in Westminster this Saturday. Roughly 150 family members, friends and other scouts were in attendance to mark the occasion.

Congratulations to Tracy Nguyen, Justin Nguyen, Vincent Le, Richard Luu, Nathan Van and Vincent Vu on attaining the highest rank in your respective organizations, being a Gold Award recipient or an Eagle Scout!



DISTRICT

STAFF
Chris Wangsaporn
Chief of Staff

Veronica Carpenter
Deputy Chief of Staff

Tara Campbell
Communications Director

Ofelia Velarde-Garcia
Policy Advisor

Chris Gaarder
Policy Advisor

Manning Pham
Administrative Assistant

Joyce Rivero
Executive Secretary

Matt Haines
Communications Specialist



Stay Updated!