September 4, 2018
Volume 3

Issue 36

News and Updates

No Skid Row in Orange County: Secure Fencing Installed at 24 Sites along Flood Control Channels to Prevent Homeless Encampments

The County of Orange installed new fencing at 24 sites along flood control channels to keep neighborhoods safe and prevent homeless encampments.

Supervisor Andrew Do with city leaders, county staff and law enforcement agencies on the fencing projects in Santa Ana, Garden Grove and Westminster after reports of criminal activity, including a series of fires set by a homeless arsonist.

Twenty-four sites in Garden Grove, Santa Ana and Westminster have already been upgraded and the County will improve more sites in the coming months, including near Fisher Park, a city-owned park where a homeless arsonist set a fire that quickly spread to a nearby home.

In July, Orange County District Attorney Tony Rackauckas filed multiple felony charges against Gustavo Abarca Garcia for setting seven fires that caused $20,000 in damages to a home adjacent to Santiago Creek.

In addition to cases of arson, Orange County residents that live near flood control channels say that the public access channels make easy escape routes for snatch-and-grab thefts.

Property crime is on the rise throughout California, following new laws that weakened punishments for theft. According to a June report by the nonpartisan Public Policy Institute of California, Proposition 47 has contributed to a nearly double-digit increase in property crimes, such as car burglaries, shoplifting and other thefts.

Residents also report cases of homeless camps in the channels right up against homeowners' backyard. Supervisor Do credits city leaders for working with the county on the fencing improvement project as a way to prevent future homeless encampments.

This new fencing will help residents take back their neighborhoods, acting as a deterrent to criminal activity and ensuring that there will be no Skid Row in Orange County. Supervisor Do is committed to addressing issues of homelessness is a compassionate, effective way that makes sense for all Orange County residents.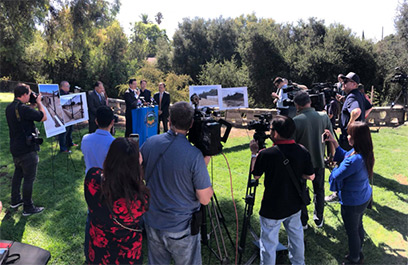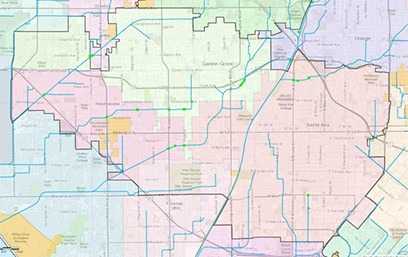 Green dots signify where new fencing has been installed.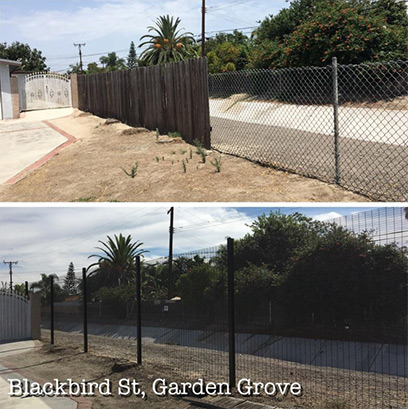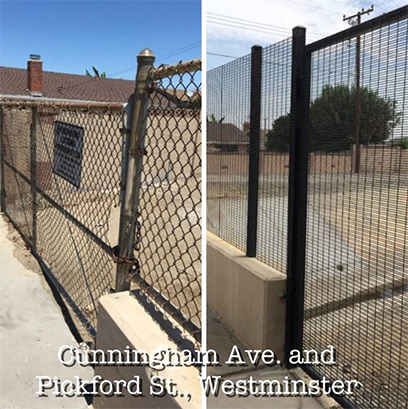 Chairman Do Awarded Golden Hanger Award by Working Wardrobes

Last week, Working Wardrobes‪ presented Chairman Andrew Do with the Golden Hanger Award, which they give to any organization that donates over 1,000 items of clothing in the year. In July, Chairman Do's office hosted a clothing drive at County buildings to collect donations for Working Wardrobes that will help those they serve get the clothing they need to get back in the workplace.

‬ This particular hanger was hand-painted by Brian, a veteran, during their Power UP art therapy workshop to help shift a veteran's mindset from military to civilian workforce. This is just one of the many programs and resources offered by Working Wardrobes to help all kinds of people re-enter the workforce. If you would like to learn more about how Working Wardrobes helps empower those in need throughout Orange County or how you can visit their website here.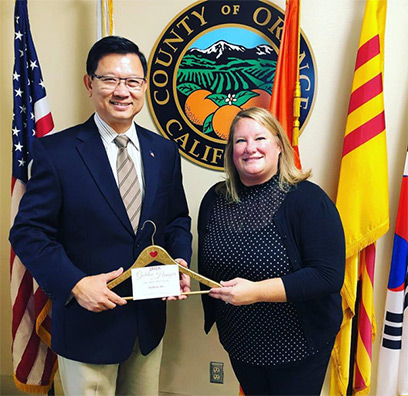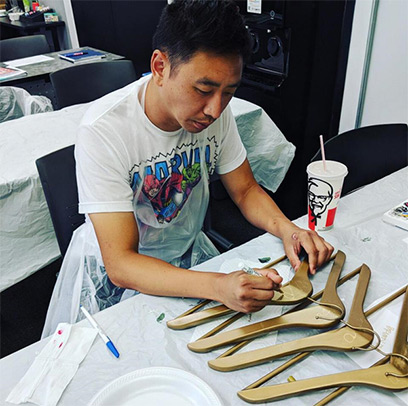 Come to the First County of Orange Career Expo and Open House

The County of Orange is hosting a FREE Career Expo and Open House on Saturday, September 29th at the Irvine Ranch Historic Park. The event will take place from 10 AM to 2 PM and will offer opportunities for attendees to explore career options with the County of Orange such as being a nurse, electrician, investigator, park ranger and more.

You can also learn about all the programs and services the County offers to the community. For more information about this free, family-friendly event, see the flyer below.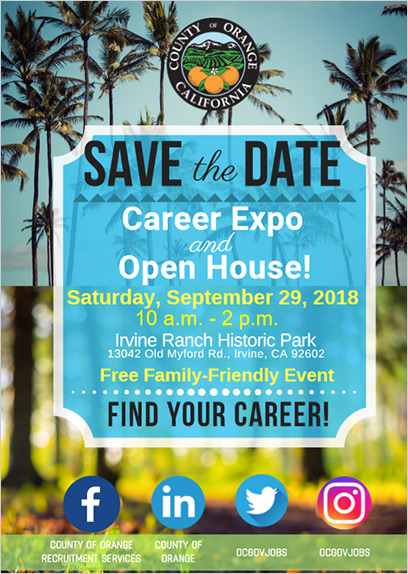 Click on the image above for the PDF version

OC Streetcar Open House

OCTA will be hosting two open house meetings in Santa Ana to give a project update to interested residents regarding the OC Streetcar. Information provided will include upcoming construction, ongoing utility relocation efforts, vehicle branding and more.

The two sessions will be held on Wednesday, September 5th, from 6 PM to 7:30 PM at the Santa Ana Senior Center and Saturday, September 8th, from 10 AM to 11:30 AM at the Santa Ana Corporate Yard. Information will be the same at both open house meetings. Please attend the one most convenient to you. For additional language requests, please call the project helpline at (844) 746-6272.

See the attached flyer for more detailed information.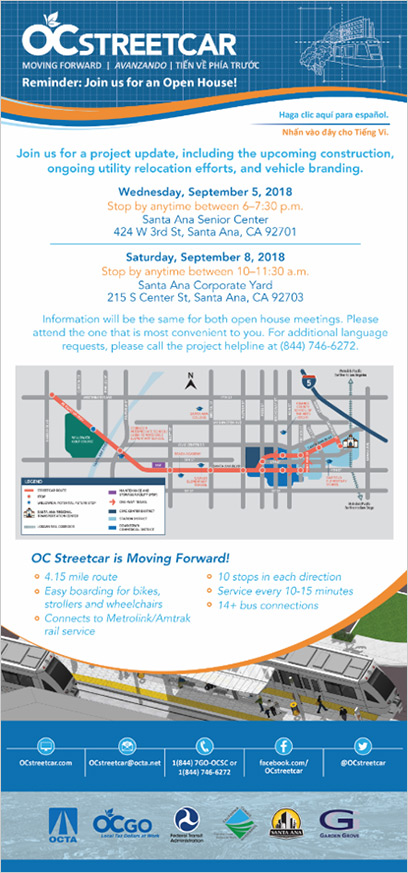 DISTRICT

STAFF
Chris Wangsaporn
Chief of Staff

Veronica Carpenter
Deputy Chief of Staff

Tara Campbell
Communications Director

Ofelia Velarde-Garcia
Policy Advisor

Chris Gaarder
Policy Advisor

Manning Pham
Administrative Assistant

Joyce Rivero
Executive Secretary

Matt Haines
Communications Specialist

Jack Du
Administrative Assistant



Stay Updated!