September 11, 2018
Volume 3

Issue 37

News and Updates

In Remembrance of 9/11: We Will Never Forget

Today, we solemnly observe the 17th anniversary of 9-11, a tragedy that claimed the lives of thousands of Americans in the World Trade Center Towers, the Pentagon and aboard United Airlines Flight 93. These attacks have lefts thousands more, including our courageous first responders, with lifelong injuries, medical complications, and other hardships.

It is imperative that we take this time every year to remember the brave souls who gave their lives to save others. Thank you to all the heroic Americans who were part of the effort to save lives following the horrendous attack, your sacrifices and bravery will never be forgotten and will forever be part of the core identity of our great nation.

That day was a defining aspect of our nation. After 9-11, we held true to the values that make us Americans and came out stronger as a united people. The memory of those who made the ultimate sacrifice will never fade from our collective minds. We will never forget. God bless America.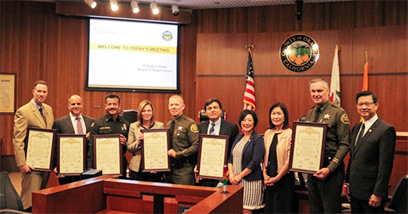 Chairman Andrew Do, Board colleagues Supervisor Bartlett and Supervisor Steel, and representatives from agencies of Orange County's First Responders including OC Public Works, OC Health Care Agency, OC Sheriff's Department, and OC Fire Authority.

Orange County Medi-Cal Health Plan Approves $9.7 Million for Children's Mental Health

Children in Orange County will receive expanded access to mental health services under a plan authored by Supervisor Andrew Do that dedicates nearly $10 million to children's mental health programs.

Supervisor Do's proposal, approved Thursday by the CalOptima Board of Directors, will provide $9.7 million to community based organizations to provide more mental health screenings and treatment, hire additional support staff to help patients navigate the complicated health care system and expand follow-up services through Orange County's health plan for low-income patients.

The $9.7 million will be split between two main areas: $4.85 million for expanding access to outpatient children's mental health services and $4.85 million for integrating children's mental health services into primary care settings. Supervisor Do's plan provides more funding for:
More Screenings: Support school resource centers to stay open longer and provide mental health services on campuses in the late afternoon and evenings when working families are available
Additional Help: Hire more health care navigators to guide patients through the complicated maze of health care systems and bureaucracies
Expand Services: Expand follow-up services to ensure availability and continuity of treatment
One in five young people in the U.S. have a diagnosable mental health disorder.

Proper mental health treatment is critical to a child's overall growth and development. Half of people with lifetime mental illness have symptoms by age 14, according to CHOC Children's Foundation.

With suicide the 2nd leading cause of death in children ages 10-24 and mental health related hospitalization rates still on the rise, the additional funding will ensure that more kids in Orange County get the right treatment.

Chairman Do Appoints Dr. Clayton Chau to Orange County Mental Health Board

Today, the Orange County Board of Supervisors approved Chairman Andrew Do's nomination of Dr. Clayton Chau to represent the First District on the Orange County Mental Health Board.

Dr. Chau has a robust background in the field of Mental Health and is currently the Regional Executive Medical Director for the Institute of Mental Health and Wellness, Providence St Joseph Health System Southern California Region where he joined in January 2017. Recently, the 23rd US Secretary of Health and Human Services appointed him to the Interdepartmental Serious Mental Illness Coordinating Committee. Dr. Chau obtained his Doctor of Medicine degree from the University of Minnesota and PhD in Clinical Psychology from Chelsea University. He completed his psychiatry residency at UCLA/San Fernando Valley followed by a fellowship with the National Institute of Mental Health in psychoneuroimmunology focusing on substance abuse and HIV.

The Orange County Mental Health Board advises the Orange County Board of Supervisors and the Mental Health Director on all aspects of local mental health programs, to advocate for individuals with serious mental illness and to review programs and services within the local mental health system.

Dr. Clayton Chau, a leading expert in the field of Mental Health, will provide valuable input on issues reviewed by the Mental Health Board. Congratulations to Dr. Chau on his appointment.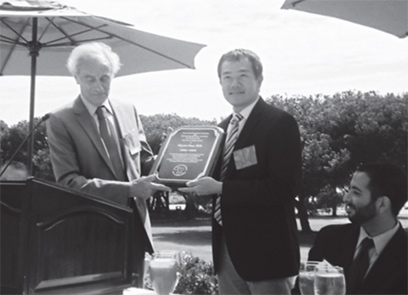 September 29, 2012 – Dr. Thurston, President of the California Psychiatric Association, presents the prestigious Warren Williams, MD Award from APA and CPA to Clayton Chau, MD for his extraordinary contributions to the profession of psychiatry and the care of those with mental illness. California Psychiatrist – The Newsletter of the California Psychiatric Association 27(4):18, Winter 2012

OCTA Takes the Lead on Regional Traffic Signal Synchronization Projects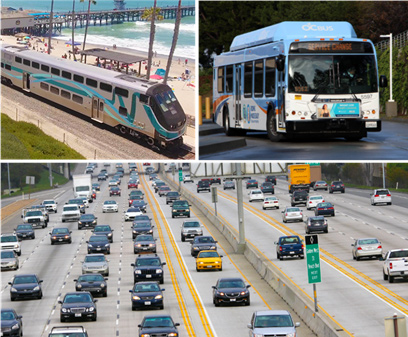 The Orange County Transportation Authority Board of Directors, of which Supervisor Andrew Do is a member, voted this week to approve agreements that make OCTA the lead agency on four regional traffic signal synchronization projects. Three of the projects are located in the First District with the fourth being located in southern Orange County.

The three projects occurring in the First District will be located along:

Garden Grove Boulevard: 9-mile corridor with 34 traffic signals running though the cities of Garden Grove, Orange, Santa Ana and Westminster. Daily traffic of 35,000 vehicles.
Katella Avenue: 20-mile corridor with 73 traffic signals running through the cities of Anaheim, Cypress, Garden Grove, Los Alamitos, Orange, Stanton, Villa Park and unincorporated portions of Orange County. Daily Traffic of 59,000 vehicles.
Main Street: 12-mile corridor with 67 traffic signals running through the cities of Irvine, Orange and Santa Ana. Daily traffic of 38,000 vehicles.

Traffic signal synchronization helps move traffic more efficiently, keeps busses on time and aids in avoiding extra pollution from idling cars. These projects are planned to begin in fiscal year 2018-19 with completion in 2022. For more information about these projects, please visit the OCTA website here.



DISTRICT

STAFF
Chris Wangsaporn
Chief of Staff

Veronica Carpenter
Deputy Chief of Staff

Tara Campbell
Communications Director

Ofelia Velarde-Garcia
Policy Advisor

Chris Gaarder
Policy Advisor

Manning Pham
Administrative Assistant

Joyce Rivero
Executive Secretary

Matt Haines
Communications Specialist

Jack Du
Administrative Assistant



Stay Updated!