News and Updates

3rd Annual International Older Adults Fair

On Monday, Chairman Andrew Do sponsored the 3rd Annual International Older Adults Fair in Santa Ana, to celebrate our seniors. The Fair was held at the Santa Ana Senior Center & Birch Park from 10am to 2pm and featured live performances, Community Health organization on-site providing free health screenings and much more.

Chairman Do's office had an informational booth at the Fair, offering County resources for seniors along with helpful giveaways such as reusable tote bags. Thank you to all of the organizations that came out for this incredible event and a special thanks to Tish Leon, President of the Downtown Neighborhood Association and Chairman Do's appointment to the Senior Citizens Advisory Council, and Francine Harris, President of the Santa Ana Senior Club, for putting the Fair together our seniors in our community!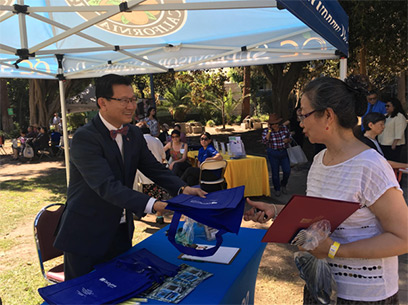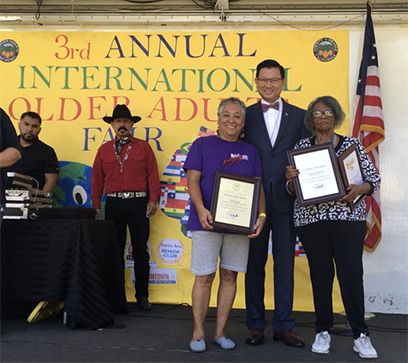 Chairman Andrew Do and Supervisor Michelle Steel Host Food Safety Seminar

Do you own or work at a business that handles food? If so, then please join Chairman Andrew Do and Supervisor Michelle Steel on Wednesday, October 10, 2018, for a FREE Food Safety Seminar. Those who complete the seminar will receive a certificate of completion that can be displayed in your business to show food safety education and compliance is important.

Featured topics will include how to prevent major food safety violations, why the health department closes food businesses, understanding food donations and much more! The Orange County Health Care Agency's Environmental Health Division, the California Department of Alcoholic Beverage Control and Waste Not Orange County will present information on the different topic areas.

Check in will begin at 1pm followed by the Seminar and Q&A from 1:30pm to 3:30pm. The event will take place at Freedom Hall in Mile Square Park located at 16801 Euclid Street, Fountain Valley, CA 92708. Please contact Thanh Vu to reserve a seat by Wednesday, October 3rdat (714) 433-6478 or TuVu@ochca.com. We hope to see you there!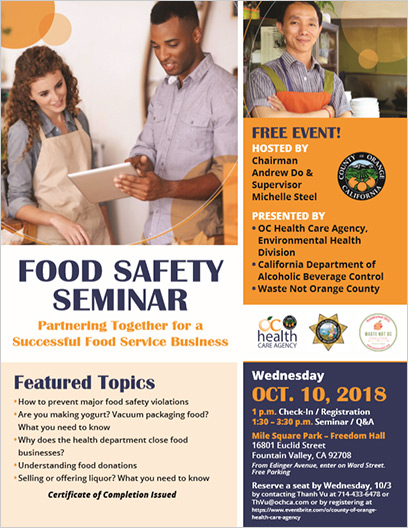 Election Day: Your Polling Place May Have Changed

With the midterm elections fast approaching, it is important to plan ahead to make sure you have all the information you need to cast your vote.

Since the last election, there have been changes that may have affected your polling location. Fourteen jurisdictions have moved from at-large elections to district based elections since the 2018 June Primary. This means that 374,265 voters will have a different polling place than they did in June (as shown in red on the map) - it is critical that voters confirm their polling place before voting.

Please review the map provided and visit the Orange County Registrar of Voters website to find your polling place here. County Voter Information Guides have also been mailed out. If you have questions or want more information, please contact the Registrar of Voters:

Office Hours: 8 a.m. - 5 p.m. Monday through Friday, except holidays (We are open during the lunch hour)

Main telephone number: 714-567-7600

E-Mail: rovwebmaster@rov.ocgov.com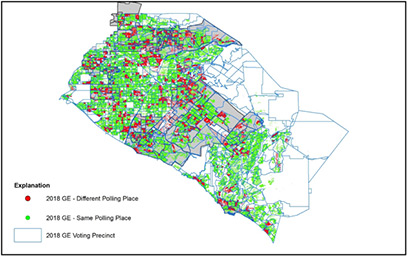 John Wayne Airport Named North America's Best Large Airport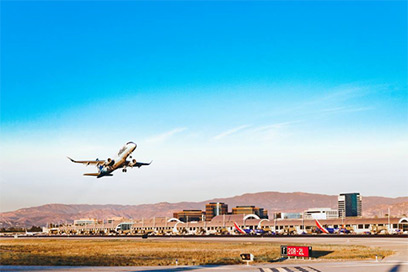 Congratulations to our John Wayne Airport staff for being recognized by J.D. Power as North America's Best Large Airport.

John Wayne Airport has now been rated highest in customer satisfaction among large airports in North America for the second year in a row. The J.D. Power 2018 North American Airport Satisfaction Study measures overall traveler satisfaction by examining six factors: terminal facilities; airport accessibility; security check; baggage claim; check-in/baggage check; food, beverage, and retail.

Not only did John Wayne Airport receive the highest score of any airport in the study, scoring 815 points on a 1,000-point scale, they also received the highest score in 4 of the 6 categories.

John Wayne Airport has earned this distinction due to our team's commitment to providing superior guest experiences. Thank you to our staff at John Wayne Airport for their commitment to providing the best service to our travelers.

John Wayne Airport is owned and operated by the County of Orange and is the only commercial service airport in Orange County.

Come Get Your Free Flu Shot

Chairman Andrew Do is hosting a series of FREE flu vaccine events in the First District. Check the flyer below for details on dates and locations: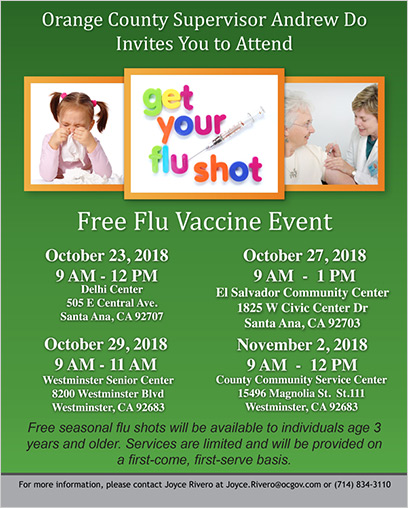 Click on the image above to view a PDF version.