News and Updates

Chairman Andrew Do Offers Weekly Update on Homelessness


Chairman Andrew Do's office started issuing a weekly homelessness update two weeks ago. These updates contain news on the County's actions to address homelessness in Orange County. If you wish to subscribe to these regular updates, you can do so here.

You can find these updates posted every Friday to Chairman Andrew Do's page on the County of Orange website. You can either select the option titled "Homelessness Update" from the "Newsletter" drop-down menu on the main page, or click the direct link here.

This past Friday's update included information from the 12th day of the closure of the Santa Ana Riverbed Trail between Memory Lane and Ball Road, information on collaborative programs at the Courtyard Transitional Center, and the launch of the new Restaurant Meals Program which allows elderly, disabled, and homeless CalFresh recipients to purchase prepared meals from participating restaurants.

For the full update from Friday, February 2nd, please visit the link here.

Board Continues to Address Homelessness

At today's meeting, the Orange County Board of Supervisors took further actions to address homelessness in Orange County.

The Board accepted over $12.5 million in federal and state grants that are dedicated to addressing homelessness including:

$9.7 million Housing and Urban Development (HUD) grant which will continue to fund existing Continuum of Care programs,
Over $650,000 in Homeless Assistance grants from HUD, and
$2.1 million in Housing and Disability Advocacy Program grants from the State, that will assist disabled individuals who are experiencing homelessness, provide assistance for applying for disability benefit programs, and provide housing assistance.
This comes on the heels of $3,394,944 in total being approved at the last Board of Supervisors meeting, January 23, 2018, for services dedicated to helping homeless individuals. The County is dedicated to finding collaborative and innovative solutions for all those affected by homelessness.

St. Barbara Celebrates Catholic Schools Week

Chairman Andrew Do spoke to the K-8 students of St. Barbara Catholic School in Santa Ana on Thursday about what it means to be an American and highlighted how important it is to give back to the community.

Chairman Do recognized St. Barbara as part of Catholic Schools Week for their 55 years of Catholic education, tireless service, and spiritual guidance they have provided to students in Orange County. Principal Melissa Baroldi and 8th graders from ASB accepted the certificate of recognition on the school's behalf.

Catholic Schools Week is celebrated across the nation and emphasizes the importance of service and leadership. When speaking to students, Chairman Do shared anecdotes from his own life like coming to the United States when he was a child as a refugee and his experiences serving on the Orange County Board of Supervisors to illustrate what it means to be an American and to encourage students to serve those in need across the community.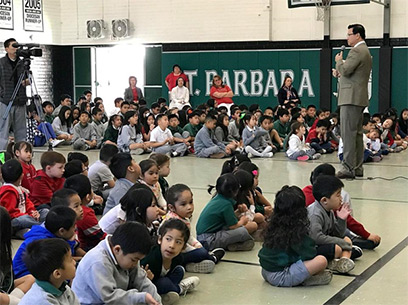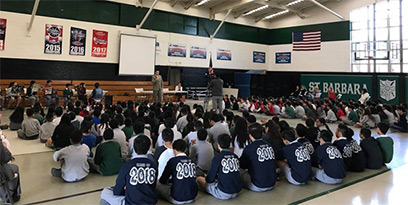 Mexican Consulate Unveils Educational Opportunity Window in Santa Ana

On Wednesday, Chairman Do participated in the grand opening of the Educational Opportunity Window at the Mexican Consulate in Santa Ana. The window will operate all weekdays from 9am-1pm and one Saturday a month.

This new collaboration between Consul Mario Cuevas, President of Santa Ana College Dr. Linda Rose, and others aims to increase the availability of information regarding higher educational opportunities to the community. Residents will be able to learn about a myriad of opportunities and programs and get assistance finding ones that are right for their individual situations.

For more information regarding the Educational Opportunity Window, visit the Mexican Consulate's website here.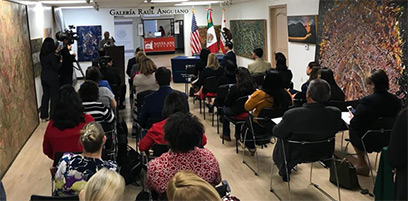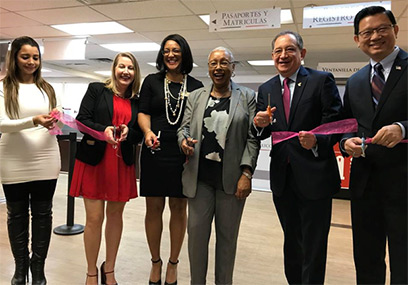 State of the City Addresses Across the First District

Last week, Chairman Andrew Do joined the cities of Fountain Valley and Garden Grove at their State of the City addresses to update residents and city stakeholders on the successes and opportunities in their respective cities.
Fountain Valley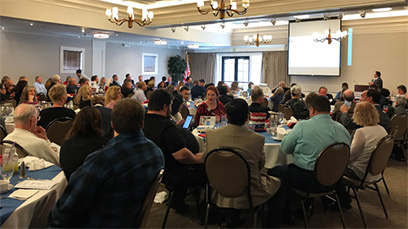 Fountain Valley's State of the City was delivered by Mayor Michael Vo at the Mile Square Golf Course Banquet Hall. One major project highlighted in was the approval of the Fountain Valley Crossings plan by the City Council. This will open up a large portion of now-industrial buildings for development into housing, retail, entertainment, and other varied uses. After the State of the City address, the City hosted a panel discussion with City Manager Rob Houston, Police Chief Kevin Childe, and Finance Director Jason Al-Imam to discuss issues from cannabis regulations to police hiring. For more information, please visit the Fountain Valley Chamber of Commerce here.
Garden Grove
Mayor Steve Jones gave his State of the City address at the Embassy Suites in the Grove District. Some highlights of the State of the City include a new artisan food venue made of recycled shipping containers called SteelCraft opening in March, three new hotels that will be built in the Grove District, and the fact that Garden Grove now brings in more revenue through bed tax on hotels than sales tax. Overall, Garden Grove is experiencing and encouraging more economic vitality. You can learn more at the Garden Grove Chamber of Commerce site here.