News and Updates



In Remembrance: Black April

Black April serves as a time of solemn remembrance for those who gave their lives in defense and pursuit of freedom and democracy. Commemorating Black April ensures that we never forget the evils of communism and the sacrifices that were made by those who came before us, who fought to preserve the values and way of life that we sometimes take for granted.
After the Fall of Saigon, millions of Vietnamese faced persecution and their families risked, and gave, their lives in search of freedom. While Vietnamese are scattered around the world, we stand united in standing up to the oppressive and exploitative Communist government of Vietnam.
Orange County stands in solidarity and solemn reflection to honor the courage and selflessness of those who gave their lives in the fight for liberty, individual freedom, and basic human rights.
Click here to view the full video.



OC Diocese Mobile Vaccination Site

Last weekend, I stopped by Our Lady of the Pillar Church in Santa Ana to visit OC Health Care Agency's COVID-19 mobile vaccine site, in partnership with the Catholic Diocese of Orange County, where 200 individuals received the first dose of the Pfizer vaccine.
Special thanks to Rev. Francisco Sandoval, Deacon Ulises Feliciano, and the Catholic Diocese for opening up their church and sending a unified message of support.
As of April 15, all individuals over the age of 16 are eligible to receive a COVID-19 vaccine.
To register for an appointment, or to find out where you can get a vaccine in Orange County:
Visit Othena.com

Call the County's hotline at 714-834-2000

Check with your primary care doctor or your local pharmacy

Vaccination Clinic for Muslim Community

This past Friday, the OC Health Care Agency hosted another mobile vaccine site. This time at the Islamic Society of Orange County in Garden Grove.
Ramadan is a time to reflect, worship, and celebrate with loved ones. We wish you a very happy and healthy observation of Ramadan and hope to see you at one of our mobile vaccine sites!



COVID-19 Vaccination Safety Video Series

CalOptima's new video series features community leaders sharing messages about the safety and efficacy of the COVID-19 vaccine.
Click here to view CalOptima's video in Vietnamese.
Click here to view CalOptima's video in Spanish.



$500,000 Supporting Veterans

The Orange County Workforce Development Board was awarded a $500,000 Veterans' Employment-Related Assistance Program grant by the California Employment Development Department to help veterans find jobs.
In partnership with the OC Veterans Service Office, Orange County One-Stop Center, and a consortium of community partners, this grant will be used to help veterans access employment opportunities through the OC Veterans Employment-Related Assistance Program.
Click here for more information on how to enroll in this program.
You can also call the Economic and Business Recovery Call Center at (714) 480-6500.

Driven for Success

Our nation owes so much to every veteran who has served and risked their lives defending our democracy and values. That is why Orange County is providing paid training, mentoring, and job placement to support military veterans and transitioning service members.
This Thursday, May 6th, OC Driven for Success will host a virtual orientation for those who are interested in developing their skills to enter the automotive technology work field.
Click here for more information on how to sign up for this event.
You can also call the Economic and Business Recovery Call Center at (714) 480-6500.



You Are Not Alone

May is Mental Health Awareness Month.
Now more than ever, it is important that we support those in our community by uniting against stigmas and educating ourselves on the prevalence of mental illness in millions of people's lives.
Through this Mental Health Awareness Month, the National Alliance of Mental Illness (NAMI) is amplifying the message, "You are not alone."
Let's take this month to share that it's okay not to be okay and that we can get through these tough times together!
Click here for more information from NAMI.



Casa de la Familia

In recognition of Sexual Assault Awareness month in April, the First District team, and Supervisor Doug Chaffee's office, presented a resolution to Casa de la Familia for their service and advocacy in our community.
Casa de la Familia is a local non-profit organization that is dedicated to ensuring long-lasting mental health success of individuals who have experienced psychological trauma. They offer low-cost counseling, psychotherapy, and have a teen-empowerment program that teaches Latino teens about the effects of sexual assault and/or abuse.
Click here for more information on Casa de la Familia.
And if you or a loved one has experienced sexual assault, help is available at 800-656-4673.



Financial Literacy for Youth

Who said financial education can't be fun?
In honor of Financial Literacy Month last month, the Orange County Credit Union invites the community to join them in teaching students the fundamentals of finances for a financially healthy future generation – with exciting and engaging lesson plans that do more than just educating.
Topics include:
Learning the importance of credit scores and how to boost them

Saving money and building a budget

Buying a car and navigating student loans
Complimentary materials are available to schools and non-profit organizations.
For more information, please contact community@orangecountyscu.org



Boys and Girls Clubs of Garden Grove

When the pandemic hit, after-school programs – along with all social activities – were forced to pause.
But many after-school professionals, like those at the Boys & Girls Clubs of Garden Grove, found innovative ways to virtually engage with students.
As the social isolation dragged on month after month, it is this engagement that helped many young people get through this traumatic period in their lives.
Thank you, to all after-school professionals, for all that you do to enhance our youth's education, provide a safe environment for them, and expose them to new experiences.
Click here to view the full video.



Hydrogen Fuel Cell Electric Bus

Did you know that OCTA debuted a hydrogen fuel cell electric bus pilot program in 2016? Now, OCTA has one of the largest hydrogen bus fleets in the nation!
Fuel cell electric vehicles are more efficient than internal combustion engine vehicles and only emit water vapor and warm air. OCTA is dedicated to making Orange County cleaner and greener.
Click here for more information on what OCTA is doing to safeguard our environment.



Maribel Sevilla

Congratulations to life-long Santa Ana resident, Maribel Sevilla, on her appointment to the Orange County Historical Commission!
Maribel graduated cum laude from the University of California, Irvine, with a degree in Criminology. She will join two other Commissioners in advising on issues regarding historic places, archeological and paleontological sites, special events, and more for the First District. We look forward to her contributions as a commissioner!



Amina Sen-Matthews

Congratulations to Santa Ana resident, Amina Sen-Matthews, on her appointment to the Orange County Senior Citizens Advisory Council!
Amina is the Director of Health & Mental Health Programs at The Cambodian Family Center in Santa Ana. She is an alumna from The Chicago School of Professional Psychology where she earned her Masters in Clinical Psychology and an alumna from UC Riverside where she majored in Sociology. We look forward to her service as a commissioner, advising on issues that impact Orange County seniors.



Patricia Rasmussen and Bhumit Shah

I want to welcome Patricia Rasmussen and Bhumit Shah on to the Orange County In-Home Supportive Services (IHSS) Advisory Committee!
Patricia is currently a First District resident and an alumna from Cal State Long Beach, where she graduated with a B.A. in Mathematics and Sociology, and where she also got her Secondary Teaching Credential.
Bhumit is also a graduate from Cal State Long Beach and will serve as the Community Based Organization designee representing the Dayle McIntosh Center.
OC In-Home Supportive Services provides services to residents who are blind, disabled and/or who are unable to live at home safely by themselves. Through their positions, Patricia and Bhumit will advise and make recommendations to the Board of Supervisors on issues related to IHSS. Congratulations to you both!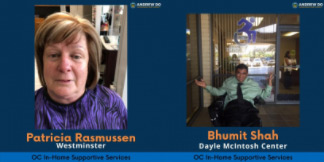 Happiness is a Balloon

Last month, the First District Team presented a Certificate of Recognition to Elizabeth and Robbie for the grand opening of their new store: Happiness is a Balloon.
This small business specializes in balloon twisting and decor, as well as themed events and more! Stop by their shop right in the Historic Main Street business district in Garden Grove!

Urban Location

In honor of National Bubble Tea Day on Friday, the First District Team visited Urban Location in Garden Grove.
This small business offers a large variety of bubble tea including fruit tea, milk tea, cheese foam brewed tea, tornado drinks and more.
Remember to shop local and support small businesses!