Board of Supervisors

Welcome to 2nd District Updates!

As I said at my swearing-in, my philosophy of public service is that the taxpayers – those who pay to make county government run – and the residents of the county always come first. Because of this, I have an open door policy for all of my constituents.

I hope that this newsletter will be an additional resource to inform you of items of interest taking place in the second district and keep you up-to-date on what I am doing as your elected advocate on the Board of Supervisors.

It is an honor to be your County Supervisor.

Sincerely,
Michelle Steel

Board Update



Board of Supervisors Opens John Wayne Airport to Ridesharing
Earlier this month, I was proud to be joined by my colleagues on the Board of Supervisors in opening John Wayne Airport to ridesharing companies such as Uber and Lyft. Here is a story on the vote, for which I made the motion:


JOHN WAYNE AIRPORT TO OPEN TO UBER, LYFT
By John Fleischman

In a unanimous vote Tuesday, the five-member Board of Supervisors in Orange County approved a proposal advanced by airport management to allow complete access to Transportation Network Companies (TNCs) such as Uber, Lyft and Sidekick to drop off and pick up passengers. The aggressive new policy puts Orange County on the forefront of adapting policies to accommodate new technology.

"It's good to open competition at the airport and this is the kind of new innovative technology that is coming in," said Supervisor Michelle Steel, whose west Orange County District includes the airport, and who proposed the motion to approve the new TNC policy. Steel, a longtime advocate for free markets, was also the first to speak in support of the issue at the Board meeting.
Read more at Breitbart.com.

OCTA



West County Connectors Project wins the California Transportation Foundation "Project of the Year" Award

The California Transportation Foundation announced their 26th Annual Transportation Award winners in four categories and the top three finalists in thirteen others on March 24, and the OCTA's West County Connectors Project was selected as the Project of the Year.

The CTF Transportation Awards recognize excellence in California transportation in 2014, all modes, public and private sector and from all regions of the state. CTF recognizes project teams including all major partners and contractors. The Transportation Awards jury is made up of public and private sector transportation professionals from around the state.

As a business woman, I know how important transportation improvements like this can be for helping residents and visitors travel more efficiently and reach local restaurants, shops and markets.

As a taxpayer advocate, I like to hear when the government stays within its budget. But I'm even happier to hear when we are able to spend less than that. This project came in under budget, which will allow for those savings to go toward other Measure M projects to keep Orange County moving and keep business thriving.

The West County Connectors project took an amazing amount of coordination between OCTA, Caltrans, contractors, cities, and residents. I have to congratulate everyone who made this possible.

Announcements

Edinger Bridge Update

As some of you may know, the Edinger Avenue bridge over the Bolsa Chica Channel was closed early this month due to structural damage discovered in a routine inspection by the California Department of Transportation.

I want to thank the staff of the Orange County Public Works department for their diligent work on efforts to expedite bridge repairs and coordinate with other agencies to re-establish public access. The County and its contractors have finalized the design, coordinated with regulatory agencies and are continuing steps to re-establish bridge access with two lanes to accommodate most trucks/trailers with boats.

Starting this week, repairs will begin that will allow the county to reopen the existing bridge until a permanent replacement is built. The temporary bridge repairs are expected to be completed by mid- to late-April. Until these repairs are complete, the bridge will continue to be closed to both vehicles and pedestrians.

To allow boat owners to reach the marina, the County and the Sunset Aquatic Marina have coordinated a water taxi service to transport visitors between the hours of 8:00 am and 7:00 pm daily. Those interested in water taxi service are instructed to meet at the Edinger Ave. bridge where a shuttle will transport you to the water taxi pick-up location located on Venture Dr. Those using the water taxi service must return to the Sunset Aquatic Marina water taxi location by 6:00 pm.

Unfortunately, the access road north of the Bolsa Chica Channel is on U.S. Navy property and is not a public road. The U.S. Navy has restricted use of the access road to emergency or service vehicle use only. The County will only escort people on this road to the marina side of the bridge if there is an emergency or if there is risk to life or property.

3rd Annual Eco Challenge Angels Baseball Poster Contest

This month, Orange County Waste & Recycling is announcing the 3rd Annual Eco Challenge Poster Contest. Enter the County of Orange poster contest for the chance to be an Honorary Bat Kid at an Angels baseball game this year by creating a poster that clearly demonstrates how you personally 'Take the Eco Challenge'.

Design a poster which shows examples of projects or activities that you have developed or engaged in that promote recycling, reusing, or reducing in your school, home or community. The poster should focus on your personal plan of action. Posters will be judged based on originality, visual clarity, relevance to theme, artwork, and effectiveness of message. Winners will be selected by the County of Orange, Discovery Cube of Orange County and Angels Baseball representatives.

Bring or mail your entry to Discovery Cube or OC Waste & Recycling Headquarters by June 30, 2015. One lucky winner from each of Orange County's five Supervisorial Districts will be awarded the status of Honorary Bat Kid during an Angels home game and receive other fabulous prizes. For contest details please visit ocEcoChallenge.com/batkid or by phone at (714) 834-4174.

Opera Talk at the Cypress Library

On Saturday, April 4, at 2:30p.m., LA Opera representatives will give a multi-media presentation and talk about The Marriage of Figaro. Set in the 17th century, this opera recounts a single day of madness in Count Almaviva's palace near Seville, Spain. Teens and adults are welcome and no reservation is required. Please call the library, at (714) 826-0350, for more information. The Cypress Library is located at 5331 Orange Avenue, Cypress, CA 90630.

In the Community

March 6, 2015 – Los Alamitos Chamber of Commerce

I had the privilege of sharing the podium with fellow guest speaker, Assemblyman Travis Allen, at the March meeting of the Los Alamitos Chamber of Commerce. Thank you, Chairman Josh Wilson, for the invitation to introduce myself to your dynamic group of small business owners.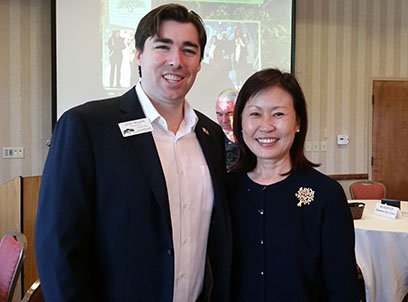 March 11, 2015 – Cypress School District, Grace Christian School

It was an honor to be part of the Time Capsule opening ceremony at Grace Christian School. Fifty years ago, students from what was then, Robert C. Cawthon Elementary, buried the Time Capsule with notes, photos, newspaper clippings, and artifacts inside. I presented certificates of recognition in honor of the event.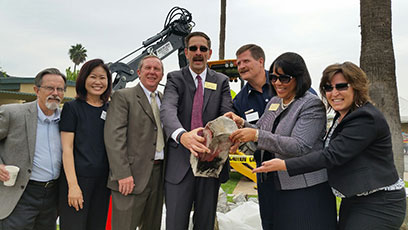 March 12, 2015 – Newport Beach Chamber of Commerce 44th Police Appreciation Breakfast

It was a pleasure to attend the Newport Beach Police Department's 44th Annual Police Appreciation Breakfast sponsored by the Newport Beach Chamber of Commerce, to recognize fourteen award recipients. Over 500 people were present. I had the honor of sitting with Officer Bob Henry's family. Office Henry was killed in the line of duty twenty years ago to the day. Besides a Table of Honor, a fitting tribute was presented on behalf of this good man that moved everyone in attendance.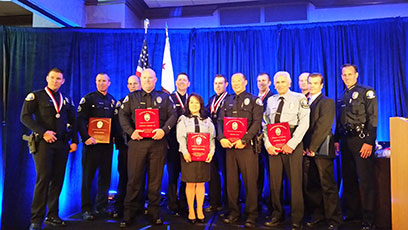 Joel Angeles
Chief of Staff

Keith Chatprapachai
Senior Advisor

Arie Dana
Policy Advisor

Jeremy Tran
District Representative

Tim Whitacre
District Representative

Tiffany Kim
Special Assistant


Stay Connected!