Board of Supervisors

Welcome to 2nd District Updates!

I believe that people should have enough time to inform themselves on the decisions being made by their government. That is why in an effort to better serve the public, I began a change to the former chaotic and irregular board meeting schedule at the county. Now, with this new schedule, involvement by the public will no longer be so restrictive. Residents of the County of Orange will have more time to inform themselves on upcoming agenda items they find important. It will also provide residents with ample time to be proactive and contact their Supervisor to attend the meetings if they wish to do so. This will also provide some needed organization and efficiency to know when board meetings will take place. Under the new and improved schedule, beginning this April, the board will hold meetings the 2nd and 4th Tuesday of each month allowing for greater transparency. With the increased involvement of the community, it is my hope that your County of Orange will deliver better services as efficiently as possible.

Sincerely,
Michelle Steel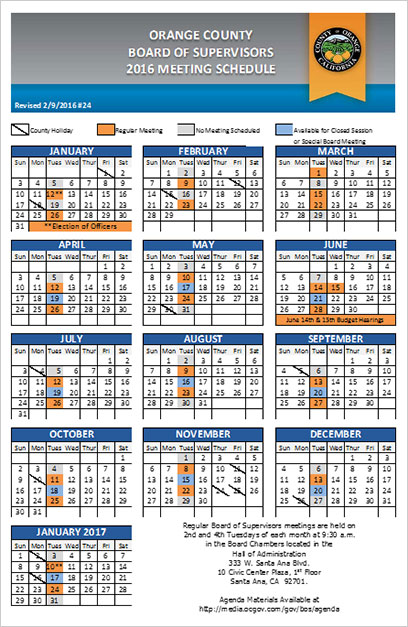 Click on the image above to view a larger version.

Announcements

Angels Express Bus Service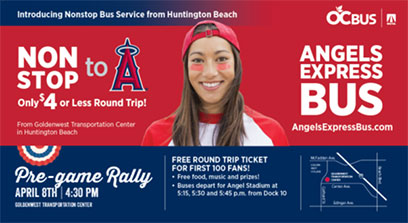 Calling all baseball fans! Join me Friday, April 8th, for the special kick-off event at the Goldenwest Transportation Center to jumpstart the Angels Express Bus service. The new service provides an alternative to traffic-ridden drives to and from weeknight games starting at 7:05 p.m.

April 2016 as "Child Abuse Prevention Month"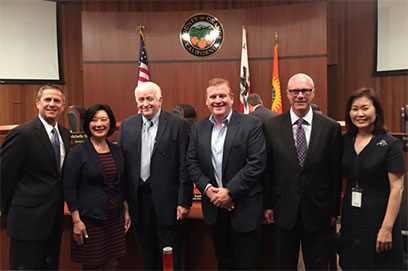 At our March 22nd meeting, the Board presented a resolution proclaiming April 2016 as "Child Abuse Prevention Month." The W.E. C.A.N. (Working to End Child Abuse and Neglect) Coalition led by Social Services Agency Medical Director, Dr. Anne Light is a new coalition in Orange County to help improve our efforts in prevention and treatment for those suffering from child abuse.

OC Animal Care
OC PetTrack App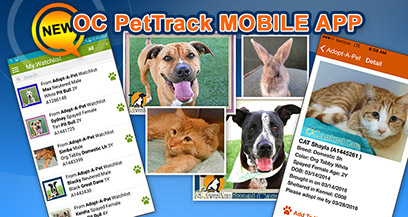 I want to introduce you to the PetTrack app. This app can be downloaded onto your phone and links directly to OC Animal Care's website. From this app, members of the public can search lost pets, adoptable pets and our "Happily Ever After" page. Users can also "follow" an animal by adding them to their watchlist. We are excited about this new modality that permits members of the public to search for animals when away from their computer or to merely look up information on animals while navigating through OC Animal Care.

Below is the link to our page to download the app to your iPhone or Android mobile device.

http://ocpetinfo.com/adopt/ocpettrack

CalOptima Healthcare
CalOptima Healthcare

Interested in helping to shape public opinion? We are currently looking for such individuals to serve as members of the CalOptima Board of Directors.

This local government agency is a county-organized health system and serves more than 770,000 low-income children, adults, seniors and persons with disabilities. CalOptima was created as a response to a healthcare system that failed to meet the needs of Orange County's most vulnerable. It is now the second largest health insurer in the county. Help ensure this agency continues its mission to provide quality health care services and apply for a seat on the board.

Applications must be completed by April 15, 2016. To learn more or apply, please visit the Health Care Agency's website: http://ochealthinfo.com/caloptima or contact Donna Grubaugh at (714)834-3166 or via email at dgrubaugh@ochca.com.

OC Public Works
"Tour of La Plata"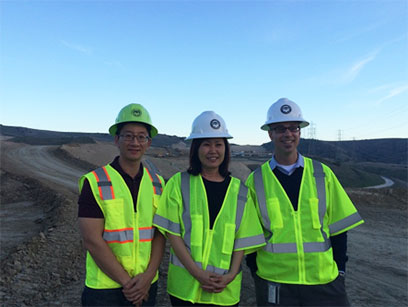 A recent tour of the La Pata Extension project allowed me to see firsthand the work being done to help enhance our communities. The project, designed to connect the communities of San Juan Capistrano and San Clemente, will have great effects for the public. Improvements to public safety, alternative routes for emergency vehicles; enhanced air quality, reducing traffic congestion on the I-5; enriching the local economy, enabling the faster transport of goods and services, and improved access to San Juan Hills High School through improvements to the Vista Montana intersection.

Conducted in three phases the project began in April 2014 and is near completion of the first phase. Also known as the La Pata Gap Connector, OC Public Works is extending the La Pata Avenue with four new lanes between South of Vista Montana in San Juan Capistrano to the intersection of Calle Saluda in San Clemente. The second phase, La Pata Widening, will widen the La Pata Avenue with one additional lane in each direction between Ortega Highway and just south of Vista Montana. The third and final phase, known as the Camino Del Rio Extension, will extend the existing road to a four lanes.

For more project information and to also sign up to receive updates via email, please visit the La Pata webpage at: http://lapata.ocpublicworks.com and on Facebook at http://facebook.com/ocpublicworks.

EPA Water Sense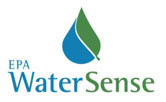 While we may be through with the Fix a Leak Week, it's never too late to help put a stop to the more than 1 trillion gallons of water wasted from household leaks each year.

"Leaks can account for more than 10,000 gallons of water in an average home every year—the amount of water it takes to wash 270 loads of laundry," water officials advise. "As a WaterSense partner, we are encouraging consumers to find and fix leaks to save water in our community."

To help save water for future generations, MWDOC is asking consumers to check, twist, and replace:

Check for leaks. Look for dripping faucets, showerheads, sprinklers, and other fixtures. Also, check for toilets with silent leaks by putting a few drops of food coloring into the tank, waiting 10 minutes, and seeing if color appears in the bowl before you flush. Don't forget to check irrigation systems and spigots too.
Twist and tighten hose and pipe connections. To save water without a noticeable difference in flow in your bathroom, twist on a WaterSense labeled faucet aerator.
Replace the fixture if necessary. Look for WaterSense labeled models, which are independently certified to use 20 percent less water and perform as well as or better than standard models.
In many cases, fixture replacement parts pay for themselves quickly and can be installed by handy do-it-yourselfers or local plumbing professionals. Irrigation professionals certified through a WaterSense labeled program can also check your systems for leaks. Visit www.epa.gov/watersense to find WaterSense labeled products or an auditor in your area.

WaterSense, a partnership program sponsored by EPA, seeks to protect the future of our nation's water supply by offering people a simple way to use less water with water-efficient products, new homes, and services. Since the program's inception in 2006, WaterSense has helped consumers save more than 1 trillion of gallons of water and billions in water and energy bills. For more information, visit www.epa.gov/watersense.

In the Community

February 5, 2016- Speak Up Newport's 35th Annual Mayor's Dinner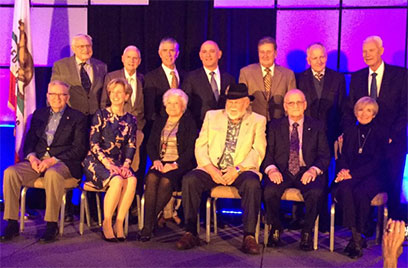 Speak Up Newport, the community forum of Newport Beach, held its 35th Annual Mayor's Dinner at Marriott Resort & Spa.

Mayor Diane Dixon presented a very entertaining short film and an excellent State of the City Address. The event was sold out with many notable people from around the county in attendance. Great job, Speak Up Newport!

February 19, 2016-Huntington Beach Chamber of Commerce 112th Annual Gala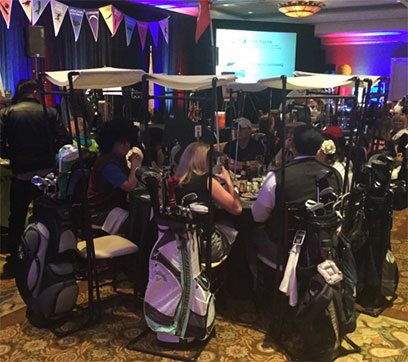 Huntington Beach Chamber of Commerce held its 112th Annual Gala at the Waterfront Beach Resort to honor the outgoing Mayor and Board of Directors as well as welcome in the new.

This year's "Wide World of Sports" theme brought out some fun and creative tables to make the celebration a truly festive occasion. Chamber CEO Jerry Wheeler did a great job as our host and Emcee and his staff put on an excellent event.

March 16, 2016- Groundbreaking Ceremony of Heroes Hall Veterans Museum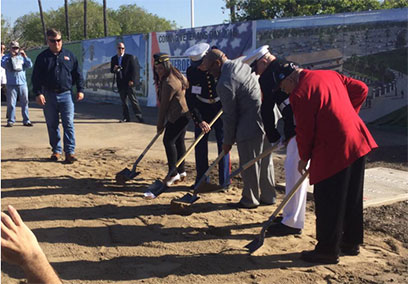 It was an honor to participate in the Groundbreaking Ceremony of Heroes Hall Veterans Museum at the OC Fair & Event Center in Costa Mesa. This new museum will be a place of remembrance for both veterans and the public to honor those who have fought for our freedom.

Our distinguished guests were Veterans from WWII, The Korean War, The Vietnam War, Desert Storm and Operation Enduring Freedom.

March 20, 2016- 3rd Annual Cherry Blossom Festival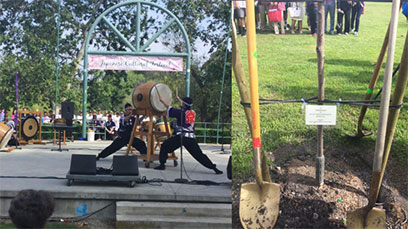 It was a great day at the Third Annual Cherry Blossom Festival sponsored by the Huntington Beach Sister City Association, held at the beautiful Huntington Beach Central Park Bandstand.

Representatives from Sister City, Anjo, Japan as well as the Consul General of Japan were present, joining with local elected officials to plant a Cherry Blossom tree and officially open the Festival.

Huntington Beach and the City of Anjo celebrated their 34th year of Sister City partnership. The genuine warmth and friendship shared were evident as I mixed and mingled among all the delicious food booths and exhibits.