Board of Supervisors

Welcome to 2nd District Updates!

With overwhelming public support—and a unanimous vote from my colleagues—we moved forward, on April 26th, with the first step toward creating an official dog park in the area popularly known as "Dog Beach."

For decades, this area of land has been used by locals as a de facto dog park away from the rough surf and has become a local treasure for dogs and their owners. The great community interest in keeping this area the way it is prompted me to propose the change to the County leash laws to my colleagues. With their support, Dog Beach will be the first official dog park on County Land since the leash law was passed in 1975.

These changes will ensure that local residents will have an official area to allow their dogs to explore and get the exercise they need to stay healthy. The County and City of Newport Beach will also be able to work together on the resources needed to protect the safety of dogs and residents and to keep the community clean.

The final step to making the park official will be a final vote by the Board of Supervisors at our May 10th meeting.

Sincerely,
Michelle Steel

In the News

Tax Freedom Day – Californians still working for the government
As the song goes, everybody's working for the weekend. But if you are a California taxpayer, you are working for the government until April 30. According to the Tax Foundation, that is the day tax freedom comes to us here in the Golden State.

While most of the country celebrates sooner, in California Tax Freedom Day falls 121 days into the year. It is the day on which the average Californian has finished earning enough money to pay all of his federal, state and local taxes for the year. There are only four other states whose taxpayers have a higher tax burden than we do – Connecticut, New Jersey, New York and Massachusetts. On average, our fellow Americans celebrated tax freedom on April 24 – six days before us.

In real life terms, the work you have done and the money you've earned from January through February this year is about what you will be paying for your federal tax obligations. The work you have done in March will basically go toward paying your social security and Medicare obligations. And for the entire month of April, you are working to pay off your state and local taxes, which include property, business, utility and sales and use taxes among many other taxes.

Read More.

In the Community

April 8, 2016 OCTA Angels Express Bus
OCTA had their kick-off event for the OCTA Angels Express Bus at the Goldenwest Transportation Center. It was a great event with food and games. Some of the first riders shared their enthusiasm for now having a direct line available for attending games.

The new service will take baseball attendees directly to the game with drop-off and pick-up a few feet from the stadium entrance. The Angels Express Bus offered to West Orange County will provide this alternative transportation option for fans wanting a less stressful travel than driving through traffic-ridden roads and costly parking hassles. The option will be available to the public for week games beginning at 7:05 p.m. Until the end of the season.

April 8, 2016 Fountain Valley High School C-SPAN Student Cam Competition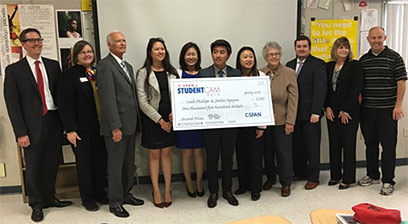 Along with Senator Janet Nguyen and Fountain Valley Mayor Cheryl Brothers, I visited Fountain Valley High School to present Certificates of Recognition to Leah Phillips and Justin Nguyen. The two high school seniors received second place in the C-SPAN StudentCam Competition of 2016 for their documentary film raising awareness about the autism epidemic in America. The competition received 2,887 films this year from students. Well done!

April 11, 2016 Victims rights rally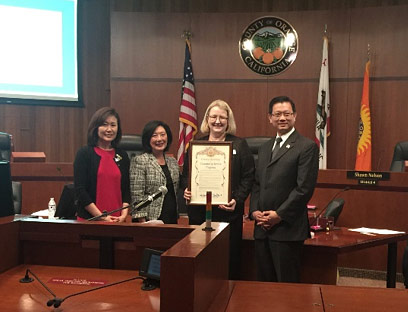 Earlier this month we held the 8th annual Orange County Victim's Rights Rally. I had the privilege, along with the many in attendance, of honoring those innocent victims that have been harmed or lost in our County. We also recognized Community Service Programs (CSP) for their continued work and assistance to the Office of the Orange County District Attorney. It was an emotional event with shows of true courage and strength.

April 13, 2016 Orange County Association of Realtors Fountain Valley Grand Opening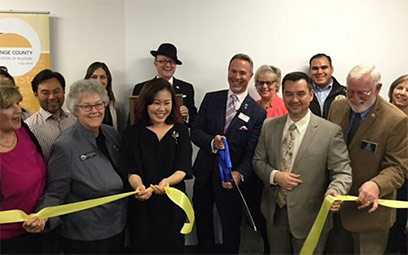 Orange County Association of REALTORS (OCAR) celebrated the Grand Opening and Ribbon Cutting of their new office in Fountain Valley. I had the pleasure of recognizing this awesome group with a Board Resolution.

The event was packed with wall-to-wall celebrants and rightfully honored by every applicable Federal, State, County and Local Elected Official.

I'm proud to have the largest Association of REALTORS in the state, and the tenth largest in the nation, located in my District.

April 15, 2016 Dog Beach Announcement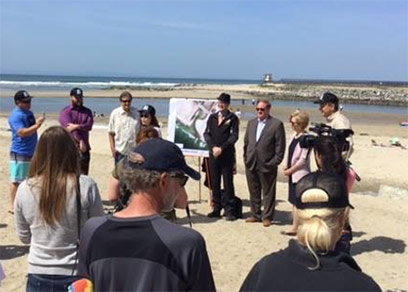 Earlier this month I spoke at "Dog Beach" in Newport Beach about my recent proposed amendment to current County leash laws that would allow the Orange County Board of Supervisors to designate the first official "off-leash" area in the County since the first enactment of the law in 1975. I was happy to meet with locals who think of the County land as a local treasure and a great place to play with their dogs and socialize with other pet owners.

Thank you to all who came and showed their support! Especially, leaders of the local community effort Mike Glenn and Jon Pedersen. As well as Assembly Member Matt Harper, Newport Beach City Manager Dave Kiff, Newport Beach Councilmen Scott Peotter, Keith Curry, and Edward Selich and Newport Beach Mayor Diane Dixon.

Announcements

May 2016 is "Older Americans Month"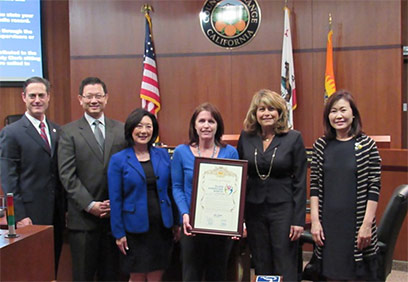 At the April 26th Board meeting, the Board of Supervisors recognized the Orange County Office on Aging with a resolution proclaiming May 2016 as "Older Americans Month." The Orange County Office on Aging works within our community to provide support to our seniors. Their work with our other partners provides seniors with day care, nutritional support, legal assistance, and Medicare counseling among other provided assistance.

Orange County Registrar of Voters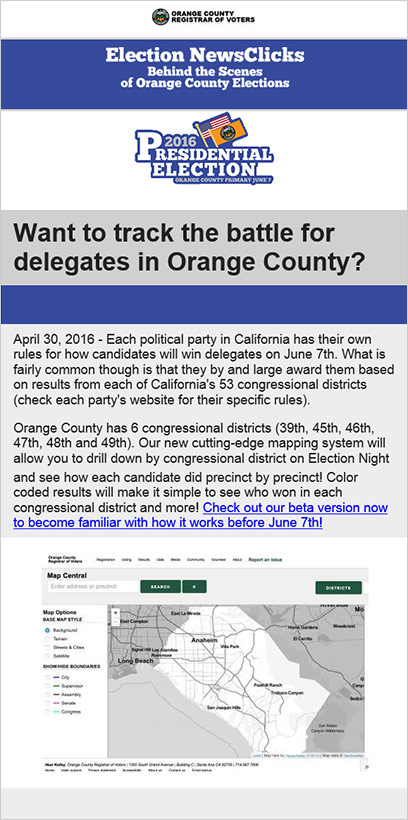 Vendor Information Day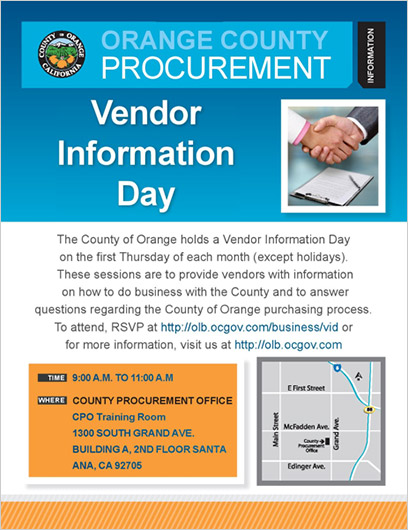 Ever considered doing business with the County of Orange? RSVP to an upcoming Vendor Information Day! Each month the County Procurement Office provides prospective vendors with an opportunity to learn more about doing business in the County of Orange. Any questions or concerns regarding the County's procurement process can be addressed during these forum opportunities.

Orange County Public Libraries


Take part in in the many events and activities offered by our Orange County Public Libraries! Besides the multiple story times for different ages, local branches also offer workshops, academic help, and adult activities.

A few upcoming events and workshops for the month of May:

May 5th

Costa Mesa Technology: Introduction to Computer Class 12:00-1:00 pm


Los Alamitos- Rossmoor Public Library: Toastmasters Workshop 7:00-9:00 pm


Mesa Verde Public Library: PJ Story time 7:00-7:30 pm


Stanton Public Library: Coloring and Coffee 10:00-11:30 am


Fountain Valley Public Library also offers homework help for grades k-8th every Wednesday and Thursday from 4:00- 5:30 pm
May 12th
Cypress Public Library: Summer Volunteer Application period starts today.


Stanton Public Library: Book Club for Adults 10:15 am -12:00 pm


Costa Mesa Donald Dungan Public Library: Family Film/Video 3:30 pm

For more library events and workshops in your area visit http://ocpl.org/