Board of Supervisors

Welcome to 2nd District Updates!

Know Where Your Hard Earned Taxes Are Going:
Financial Forecast and County Budget

As Orange County Supervisors overseeing the management of county government, one of the greatest responsibilities we have concerns county finances and making the best decisions when it comes to our budget.

You, the public, are our best resource in determining the success or failure of our financial choices. I encourage everyone who is able to be a part of that conversation. This week will begin the public discussions of our strategic financial plan with hearings on the budget to follow next week.

Today, Friday, June 10th, the Orange County Board of Supervisors held a special meeting to discuss and evaluate county finances as well as the county's financial plan before voting on the county Budget next week. The meeting held a thorough overview of the county's financial future.

For those who wish to share concerns or comments join us for our public hearings on the FY 2016-2017 budget on Tuesday, June 14th, and Wednesday, June 15th, at 9:30 am. Our final budget vote is scheduled for the board meeting on Tuesday, June 28th.

Be a part of the conversation. The meetings will be held at the Hall of Administration Board Hearing Room at 333 W. Santa Ana Blvd., Santa Ana. Make sure to stay informed and know where your hard earned taxes are going.

To access the FY 2016-17 Recommended Budget online, click here: http://ocgov.com/gov/ceo/deputy/finance/budget/fy2017

To access the current Strategic Financial Plan, click here: http://ocgov.com/gov/ceo/deputy/finance/budget/plan

Sincerely,
Michelle Steel

In the Community

May 31, 2016 Aloft Hotel Groundbreaking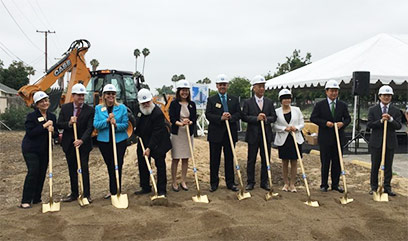 Earlier today, I attended the groundbreaking ceremony for the new Aloft hotel in Buena Park and presented the developer of the project, Mr. John Kang, with a Certificate of Recognition. The Aloft Hotel, along with its world-class hospitality, will nicely compliment its future neighbors including the Butterfly Palladium and Knott's Berry Farms. I look forward to seeing these efforts to revitalize the area, provide local jobs, and benefit local businesses as well as our community.

May 30th, 2016 La Palma Memorial Day Ceremony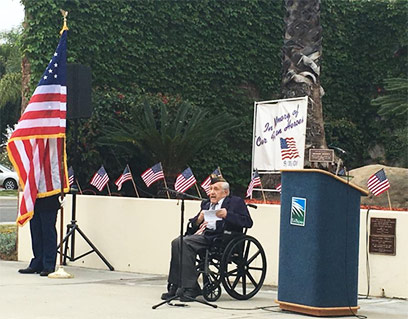 The City of La Palma's Community and Beautification Committee hosted their Memorial Day Ceremony at the City's Eternal Flame on May 30th. Their ceremony that pays tribute to the sacrifices and dedication to those men and women who served in our armed forces has existed for over 36 years.

Among the speakers was Private First Class Bill Thomas, a three-term Commander of the Veterans of Foreign wars and a two-term Vice Commander of the American Legion as well as being heavily involved in Military Veterans Affairs. For 8 years, he was the editor of the VFW Newsletter. During WWII, he started out as a Radio and Telephone Man but later served as a forward observer in an artillery battalion. He served in North Africa in 1943, and during his three years in the Army, he spent 565 days in combat in Italy, France, Germany, and Austria.

Private First Class Bill Thomas spoke at the ceremony and reminded us of the difference between Memorial Day and Veterans Day -- Memorial Day is for honoring and remembering those Veterans who are no longer with us, those who gave their lives in defense of our Nation. Veterans Day is for honoring and saying thank you to any/all Veterans who are living and have served or who are still serving. Something for all of us to remember.

May 30th, 2016 Huntington Beach Memorial Day Ceremony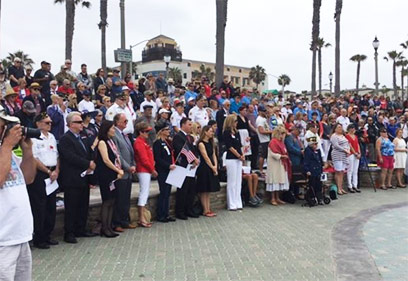 Huntington Beach held its Annual Memorial Day Ceremony to honor the many who made the ultimate sacrifice.

Over 1200 people participated in remembering those Veterans who are no longer with us and especially those who gave their lives in service to our great country. It was a tremendous honor to participate in this solemn ceremony.

American Legion Post 133 did an outstanding job in organizing and running the event.

May 24, 2016 Honoring John Wayne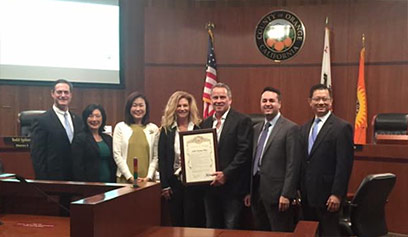 Today we presented a proclamation honoring the life and legacy of silver-screen icon, and American hero, John "the Duke" Wayne to his son Ethan and daughter Marisa on May 24th , two days before the Duke's birthday.

John Wayne is a local icon for those of us in Orange County. He was a Newport Beach resident and our local airport is named after him. He helped so many while he was alive. And even after his passing, he continues to improve the lives of others through the legacies created in his honor like the John Wayne Cancer Foundation that has made groundbreaking advancements in cancer research.

May 12, 2016 Costa Mesa Chamber of Commerce 4th Annual Mayor's Celebration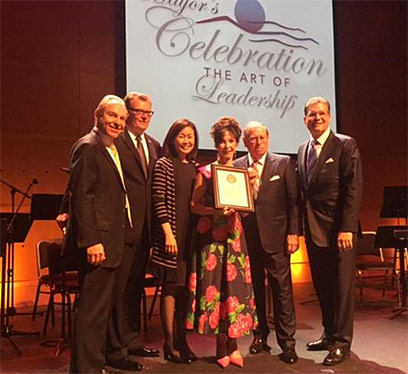 I participated in the Costa Mesa Chamber of Commerce's 4th Annual Mayor's Celebration 'The Art of Leadership,' by helping honor Julia and George L. Argyros with the Lifetime Achievement Award and Hank Panian with the Mayor's Award. It was a sold out event.

Mayor Steve Mensinger did a fantastic job on stage and the honorees gave moving speeches that stirred the guests. Costa Mesa and Estancia High School students provided some classy entertainment.

Kudos to the Chamber and South Coast Metro Alliance for once again putting on a top notch Celebration!

Announcements

Talbert Park Clean up Saturday, June 25th!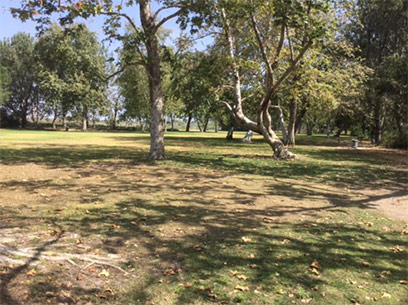 Calling all residents willing and able! Costa Mesa Mayor Stephen Mensinger and I will be hosting a park clean up and restoration. We will be painting benches, posting signage, planting native plants, and picking up trash in our local nature preserve.

Help to beautify our community and make it a place for all to enjoy!

Clean up will begin at 9:00am

OC Alert

AlertOC is a mass notification system designed to keep Orange County residents and businesses informed of emergencies and certain community events. By registering with AlertOC, time-sensitive voice messages from the County or City in which you live or work may be sent to your home, cell or business phone. Text messages may also be sent to cell phones, e-mail accounts and hearing impaired receiving devices.

For more information or to learn if your city is a participating member visit http://bos.ocgov.com/alertoc/alertoc.asp

Orange County Public Libraries

Take part in in the many events and activities offered by our Orange County Public Libraries! Besides the multiple story times for different ages, local branches also offer workshops, academic help, and adult activities.

A few upcoming events and workshops for the month of June:

June 14th

Costa Mesa-Donald Dugan Public Library: Lego and Duplo play day 2:00-4:00 pm

Cypress Public Library: Coding Cadets: Teen Web Coding & Design 4:00- 5:00 pm

June 21st

Los Alamitos Public Library: Orange County Alzheimer's Association presents a workshop on "Caring for Someone with Dementia" 2:00-4:00 pm

Stanton Public Library: Pajama Family Storytime 6:00-6:45 pm

Cypress Public Library: Gentle Yoga at the Library 7:00-8:00 pm

June 25th

Costa Mesa- Donald Dungan Public Library: OC Writers Guild Prompt Group 10:30 – 12:00pm

Cypress Public Library: Tales from the Silk Road 2:30-3:30 pm

For more library events and workshops in your area visit http://ocpl.org/

Op-ed published in the Orange County Register
Despite Old Comments, John Wayne Deserves Local Recognition
Now more than ever, politics has become a contact sport and has affected every aspect of our lives, including how we see our celebrities, like the stars of the silver screen.

Great deeds and careers, especially of those who are no longer with us to defend themselves, are often tarnished by old statements made somewhere in our past. Despite that, we should continue to look at and honor the positive impacts and legacies of these heroes of old.

One man that has left such a legacy is the "Duke" himself, John Wayne.

One of Orange County's own, John Wayne was not just a world-renowned movie star, but a genuine American who exemplified courage, endurance and spirit — true grit. Such a great icon for us here that our local airport was named after Wayne.

Last year, Texas honored the Duke by passing a resolution commemorating his birthday. It is time for those of us here in his old stomping grounds to follow suit.

We see John Wayne's many good deeds in our community still today. For example, the Duke helped make our country home to a number of Vietnamese refugees who were settling in the United States. With nearly 20% of Orange County residents being Asian American, some of our closest friends come from families of refugees themselves.

This is only a small part of the philanthropic and lasting legacy of Wayne. Prior to dying from stomach cancer, Wayne had already beaten lung cancer 15 years prior. His own battle gave him a new passion for helping others who were fighting this terrible disease.

For his contribution to healthcare, The Wayne Foundation has made a great impact in the field of cancer studies. The foundation helped to create The John Wayne Cancer Institute at Saint John's Health Center in Santa Monica, formerly the John Wayne Cancer Clinic at UCLA. The research conducted by the institute has led to groundbreaking procedures and treatments. They have also launched a successful presentative youth program called "Block the Blaze" to raise skin cancer awareness.

Of course, the most memorable contribution of John Wayne was his unwavering support of our Armed Forces. He often visited with military members and even made trips to Japan and Vietnam through his several tours with the USO to boost the troops' spirits in the Pacific. He was also posthumously awarded the Naval Heritage Award by the U.S. Navy for the support he showed to the Navy and military during his film career.

Wayne was a true patriot loyal to the democratic process, a quality that should cross political lines. Regardless of political affiliation and his own personal feelings, Wayne always showed respect and support to the president of the United States for the simple fact the president was "his" president.

Today, in a world of reality TV and seeking 15 minutes of fame through outrageous acts, it seems that the values we once held dear and that set our heroes apart are gone. Honoring a man like Wayne, who epitomized courage, dignity, integrity, and generosity ensure that such values are not completely extinct just yet. We can still honor a man that left a lasting legacy that continues to help the lives of others.