Board of Supervisors

Welcome to 2nd District Updates!

Trimming Down Excess Government Spending

In an effort to trim excess spending and stay true to my promise to be the taxpayers' advocate, I proposed the county disassociate and discontinue paying membership to the Orange County Council of Governments (OCCOG). The proposed change was unanimously supported by my fellow board members along with the approved budget during the June 28th board meeting.

Being the County's representative to OCCOG and attending the meetings religiously, I grew concerned about an organization that was not benefiting the taxpayers of Orange County. Many of the actions taken at OCCOG were duplicative of actions taken at another agencies and commissions, or were actions that had no meaning to the lives of Orange County residents.

Our government is constantly creating new services and organizations that more often than not waste hard earned taxpayer dollars and fail to efficiently provide the service they were created for. It's our job as elected officials to identify these failures and put a stopper to these leaking funds.

I am proud that the board was able to take this step in the right direction. And I look forward in continuing my work as your county representative and keeping the government from continuing to reach into your pocket.

Sincerely,
Michelle Steel

In the Community

July 10th, Huntington Beach Senior Center Grand Opening

I was very happy to be a part of the long-awaited and epic Grand Opening & Ribbon Cutting of the Huntington Beach Senior Center in Central Park.

Well over two thousand local residents came out to celebrate the momentous occasion and take a tour of the 45,000 square feet, state-of-the-art facility.

I presented a Resolution to Mayor Katapodis commemorating the years of hard work and dedication it took from many to realize the fruition of their efforts.

I am very proud of what Huntington Beach has accomplished here today.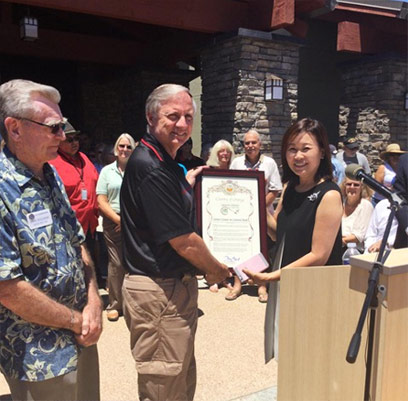 July 4th, 2016 Huntington Beach Independence Day Parade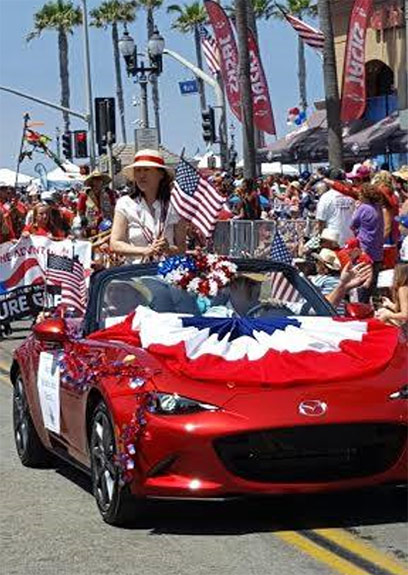 A beautiful day in Surf City celebrating American Independence.

June 25th , 2016 Talbert Park Clean-up and Restoration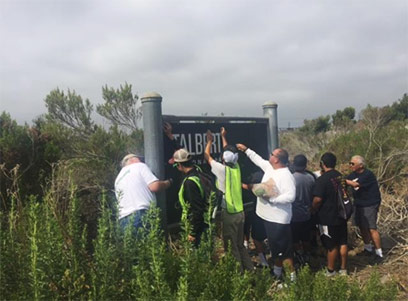 It was a successful day at Talbert Regional Park! After little breakfast we got to work painting benches, putting up new signs, and planted native vegetation. It was a fun morning working with local volunteers from our community helping to restore our local nature preserve!

Thank you to all who came to help especially our Orange County Park Rangers!

June 18th, 2016 Dalai Lama and the Grand Opening of Chua Dieu Ngu Temple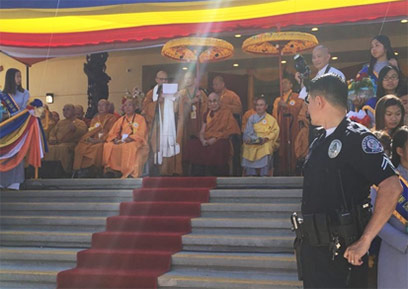 I was happy to be among local dignitaries attending the Grand Opening and Ribbon Cutting for the newly reconstructed Chua Dieu Ngu Temple in Westminster.

The 14th Dalai Lama was there to give blessing to the Temple and to give Dharma talks after the Grand Opening Ceremony.

June 15, 2016 John Wayne Airport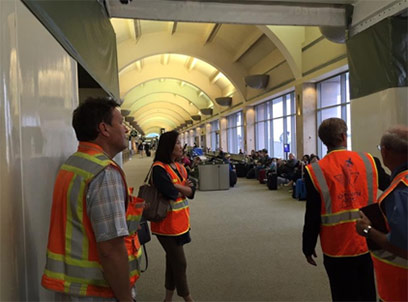 I recently toured Orange County's gateway, John Wayne Airport. John Wayne is our only local airport to provide commercial and air-cargo service. Currently, they are undergoing some renovations to make the travels of the millions of passengers they serve even more enjoyable. I'm looking forward to seeing the finished results!

June 8, 2016 Orange County Veterans Advisory Committee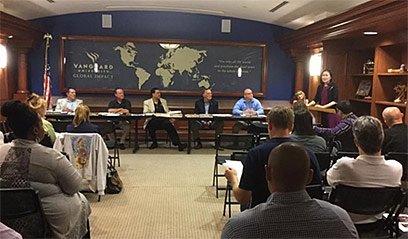 In June the Orange County Veterans Advisory Committee held its monthly meeting in my district at Vanguard University.

I reiterated my strong support of their efforts to serve our Veterans and recognized their recent successes. Vanguard University President Michael Beals welcomed everyone to the campus and reminded all that Vanguard is a yellow ribbon University and is regarded as one of the best schools for Veterans west of the Mississippi.

I will be working with President Beals to sponsor some special events for Veterans at Vanguard.

Announcements

Mesa Water District Community Chats

Costa Mesa Residents!

Do you have concerns about water?

The Mesa Water District will be hosting a series of Community Chats from July 6th -August 10th. Customers are encouraged to attend and join in the discussion of issues including the drought, water conservation, the development of local water supplies, and opportunities for enhanced efficiency and cost savings.

For More information, visit: www.MesaWater.org/CommunityChat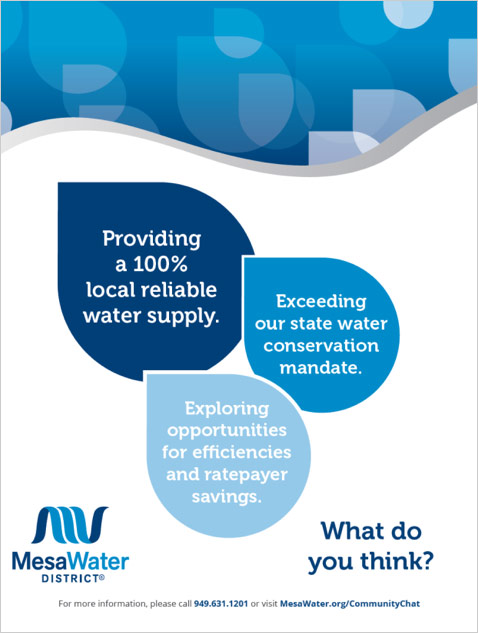 OC Alert


AlertOC is a mass notification system designed to keep Orange County residents and businesses informed of emergencies and certain community events. By registering with AlertOC, time-sensitive voice messages from the County or City in which you live or work may be sent to your home, cell or business phone. Text messages may also be sent to cell phones, e-mail accounts and hearing impaired receiving devices.

For more information or to learn if your city is a participating member visit http://bos.ocgov.com/alertoc/alertoc.asp

OC Animal Care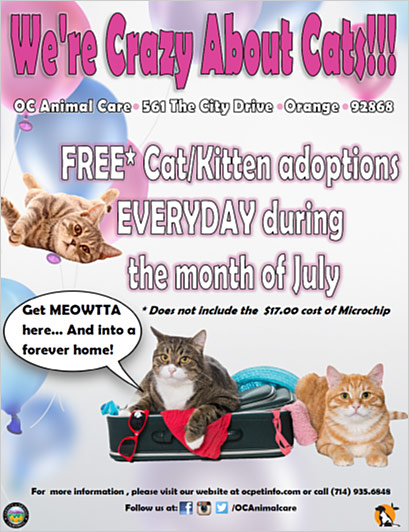 Click on the image above to view a larger version.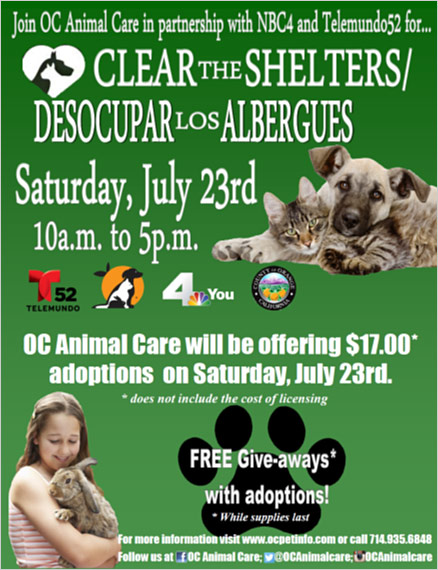 Click on the image above to view a larger version.




Click on the image above to view a larger version.

Orange County Public Libraries

Take part in in the many events and activities offered by our Orange County Public Libraries! Besides the multiple story times for different ages, local branches also offer workshops, academic help, and adult activities.

A few upcoming events and workshops for the month of June:

July 21st
Cypress Public Library: Adult Book Chat Group (every third Thursday) 10:00-11:00am Stanton Public Library: Teen Picnic and Gamefest 12:00-1:30pm

Fountain Valley Public Library: Family Activity Program-Dave Boatman professional cartoonist and caricature artist 4:00-5:00 pm

July 26th
Seal Beach- Mary Wilson Library: Toddler Storytime 10:30-11:00am

Cypress Public Library: Teen Class/Workshop-Coding Cadets:Teen Web Coding & Design 4:00-5:00 pm

Fountain Valley Public Library: Family Activity/Program- SWAZZLE Performer 5:30- 6:30

July 28th
La Palma Public Library: Teen Program/Activity-Make your own Zine 3:00-4:00 pm

Costa Mesa- Donald Dungan Library: Children's Movie Club 3:30pm

Costa Mesa-Mesa Verde Library: Celebrate Harry Potter's Birthday! 3:30- 5:00 pm

For more library events and workshops in your area visit http://ocpl.org/