April 18, 2013
Volume 1

Issue 14

Crime Victims' Memorial and Candlelight Vigil on Wed., April 24

The Orange County Board of Supervisors and the OC Parks Department will host a crime victims' memorial unveiling and inaugural candlelight vigil on Wednesday, April 24 at 5:00 p.m.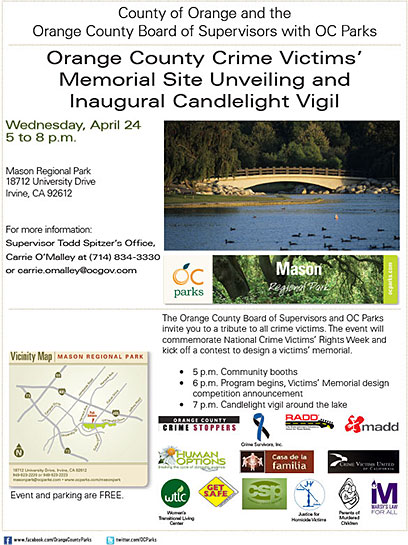 Please click here to see a larger version of this flyer.

On April 9, the Board of Supervisors unanimously approved the creation of the Orange County Crime Victims' Memorial. Each Supervisor will appoint two people to a committee that will judge the design competition for the memorial.

A committee of volunteers will raise the money for the cost of constructing the Crime Victims' Memorial through a designated sub-fund of the Orange County Parks Foundation, a 501(c)(3) non-profit organization.

Board of Supervisors Approves Step Toward Extending John Wayne Airport Settlement Agreement

(Portions Courtesy of John Wayne Airport)

At its regularly scheduled meeting on Tuesday, the Orange County Board of Supervisors authorized execution of a Memorandum of Understanding (MOU) with the City of Newport Beach (City), the Airport Working Group (AWG) and Stop Polluting Our Newport (SPON). The MOU is an important step toward extending the landmark John Wayne Airport Settlement Agreement.

"The approach corridor cities – Anaheim Hills, Orange, Tustin, and North Tustin – are deeply impacted by John Wayne Airport operations," Supervisor Todd Spitzer said. "My constituents will be heard from loud and clear before any EIR is voted upon."

The MOU, previously executed by the City, AWG and SPON, defines roles and responsibilities with respect to preparation of an Environmental Impact Report (EIR) pursuant to the California Environmental Quality Act (CEQA). The purpose of the EIR is to identify the environmental impacts associated with a proposed 15-year extension of the Settlement Agreement. Following community meetings and a required public comment period on the results of the environmental analysis, the Draft EIR will be presented to the Board of Supervisors for its consideration. The County expects that this environmental review process will be complete in early 2014.

"I believe the EIR process should consider as one of the alternatives an approach alignment along the 55 Freeway," Spitzer also said. "This would reduce the noise of planes descending over homes in the Third District in the same manner that the Newport Back Bay serves to reduce noise upon takeoff."

The original 1985 Settlement Agreement formalized consensus between the County of Orange, the City, AWG and SPON on a set of defined facility and operational improvements for John Wayne Airport and a related set of environmental protections. The Settlement Agreement was amended and extended in 2003 and is currently set to expire on December 31, 2015. To learn more about the Settlement Agreement and the proposed extension, visit www.ocair.com/communityrelations/settlementagreement/.

Spitzer & Grindle Working on OC Ethics Commission

Since being sworn in as Supervisor on January 7, 2013, Todd Spitzer has been working with long-time government watchdog Shirley Grindle to put together a citizens' commission with a professional staff to provide oversight and enforcement of campaign contribution violations in county government.

Grindle, the author of TINCUP (OC's campaign finance reform ordinance) stated, "Ethics in government has been my life's work; I have been a government watchdog for decades. The formation of an ethics panel will improve transparency and ensure the residents of Orange County know that government is being held accountable."

Supervisor Spitzer stated, "There is a 'tone of tolerance' for wrongdoing in Orange County. We need to change that immediately. Shirley Grindle and I had planned to present the formation of an ethics commission to the Board of Supervisors in May. With the Grand Jury's release of its report, I feel it is imperative to ensure that the public knows that we were already working to bring this reform forward."

Spitzer, a longtime advocate of transparent and open government, has worked to make the governmental process open to citizens throughout Orange County because one of the pillars of governing is trust and faith in public servants.

Board of Supervisors Appoints Auditor-Controller

On Tuesday, the Orange County Board of Supervisors appointed Jan Grimes as Orange County Auditor-Controller. She will fill out the remaining two years of former Auditor-Controller David Sundstrom's term. (Sundstrom resigned to become Sonoma County Auditor-Controller-Treasurer-Tax Collector, a position that allowed him to return to his hometown and be closer to his extended family.) Grimes says she does not plan to run for the office during the 2014 election cycle.

A native of Oregon, Jan Grimes has made her career in the Orange County Auditor-Controller's office, having worked there for more than three decades. She served in a variety of roles, including Audit Manager and Accounting Manager before becoming Director of Central Accounting Operations in 2007. She has served as Chief Deputy Auditor-Controller for the past year.

Grimes resides with her husband and children in Dana Point. A Certified Public Accountant (CPA), she earned her Bachelor of Science in Accounting at Cal Poly Pomona. Grimes is the first woman to be Auditor-Controller of Orange County.

Spitzer Welcomes Public to First of Several Workshops on Regional Park at Former MCAS Tustin

(Courtesy of Marisa O'Neil of OC Parks)

On April 15, Supervisor Todd Spitzer and OC Parks hosted the first of the County's planned public workshops at the former MCAS Tustin North Hangar as part of the general development process for a future regional park. Nearly 600 people came to tour the hangar, hear presentations from Supervisor Todd Spitzer, OC Parks Director Mark Denny, and consultants LPA, Inc.

The public was invited to ask questions and provide suggestions regarding: how the park will fit into its surroundings, the possible uses for the hangar and the other buildings that may be retained in the park, and the possible uses within the park itself.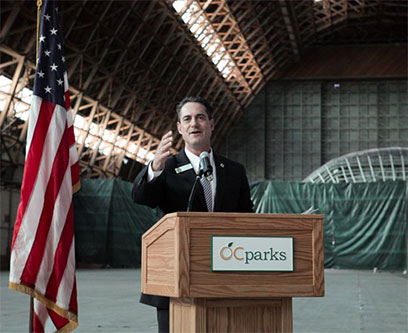 A second workshop will be scheduled for next month. Those who are unable to attend but who would like to provide input may email TustinMCAS@ocparks.com.

The proposed regional park is located on an 84.5-acre parcel of land at the former Marine Corps Air Station Tustin to be conveyed by the Department of the Navy to the County of Orange for park purposes. The property includes the historic North Blimp Hangar. OC Parks is responsible for the planning, design, construction, operations and maintenance of this County proposed regional park.

On February 28, 2012, the Orange County Board of Supervisors approved a Concept Plan for the proposed park and authorized preparation of the General Development Plan (GDP). A number of park planning principles are included in the Concept Plan and will be incorporated in the GDP, including:

Developing a traditional urban regional park with features such as large turf areas, group picnic areas with picnic shelters, and perimeter and internal walkways and trails.
Adaptively reusing the North Hangar for a variety of non-exclusive activities, including special and community events, commercial filming, and blimp maintenance and repair.
Incorporating sustainable elements in the proposed park's design that include preservation of existing buildings and recycling of existing on-site materials.
Considering partnership opportunities that expand recreational and educational activities within the proposed park.

Pet of the Week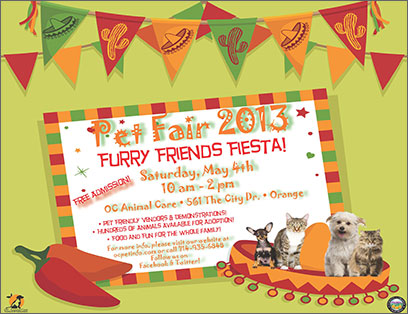 Please click here to see a larger version of this flier.

Events around the district

Anaheim
Vex Robotics Competition
Wednesday, April 17-Saturday, April 20
Anaheim Convention Center, 800 W. Katella Ave.

Orange
How Money Works – Financial Wellness
Saturday, April 20, 2:00 PM–3:00 PM
Orange Public Library & History Center, 407 E. Chapman Ave.

Tustin
Community Yard Sale
Saturday, April 20, 8:00 AM–12:00 PM
Tustin Area Senior Center Parking Lot, 200 S. C St.

Villa Park
Baby Storytime
Monday, April 22, 9:00 AM–11:00 AM
OC Public Library–Villa Park Branch, 17865 Santiago Boulevard

Yorba Linda
Political Memorabilia Collectors' Fair
Saturday, April 20, 10:00 AM–3:00 PM
Nixon Presidential Library & Museum, 18001 Yorba Linda Blvd.




DISTRICT

STAFF
Mike Johnson
Chief of Staff

Martin Gardner
Policy Advisor

Martha Ochoa-Lopez
Policy Advisor

Carrie O'Malley
Policy Advisor

Chris Nguyen
Policy Advisor

Christine Richters
Executive Aide



District Map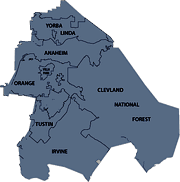 Anaheim, Irvine, Orange, Tustin, Villa Park, Yorba Linda, El Modena, North Tustin, Orange Park Acres, the Canyon Communities

Stay Updated!