April 26, 2013
Volume 1

Issue 15

Orange County Crime Victims Memorial

By: Carrie O'Malley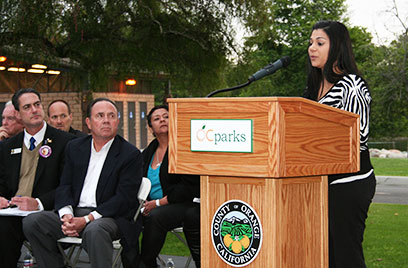 Shyma Hall speaking out against human trafficking. Onlookers include: Supervisor Todd Spitzer, John Saliture (lost daughter in a DUI crash), and Monique Jackson (victim of sexual assault)
The Orange County Board of Supervisors and OC Parks hosted the site unveiling for the first ever Orange County Crime Victims' Memorial on Wednesday, April 24th. The evening opened at 5 p.m. with Community organizations hosting booths with informational materials. The organizations who signed in support of the event included: Crime Victims United California, Community Service Programs (CSP), Marsy's Law for All, Casa de la Familia, Orange County Crime Stoppers, Crime Survivors Inc., Parents of Murdered Children, Justice for Homicide Victims, Get Safe, Women's Transitional Living Center, MADD – Mothers Against Drunk Driving, RADD – The Entertainment Industry's voice against drunk driving, and Human Options. There was also an informational booth form the Irvine Police Department.

At 6 p.m., the program began. The program included many speakers, including the following: Supervisor Janet Nguyen, Supervisor Todd Spitzer, Judge Franz Miller, and Pastor Jon Thomas (of Salem Lutheran Church in Orange). These opening speakers were then followed by 10 victim speakers.

These speakers included:

Patricia Wenskunas, John Saliture, Monique Jackson, Shyma Hall, Maribel Grajeda, Stacy Haden, Lynette Duncan, Paul Wilson, Jack Reilley, and Marcella Leach. Each of these speakers gave quite moving sentiments about their experience as crime victims, and how these horrific experiences have affected their lives. Many of the victims also spoke about how the Crime Victims Memorial would be a place of reflection and peace for crime victims and their families. The O.C. Crime Victims Memorial will serve as a place of solace for all crime victims and their families.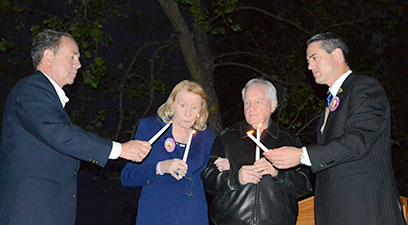 First lighting of candles From left to right: John Saliture (lost daughter in a DUI crash), Marcella Leach (mother of Marsy. Her daughter was murdered and is the namesake for Marsy's Law), Jack Reilley (daughter killed by serial killer), and Supervisor Todd Spitzer
After the program, attendees commenced on the inaugural candlelight vigil around the lake at Mason Regional Park. This was a solemn event in commemoration of all Crime Victims. Starting on May 1st, the public will be invited to enter a design competition for the design of the Crime Victims' Memorial. Applications for this competition may be downloaded from the OC Parks web site at www.ocparks.com.

On April 9th, the Orange County Board of Supervisors unanimously approved the creation of the Orange County Crime Victims Memorial. Each Supervisor will have the opportunity to appoint two people to a committee that will judge the design competition. A committee of volunteers will raise the money for the cost of constructing the Crime Victims' Memorial through a designated sub-fund of the Orange County Parks Foundation, a nonprofit organization.

Supervisor Todd Spitzer Commemorates Crime Victims During National Crime Victims Rights Week

By: Carrie O'Malley

Supervisor Todd Spitzer has devoted most of his professional life to advocating for the rights of crime victims. This week, in particular, Supervisor Spitzer spoke at many Crime Victims Rights events in commemoration of all crime victims and their families.

On Sunday, April 21st, Supervisor Spitzer started the week with a speech regarding crime victims' rights at the Justice for Homicide Victims annual Program. Supervisor Spitzer gave a moving speech regarding his tireless work as a former criminal prosecutor, police officer, and crime victims' rights attorney. He also spoke about his hands-on efforts as a co-author of Marsy's Law, the Crime Victims' Bill of Rights, in the State of California. When Supervisor Spitzer was serving in the State Assembly, he was able to successfully pass legislation which authorized Marsy's Law. The voters passed this ballot measure in 2008, giving Californians, for the first time ever, a Crime Victims' Bill of Rights. Since then, Supervisor Spitzer has helped countless crime victims access and become aware of their Marsy's Law rights.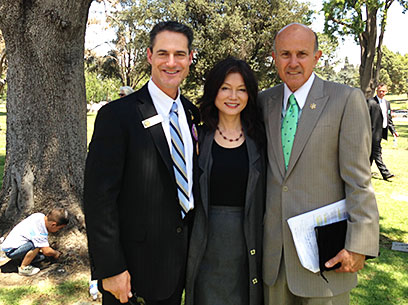 Supervisor Todd Spitzer with Los Angeles Sheriff Lee Baca and Mrs. Baca
On the evening of Wednesday April 24th, Supervisor Spitzer and his colleagues on the Board of Supervisors, in conjunction with O.C. Parks, hosted the first ever Orange County Crime Victims' Memorial site unveiling Program and Candlelight vigil in commemoration of all crime victims and their families. This was a moving event where many crime victims spoke of their horrific experiences and how these terrible crimes have affected their lives. The evening commenced with a solemn candlelight vigil around the lake at Mason Regional Park in Irvine. This will be an annual event. In addition, this event is highly significant since Mason Regional Park has been designated by the Board of Supervisors to house the first ever Orange County Crime Victims Memorial. This Memorial will be developed over the course of the next few years. A design competition was announced at the April 24th event, and applications will be made available for the public on May 1st on the O.C. Parks web site at www.ocparks.com.

On Thursday, April 25th, Supervisor Spitzer spoke at the Los Angeles District Attorney's Crime Victims' Rights Symposium. Supervisor Spitzer gave a one hour presentation on Marsy's Law and how this Victims' Bill of Rights has changed the way victims are now treated in the criminal justice system. Marsy's Law has given victims the voice they have never had in criminal proceedings in the past. Furthermore, Marsy's Law has enumerated multiple rights for victims ranging from the right to a speedy trial, the right to certain restitution, and the right to information regarding their case and the perpetrator, among many other rights. Supervisor Spitzer's speech was very informative and served as a training for many criminal prosecutors, victims' rights advocates, therapists, organizations, and community leaders. For more information on Marsy's Law, please click here.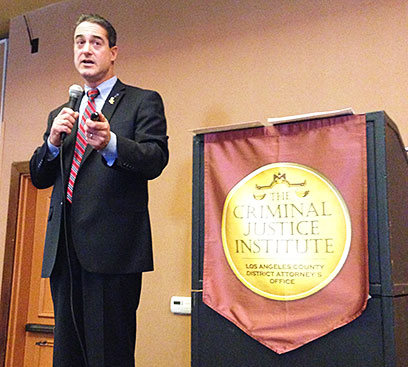 Supervisor Todd Spitzer speaking about Marsy's Law at the LA District Attorney's event on April 25th
On Friday, April 26th, Supervisor Spitzer took part in the Orange County District Attorney's march and program in honor of crime victims. Supervisor Spitzer showed his support for all crime victims and their families by attending this event.

On the evening of Friday, April 26th, Supervisor Spitzer will be receiving an award at the Orange County Crime Survivors Awards Banquet in honor of his tireless work with and for crime victims.

Lastly, on Sunday, April 28th, Supervisor Spitzer will be speaking once again at the Parents of Murdered Children's program and candlelight vigil in Brea. This moving program serves in commemoration of all parents who have lost a child to horrific crimes. Supervisor Spitzer will be speaking at this event to offer words of comfort to parents who find themselves in such tragic situations. Supervisor Spitzer will elaborate on their rights as crime victims and on how Marsy's Law can assist them through their court proceedings and with the tragedies they have gone through.

Please feel free to contact Carrie O'Malley in Supervisor Spitzer's office at (714) 834-3330 if you have any questions regarding victims' rights, Marsy's Law, or the Orange County Crime Victims Memorial.

OCTA Seeks Volunteers to Serve on Citizens Committee

(Courtesy of OCTA)


The Orange County Transportation Authority (OCTA) is recruiting community leaders to fill openings on the Citizens Advisory Committee (CAC), a 34-member group that provides input on a broad spectrum of transportation projects, studies and outreach activities.

Appointed by OCTA's Board of Directors, the CAC's responsibilities include identifying opportunities for community input, serving as a liaison between the public and OCTA, and participating in roundtable discussions.



OCTA is seeking individuals with a demonstrated interest in community activities and transportation issues who are willing to dedicate at least 15 hours per year to meetings and activities. This is an unpaid volunteer position and CAC members are asked to commit to a two-year term. Candidates must be at least 18 and live in Orange County.

Applications for the 2013-2015 term must be received by May 12 and are available at www.octa.net/cac. For more information, contact Ashley Graeber at (714) 560-5416 or agraeber@octa.net.

The OCTA Board of Directors is expected to select the members by the end of June.

Third District Canyons: Fire Safety and Outdoor Opportunities for People with Disabilities

by Michael Johnson

Supervisor Todd Spitzer attended the Fire Safe Council East Orange County Canyon's Community Disaster Preparedness Day. The event featured workshops, demonstrations, and multiple private and public entity exhibitors. To view more information on the Council, please click here.

While out in the Canyons, Supervisor Spitzer received information from the Canyon Accessibility Network and the CAN Go Outdoors committee of the Inter-Canyon League. The mission of the organization is to expand outdoor opportunities in the Santa Ana Mountains for people with disabilities. If you would like to assist or get involved with their committee, please email CanyonsCan@aol.com.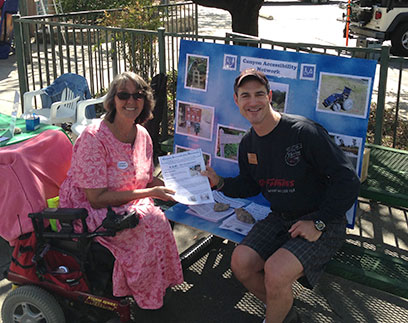 Judie Bruno of the Canyon Accessibility Network with Supervisor Spitzer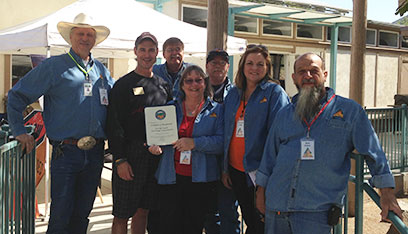 Supervisor Todd Spitzer with members of the Fire Safe Council East Orange County. Pictured left to right: Tom Smisek, Supervisor Spitzer, Steve Kerrigan, Mary Schreiber, Chief Pat Antrim, Deanna Craig, and Bob Click.

Study Finds $1 Billion in Litigation Costs for Just 9 Counties and 8 Cities

By: Chris Nguyen


Californians Citizens Against Lawsuit Abuse (CALA) did a study finding that 9 counties (out of 58) and 8 cities (out of 482) in California spent more than $1 billion on litigation from 2008-2012.

For Fiscal Year 2012-13, the County of Orange has budgeted $17,758,773 for judgments and damages (including costs for outside defense counsel) in tort matters.



It is clear that reform is necessary. The majority of states have a tort cap limit, yet California does not for non-medical malpractice cases. Time and again, large judgments are granted by juries, yet most of the money does not go to the plaintiff who suffered a wrong but to their attorneys.

One example the CALA study cited was a case from 2010, in which the County of Orange paid nearly $1.6 million to settle the a case in which Orange County Sheriff's deputies repeatedly shot Javier Mendoza, a San Juan Capistrano man in his own home. Three-fourths of that amount, $1.2 million, went to his three attorneys and $80,000 went to litigation costs. Mendoza only received $300,000 of that amount, less than 20% of the judgment.

Lawsuits against governments serve an important role as one check on the system to ensure that government does its job properly. Lawsuits expose problems in government that need to be fixed. However, that doesn't mean that the attorneys should be getting the bulk of the money leaving the plaintiffs who actually suffered with just a fraction of the judgment. It also doesn't mean there should be no limit to the amounts that can be awarded.

Plaintiffs who have been wronged by government deserve to be made whole, but it is unreasonable for plaintiffs to receive disproportionate awards or for attorneys to soak up so much taxpayer money.

Pet of the Week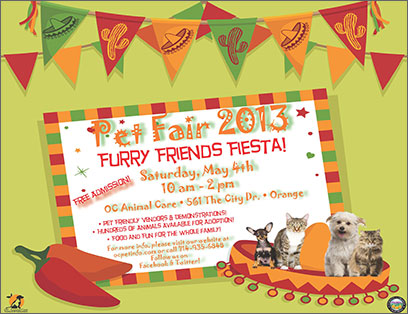 Please click here to see a larger version of this flier.

Events around the district

Anaheim
El Rancho Charter School Talent Show
Tuesday, April 30, 6:30–7:00 PM
El Rancho Charter School, 181 S. Del Giorgio Dr.

Irvine
High School Art Exhibition and Imagination Celebration
Friday, May 3, 5:00 PM–8:00 PM
Irvine Fine Arts Center, 14321 Yale Ave.

Orange
Research the History of Your House
Monday, May 6, 7:00 PM–8:00 PM
Orange Public Library & History Center, 407 E. Chapman Ave.

Tustin
Cinco de Mayo Celebration
Friday, May 3, 3:00 PM–5:00 PM
Tustin Family & Youth Center

Villa Park
Toddler Storytime
Tuesday, April 30, 9:00 AM–11:00 AM
OC Public Library–Villa Park Branch, 17865 Santiago Boulevard

Yorba Linda
Library Centennial Celebration
Thursday, May 2, 9:00 AM–9:00 PM
Yorba Linda Public Library, 18181 Imperial Hwy.




DISTRICT

STAFF
Mike Johnson
Chief of Staff

Martin Gardner
Policy Advisor

Martha Ochoa-Lopez
Policy Advisor

Carrie O'Malley
Policy Advisor

Chris Nguyen
Policy Advisor

Christine Richters
Executive Aide



District Map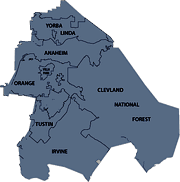 Anaheim, Irvine, Orange, Tustin, Villa Park, Yorba Linda, El Modena, North Tustin, Orange Park Acres, the Canyon Communities

Stay Updated!