May 3, 2013
Volume 1

Issue 16

Crime Survivors Honors Supervisor Spitzer

By: Carrie O'Malley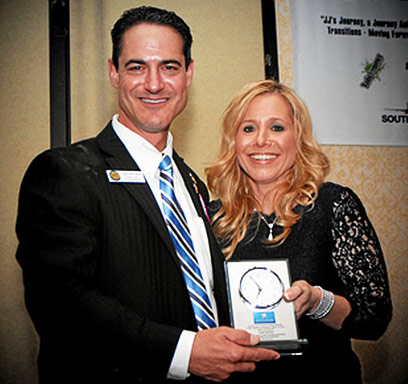 Supervisor Todd Spitzer accepts a 2013 Crime Survivors Award from Crime Survivors Founder and CEO Patricia Wenskunas.
On Friday, April 26th, Crime Survivors, a non-profit organization dedicated to help with hopeful healing for survivors of crime, hosted an Awards Banquet. Supervisor Todd Spitzer, was one of the 2013 Crime Survivors Award Recipients in honor of his steadfast dedication to advocating for victims rights. Other recipients included: Los Angeles Sheriff Lee Baca, Irvine Police Chief Dave Maggard, Santa Ana Police Commissioner Paul Walters, KOCE TV's Ed Arnold, Palace Entertainment's Janet Wilson-Irving, Orange County Rescue Mission's Ryan Burris, Nathaniel Wenskunas - a crime survivor, Carolyn Perrier of Targus, Dienna Rogers - a crime survivor, Jon Coltrane and Tracy Jacobson Retired Irvine Police Officers, and Kelly Core – Supervising Investigator with the OCDA.

The evening was a tribute to all crime victims and their families. Patricia Wenskunas, Founder and CEO of Crime Survivors, presented the awards to the recipients in honor of their hard work and dedication in the fight against crime and for their commitment to advocating for the rights of crime victims and their families.

Crime Survivors is dedicated to helping victims of crime to recover from their experiences mentally, physically, emotionally, and financially, by receiving the respect, support, and protection from law enforcement, the judicial system, and the community. The mission of Crime Survivors is to ensure that the public is educated regarding victims' rights, and to provide resources, support, and information to empower crime victims to survive and thrive.

Crime Survivors is committed to serving the community by acting as an advocate and resource for crime victims and their families. Crime Survivors works in the community to make victims' rights a top priority. The organization facilitates communication and cooperation across various public service, government, and non-profit organizations to ensure that victims' rights are understood, and that the services victims are entitled to are received. For more information regarding Crime Survivors, please visit their web site at www.crimesurvivors.org

Spitzer Requests County Investigation into Rescued Hikers' Liability

By: Chris Nguyen


| | | |
| --- | --- | --- |
| On March 31, Costa Mesa residents Nicholas Cendoya, 19, and Kyndall Jack, 18, went missing in the Trabuco Canyon. After a massive search by the Orange County Fire Authority, the Orange County Sheriff's Department, OC Parks, and several other agencies, including both paid personnel and unpaid reservists, Cendoya was found after four days and Jack after five days. | | |

Supervisor Todd Spitzer asked County Counsel and Risk Management to investigate as to whether any civil liability was warranted for the costs of the rescue or for the injuries sustained by a Deputy Sheriff who was part of the search and rescue effort. Subsequently, Cendoya was charged with possession of a controlled substance based on methamphetamines found in his car during the March 31 search. He will be arraigned on May 22.

"These two young people caused their own peril, setting in motion a whole series of events that have now cost the taxpayers an enormous sum of money and caused significant injuries to a deputy sheriff," Spitzer said. "If the investigation finds they were responsible, they should owe significant restitution, especially if they were engaged in illegal activity."

Current estimates find the cost of the search and rescue to be $160,000, though that number is significantly underestimated, and the costs may rise to $300,000. The search and rescue cost the Orange County Fire Authority at least $55,000, the Orange County Sheriff's Department at least $32,000, the Los Angeles County Sheriff's Department at least $58,000, and at least $15,000 combined from OC Parks, the Riverside County Sheriff's Department, and the California Emergency Management Agency.

"Taxpayer funded searches and rescues are intended for accidents, not for 'on purposes' that are a result of negligence or criminal activity," Spitzer said. "If there is a conviction, then the County of Orange and other government agencies are victims of a crime under Marsy's Law."

Click here for the story "Authorities Allegedly Found Meth in Car of Rescued OC Hiker During Days-Long Search" from CBS 2/KCAL 9.

Spitzer Seeks Third District Resident to Serve on Assessment Appeals Board


(Portions courtesy of the Clerk of the Board)

The Assessment Appeals Board sits as the County's local Board of Equalization to allow taxpayers the opportunity to challenge the assessment of their property placed on the roll by the County Assessor.



As a 3-member panel or as a single hearing officer, Assessment Appeals Board Members hear and decide property assessment disputes filed by residential and business taxpayers. Based upon proper evidence received, members equalize the assessed value of properties, make determinations of law and consider abatement of penalties subject to timely filed appeals. Assessment Appeals Board Members can also serve as independent Hearing Officers to consider single family residential appeals.

"The Assessment Appeals Board is a vital part of the property tax process to ensure that taxpayers have the right to a fair hearing if they dispute the assessed value of their home or business," Supervisor Todd Spitzer said. "Five people from each supervisorial district serve on Assessment Appeals Boards, but the Third District currently has four. We must have a full panel, so I urge accountants, attorneys, appraisers, and real estate brokers who live in the Third District to apply for this Board."

Each Assessment Appeals Board Member must be licensed or certified by the State of California as a Public Accountant, CPA, Attorney, Appraiser or Real Estate Broker for a period of 5-years and must maintain their qualifications throughout their term of office. Assessment Appeals Board Members are nominated by an Orange County Supervisor and confirmed by the Board of Supervisors.

Assessment Appeals Board Members serve three-year terms and meet Monday through Thursday and normally begin at 9:00 a.m. Panels of 3 are randomly selected to serve and normally serve 3-5 half days (9:00 a.m.-1:00 p.m.) per month. The Clerk of the Board can accommodate special scheduling to accommodate business activities, vacation schedules, etc. All hearings are conducted in the Old County Courthouse in downtown Santa Ana.

Assessment Appeals Board Members are paid $125 for each half day session or $150 for each calendar if acting independently as a Hearing Officer. Parking is also paid for meeting and training attendance.

Assessment Appeals Board Members are required to file a Conflict of Interest Code Statement, must abide by the County's Code of Ethics and Gift Ban Ordinance; must attend quarterly trainings prepared by the Clerk of the Board or the State Board of Equalization.

Please send letters of interest to:
Susan Novak
Clerk of the Board
333 W. Santa Ana Blvd., Suite 465
Santa Ana, CA 92701

The letter of interest should include:

A current resume showing that you meet the minimum requirements
Your name, business and/or home address and phone numbers where you can be reached
Your city of residence
For additional information, please contact Pat Martinez, Assessment Appeals Division Manager for the Clerk of the Board at (714) 834-2206 or (714) 834-2331.

HomeAid's 2013 Essentials for Young Lives Donation Drive, May 3-12

(Courtesy of HomeAid)

HomeAid Orange County, in partnership with the Children and Families Commission, will collect diapers, baby food and baby hygiene products including baby wipes and lotion which are then distributed to 17 shelters here in Orange County.

Families are the fastest growing segment of Orange County's homeless population. By receiving these "essential" items, it allows the shelters to expand the use of their already limited resources to help their clients achieve self-sufficiency.



Many Orange County businesses will be hosting the 2013 Essentials for Young Lives Campaign including VONS stores and YMCA facilities.

My office will be hosting donation bins throughout the week of May 6th. You can also donate throughout the Third District at the locations listed at http://www.homeaidessentials.org/

Pet of the Week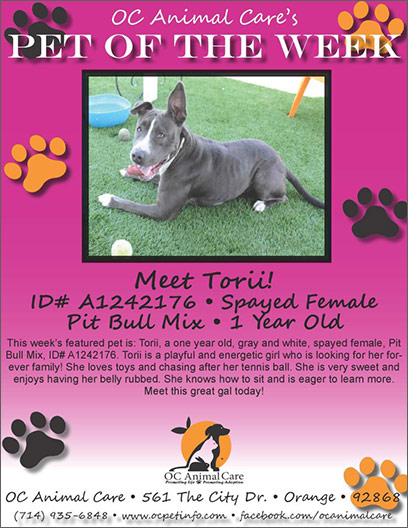 Please click here to see a larger version of this flier.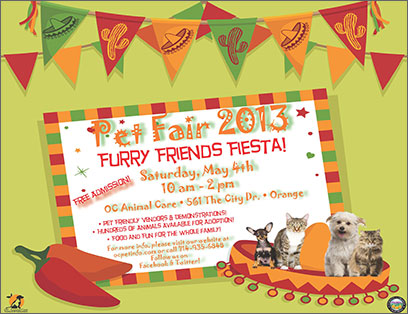 Please click here to see a larger version of this flier.

Events around the district

Anaheim
Food Truck Tuesday
Tuesday, May 7, 5:30 PM-8:30 PM
Canyon High School, 220 S. Imperial Hwy.

Irvine
Autism Education: Understanding and Teaching the Visual Learner with Technology
Thursday, May 9, 3:30 PM-5:30 PM
Irvine Civic Center, 1 Civic Center Plaza

Orange
Conversation Club: Practice Your English
Monday, May 13, 6:30 PM-7:30 PM
Orange Public Library & History Center, 407 E. Chapman Ave.

Tustin
Mother's Day Lunch
Friday, May 10, 12:00 PM-1:00 PM
Tustin Area Senior Center, 200 S. C St.

Villa Park
Car & Bike Show
Saturday, May 11, 9:00 AM-3:00 PM
Villa Park High School, 18042 Taft Ave.

Yorba Linda
Star Wars Party
Saturday, May 11, 10:00 AM-1:00 PM
Yorba Linda Public Library, 18181 Imperial Hwy.

Orange Park Acres
Denim and Diamonds Dinner and Dance
Friday, May 3, 6:30 PM-10:00 PM
The Villa, 510 E. Katella Ave., Orange

Canyon Communities
Pie Fest & Art Auction
Sunday, May 5, 2:00 PM
Silverado Community Center, 27641 Silverado Canyon Rd.




DISTRICT

STAFF
Mike Johnson
Chief of Staff

Martin Gardner
Policy Advisor

Martha Ochoa-Lopez
Policy Advisor

Carrie O'Malley
Policy Advisor

Chris Nguyen
Policy Advisor

Christine Richters
Executive Aide



District Map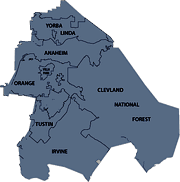 Anaheim, Irvine, Orange, Tustin, Villa Park, Yorba Linda, El Modena, North Tustin, Orange Park Acres, the Canyon Communities

Stay Updated!