May 16, 2013
Volume 1

Issue 18

County To Appeal Court's Decision in VLF Case

(Santa Ana, CA) - Orange County Supervisors voted Tuesday, May 14th, to appeal the Court's ruling requiring the County to pay more than $140 million in the Vehicle License Fee (VLF) lawsuit.

On appeal, the County will argue that the State acted unfairly in 2011 when the State passed law that took about $50 million in vehicle license fee funds that had been flowing to the County. The County brings this constitutional argument under the rationale that Orange County was singled out by the State in 2011 when the flow of these license fee funds to the County were blocked.

In the meantime, the County is reexamining its budget for the 2013 – 2014 fiscal year and charting a path to bring the budget back in balance in light of the Court's ruling.

County Approves Purchase of Silverado Site

(Santa Ana, CA) - Orange County Supervisors approved the purchase of the 11-acre Silverado Elementary School site from the Orange Unified School District. One of the greatest changes accompanying the County's purchase is the relocation of Silverado Canyon's library to this site.

Currently, the Silverado Canyon library is a cramped 1,119 square-foot building running on a tenuous month-to-month lease.

The relocation of the Silverado Canyon library will establish community meeting centers and offices for OC Park rangers and the Orange County Sheriff's Department.



"This is an excellent project, and it fulfills so many needs," said Supervisor Spitzer. "These folks pay taxes. They're entitled to these services in their area."

OC Crime Victims' Memorial Design Competition: Registration Deadline May 31, 2013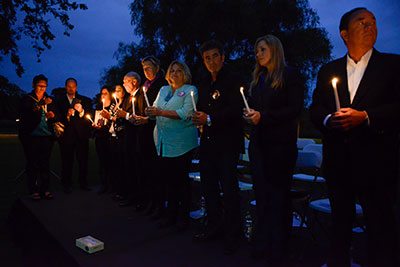 Crime Victims and family members on April 24, 2013 at the unveiling of the Crime Victim Memorial.
The County of Orange, the Board of Supervisors, and OC Parks are jointly sponsoring a competition for the design of a new Crime Victims' Memorial to be placed at William R. Mason Regional Park.

The purpose of the competition is to create a memorial that will pay tribute to victims of crime, promote hope, healing, and remembrance for those touched by crime, give voice to those who cannot speak for themselves, and create a space for individual contributions to the site. For example, providing a place where individuals can inscribe names or display plaques in remembrance of crime victims from the community.

Two-Phase Competition Structure

First phase of competition: The first stage solicits drawings and narratives which articulate the designer's vision for the memorial site.

A ten paneled jury will select up to five finalists to move on to stage two.

Second phase of competition: The second stage solicits detailed design documents such as a logo design.

The five finalists will also present their design concepts to the ten paneled jury.

Competition Schedule

Competition Announcement – April 24, 2013
Registration Deadline – May 31, 2013, 5 p.m. (PST)
Questions Period = May 16, 2013 to May 31, 2013
Answers Posted – June 7, 2013
Stage 1 Submittals Deadline – July 31, 2013, 5 p.m. (PST)
Stage 1 Finalists Announced = September 2013
Stage 2 Submittals Deadline – November 2013
Public Exhibition of Stage 2 Submittals – November 2013 through February 2014
Finalists Presentations to Jury – March 2014
Exhibition and Formal Winner Announcement – April 2014
Competition Announcement — April 24, 2013

Questions?

Questions about the contest should be directed to CVMemorial@ocparks.com

Pet of the Week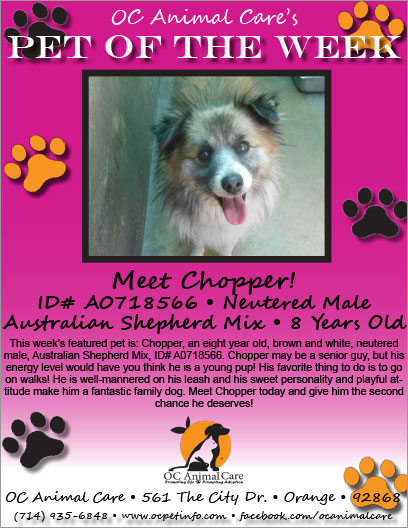 Please click here to see a larger version of this flier.

Events Around The District

Irvine
The 4th Annual Irvine Korean Cultural Festival: Come learn about and experience the Korean culture through song, food, and dance at this festival.
When: Saturday, May 18, 2013
Time: 10 a.m. to 6 p.m.
Where: 1 Civic Center Plaza, Irvine, CA

Orange
Pajama Storytime: Features stories, fingerplays, and songs for children 4 – 8 years old.
When: Tuesday, May 21, 2013
Time: 6:30 p.m. – 7 p.m.
Where: Orange Public Library and History Center @ 407 E Chapman Ave, Orange, CA

Tustin
Memorial Day Luncheon: cost is $5.00 for those 60 years of old and under.
When: Friday, May 24, 2013
Time: 12 noon (doors open at 11:30 a.m.)
Where: Tustin Area Senior Center @ 200 S C St, Tustin, CA




DISTRICT

STAFF
Mike Johnson
Chief of Staff

Cecilia J. Hong
Communications Director

Martin Gardner
Policy Advisor

Martha Ochoa-Lopez
Policy Advisor

Carrie O'Malley
Policy Advisor

Chris Nguyen
Policy Advisor

Christine Richters
Executive Aide



District Map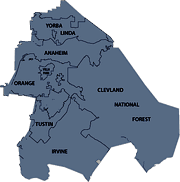 Anaheim, Irvine, Orange, Tustin, Villa Park, Yorba Linda, El Modena, North Tustin, Orange Park Acres, the Canyon Communities

Stay Updated!