January 25, 2013
Volume 1

Issue 2

Todd Spitzer focuses on solutions for homelessness

(Santa Ana, CA) - Third District Supervisor Todd Spitzer goes to work early. And this Saturday, the supervisor and his staff will start at 4:00 a.m. as they participate in the county's Point-in-time survey of the homeless, his office announced.

"The Board of Supervisors has been a key leader in resolving our unfortunate homeless situation. It's so important that I also understand the problems facing our homeless so I can assist my colleagues in finding additional solutions that work," Spitzer said. "I am involved in this effort to survey the homeless to learn more and report the findings to the federal government where critical funding decisions are made."

Spitzer encouraged community members to get involved in the survey and count, which affects federal funding received by Orange County (see link below to get involved.) Spitzer and his team attended training for the survey earlier this week, and will participate in the survey this Saturday, January 26 starting at the Orange County Rescue Mission in Tustin.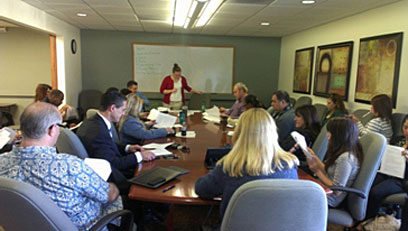 For more information on the point-in-time survey, go to www.pointintimeoc.org.


Spitzer stands up for crime victims in roundtable discussion

By Carrie O'Malley

(Santa Ana, CA) - Last week, Supervisor Todd Spitzer addressed the Roundtable for Crime Victim Service Providers. He focused on Marsy's Law which became law via Constitutional Amendment in 2008. Supervisor Spitzer was the campaign manager for the initiative when he was still an assemblyman.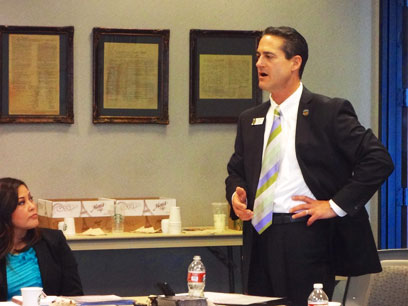 In essence, Marsy's Law is a "Bill of Rights" for crime victims in the State of California. In order to preserve and protect a victim's rights to justice and due process, under Marsy's Law a victim is entitled to such rights as:

To be treated with fairness and respect for his/her privacy and dignity, and to be free from harassment throughout the criminal justice process


To be reasonably protected from the defendant


To prevent the disclosure of confidential information to the defendant


To refuse an interview, deposition, or discovery request by the defendant


To be given notice regarding the arrest of the defendant


To reasonable notice of all public proceedings


To a speedy trial


To be informed regarding the conviction, sentence, and incarceration of the defendant


To restitution


To be informed and to participate in the parole process


To have the safety of the victim and victim's family considered before any parole is made
These are only some of the many rights that Marsy's Law spells out for victims. To find out more about Marsy's law, please click here for a full view of the entire Constitutional Amendment.

A history of controversy in the Great Park, but a bright future

Supervisor Spitzer recently wrote an op-ed designed to show his support for the new Irvine City Council as they make positive changes to the Great Park. Spitzer also reminded readers of the critical history
involving the Great Park, and his involvement in stopping the proposed airport at El Toro. Click here to read Supervisor Spitzer's op-ed, published in the Orange County Register last week.

You can also click here to view a video of Supervisor Spitzer's comments made earlier this month before the Irvine City Council.


Get involved: Apply to join a local board or commission

(Santa Ana, CA) - To ensure citizen input in the governance of Orange County, the county has a number of boards, commissions and committees on which citizens can serve. While some of these allow anyone from Orange County to serve, many of them require representation from each supervisorial district. Some require special licenses and certifications while others simply require residency in Orange County.

"I encourage you to become part of the solution to complex issues and opportunities," said Supervisor Todd Spitzer.

As the new Supervisor for the Third District, Todd Spitzer encourages all Third District residents to apply to serve on these boards, commissions and committees. Upon nomination by Supervisor Spitzer, the five members of the Board of Supervisors then vote on confirmation of these nominees. Descriptions, responsibilities and qualifications for each board, commission or committee can be found here. Applications can be downloaded here.

Deadline approaching for Senate Fellowship applications

(Santa Ana, CA) - The four Capital Fellows programs are a set of unique opportunities for college graduates. Fellows work for a year as full-time staff members in the State Assembly, the State Senate, the executive branch, or the judiciary.

"In 1982, immediately after graduating from UCLA, I was chosen to be a Senate Fellow, serving for a year in the California State Senate," said Supervisor Spitzer. "Chris Nguyen, one of my policy advisors, was a Senate Fellow from 2007 to 2008. I can tell you that my fellowship experience changed my professional life and goals."

Todd Spitzer served as a 1982-83 Senate Fellow in the office of Senator John Seymour. Chris Nguyen, a Policy Advisor in Supervisor Spitzer's office, served as a 2007-08 Senate Fellow in the office of Senator George Runner. Their experiences writing laws, working legislation and coordinating constituent services led Spitzer to pursue his Master of Public Policy and Juris Doctor and Nguyen to pursue his Master of Public Administration. Their further education enhanced the skills they developed in the capitol as Senate Fellows, and they each still use those skills today in service to the people of Orange County.

Chosen from a nationwide pool, the application deadline for each of the four Fellowship programs (including transcripts and letters of recommendation) is Monday, February 11, 2013. Fellows range in age from midcareer professionals to college seniors graduating before September 1, 2013. Depending on which of the four programs they are in, Fellows serve from September/October 2013 to August/September 2014. More information can be found online about the Capital Fellows at www.csus.edu/calst/programs.


Mike Johnson
Chief of Staff

Justin Glover
Communications Director

Martin Gardner
Policy Advisor

Martha Ochoa-Lopez
Policy Advisor

Carrie O'Malley
Policy Advisor

Chris Nguyen
Policy Advisor


District Map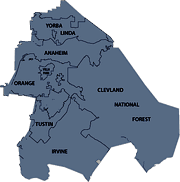 Anaheim, Irvine, Orange, Tustin, Villa Park, Yorba Linda

Stay Updated!