July 18, 2013
Volume 1

Issue 27

Board of Supervisors Authorizes Grants Regarding Highway Improvement and Used Oil

At the July 17, 2013, meeting of the Board of Supervisors, the Board approved authorizing the Health Care Agency to accept a grant for the Used Oil Payment Program, and to allow OC Public Works to submit two applications to compete for Highway Improvement Program grants for the Live Oak Canyon Road and Trabuco Canyon Road Projects.

The HCA's Used Oil funds are derived from the California Oil Recycling Enhancement Act which provides assistance to local governments in developing and maintaining an on-going used oil and used oil filter collection/recycling program for their communities. Funding for this program is used for community events that incorporate public outreach, education, and advertisement. Funds are also used for the certification of used oil collection centers so that proper disposal opportunities for used motor oil are convenient for consumers. Currently, twenty-three cities, including the Third District cities of Irvine, Tustin, Villa Park, and Yorba Linda, have chosen to participate in the current Used Oil Recycling Program.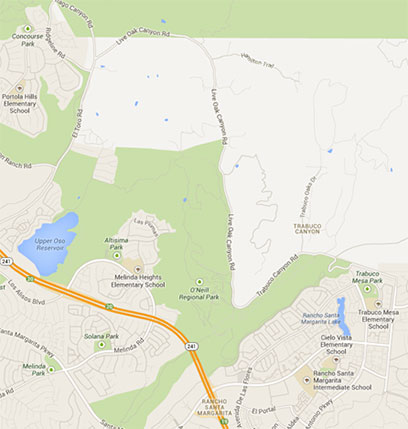 Funding for the Highway Improvement Program is requested to help cover the project costs needed for the construction of safety measures for 1) Live Oak Canyon Road from Santiago Canyon Road/El Toro Road to O'Neil Regional Park Entrance, and 2) Trabuco Canyon Road from O'Neil Regional Park Entrance to Plano Trabuco Road. Proposed safety improvements for Live Oak Canyon Road include construction of asphalt concrete curbs to accommodate a two-foot shoulder, 'V' ditches, shoulder grading, removal and replacement of signs, and installation of guardrails. In addition, a street light is proposed at the crest of the hill to accent visibility just east of Lambrose Canyon Road. For Trabuco Canyon Road, proposed safety improvements include widening shoulders, installing guardrails, installing rumble strips, drainage improvements, and upgrading roadside warning signs.

A minimum local match of ten percent for the total project cost is required. OC Public Works is proposing to submit two applications with a total preliminary construction cost estimate of $3,800,000. Subtracting the maximum grant amount of $3,000,000 allowed per agency, the proposed local match will be $800,000. These future projects will be budgeted by the Department in the appropriate fiscal year.

Supervisor Todd Spitzer Welcomes City of Orange Residents at Concert in the Park

| | | |
| --- | --- | --- |
| On Wednesday night, Supervisor Todd Spitzer joined many Orange residents at this week's Concert in the Park event. After Spitzer led the Pledge of Allegiance, many enjoyed picnic dinners and relaxed amidst the musical entertainment provided by The Fenians. This Orange County band is well known for reinventing rock-n-roll by fusing it with traditional Irish folk. | | |
Last night's event was the second concert of a series that will continue every Wednesday from 7:00 PM to 8:30 PM until August 28, 2013. Concert organizers expect six other bands to perform at the Hart Park Band Shell in this popular summer concert series.

Hart Park is located at 701 S. Glassell St., Orange, CA 92866, off the 22 Freeway.

Upcoming bands include:

July 24: Tease, Old School Oldies & Top 40
July 31: Tom Nolan Band, Rhythm & Blues
August 7: Raymond Michael, A Tribute to Elvis
August 14: Swing Cats Big Band, Big Band Swing Orchestra
August 21: Southbound and Company, Classic Rock
August 28: Stone Soul, Classic Soul & Motown
(Performers subject to change)

Irvine Boulevard Landscaped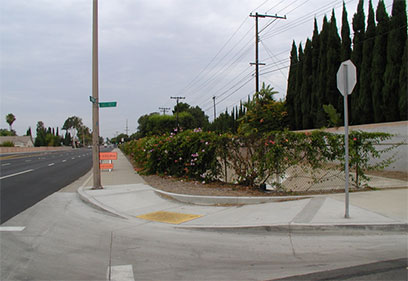 In cooperation with Boy Scouts Troop 36 and the Foothill Community Association, OC Public Works recently landscaped Irvine Boulevard at Red Hill Avenue. This project was an extension of an earlier project conducted several years ago on Red Hill and Irvine in the City of Tustin, and the efforts to beautify our streets have resulted in a substantial improvement in the community at large.

"This project has been long overdue, and it's great to see our community members take such an interest in the preservation and improvement of our cities," Supervisor Todd Spitzer said. "I am proud of their efforts in the development of the landscaping, and I think the plants and flowers are a wonderful addition to Irvine Boulevard."

As passers take notice of the plants and floral work that now embroider the fencing along Irvine Boulevard, community members remember a time when the street was just a barren stretch of road, devoid of any shrubbery or aesthetic appeal. The efforts by community organizations give credence to the idea that even the smallest changes can make the biggest difference.

Through teamwork and the collective efforts of the community, the City of Tustin has become just a little bit greener. The landscaping project has served to revitalize this major Boulevard as a point of interest once again worth observing.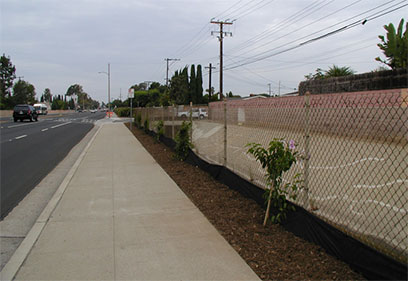 Assessment Appeal Filing Period July 2-September 16

(Courtesy of the Clerk of the Board)

The Orange County Clerk of the Board reminds residents that the Annual Filing Period for filing an assessment appeal is July 2, 2013 through September 16, 2013. If you believe that the value of your property is less than the assessed


value established by the Assessor for January 1, 2013 lien date, you can challenge your assessment by filing an assessment appeal. It is not necessary to use a tax agent or pay a fee to file the assessment appeal.

The Clerk of the Board has created an online e-file program that provides step-by-step assistance in completing your appeal form. You can locate the assessment appeals e-file program at https://assessmentappeals.ocgov.com/aa/. Workshops to better understand the appeal process and to assist you in preparing for your hearing are held at various locations throughout the County. Workshop schedules can be found at http://www.ocgov.com/cob.

Pet of the Week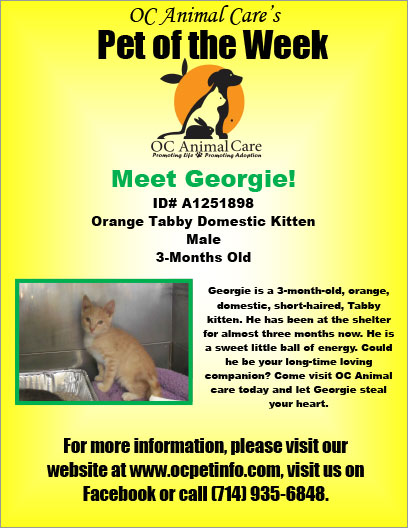 Click on the image above to view a PDF version.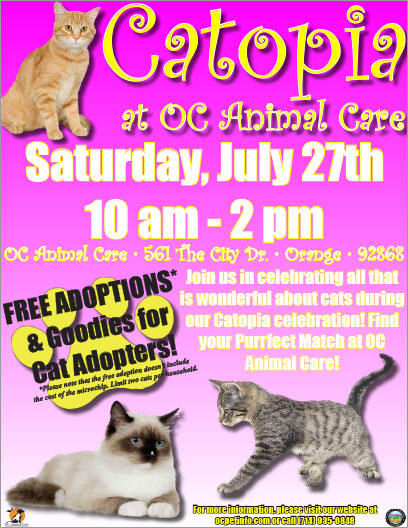 Click on the image above to view a PDF version.

Events Around The District

Anaheim
Clint Perry and the Boo Hoo Crew
Saturday, July 27, 11:00 AM
East Anaheim Branch Library, 8201 E. Santa Ana Canyon Rd.

Irvine
Giant Candy Land Game
Saturday, July 20, 2:00 PM – 4:00 PM
Katie Wheeler Library, 13109 Old Myford Rd.

Orange
No-Cook Asian Vegetarian Dishes
Saturday, July 20, 10:30 AM – 11:30 AM
Orange Public Library & History Center, 407 E. Chapman Ave.

Silverado
Shhh…Hike, Look and Listen
Monday, July 22, 6:00 PM – 8:00 PM
Black Star Canyon Staging Area, 14654 Blackstar Canyon Rd.

Tustin
Food Fear Factor
Tuesday, July 23, 5:00 PM – 6:00 PM
Tustin Public Library, 345 E. Main Street

Villa Park
Luau Party
Wednesday, July 24, 3:30 PM – 4:30 PM
Orange County Public Library – Villa Park Branch, 17865 Santiago Blvd.

Yorba Linda
Learn the Art of Memoir Writing
Wednesday, July 24, 7:00 PM – 8:30 PM
Yorba Linda Public Library, 18181 Imperial Hwy.




DISTRICT

STAFF
Martha Ochoa
Chief of Staff

Martin Gardner
Policy Advisor

Carrie O'Malley
Policy Advisor

Chris Nguyen
Policy Advisor

Christine Richters
Executive Aide



District Map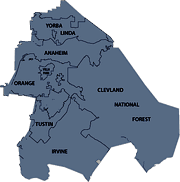 Anaheim, Irvine, Orange, Tustin, Villa Park, Yorba Linda, El Modena, North Tustin, Orange Park Acres, the Canyon Communities

Stay Updated!